Venture
Aloe | Home
Project Alba - Home
About Leopard Capital Leopard Capital manages investment funds in overlooked frontiers. We enter pre-emerging economies as a pioneer investor, guiding on-site teams into uncommon opportunities. Our early-mover strategy reflects the contrarian investment ethos of our chairman Marc Faber and our founder Douglas Clayton. During the 2008-9 financial crisis Leopard raised Cambodia's first investment fund, Leopard Cambodia Fund.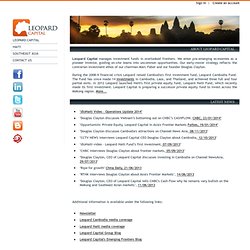 Leopard Capital - private equity funds management in frontier markets
Melinda Gates and Bill Gates Why giving away our wealth has been the most satisfying thing we've done In 1993, Bill and Melinda Gates—then engaged—took a walk on a beach in Zanzibar, and made a bold decision on how they would make sure that their wealth from Microsoft went back into society. In a conversation with Chris Anderson, the couple talks about their work at the Bill & Melinda Gates Foundation, as well as about their marriage, their children, their failures and the satisfaction of giving most of their wealth away.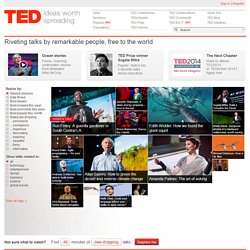 In 2005, Y Combinator developed a new model of startup funding. Twice a year we invest a small amount of money ($14-20k + an $80k note) in a large number of startups (most recently 68). The startups move to Silicon Valley for 3 months, during which we work intensively with them to get the company into the best possible shape and refine their pitch to investors. Each cycle culminates in Demo Day, when the startups present their business plans to a carefully selected, invite-only audience.