Tutoriaux beauté
The Finger-Wave Hair Tutorial
Quick question: How awesome would it be to have your very own glam squad in the comfort of your own home? Thanks to YouTube and their massive makeup how-to library of makeup tutorials, now you actually do. But there's no need to watch them all—we've sifted through thousands of tutorials to find the most informative and useful. For everything from how to cover acne to how to get the perfect red lip, check out the best YouTube has to offer. On your mark, get set, watch, and bookmark!
The 10 Best YouTube Makeup Tutorials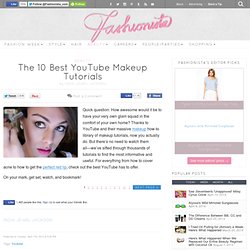 Les meilleurs tutos de Lisa Eldridge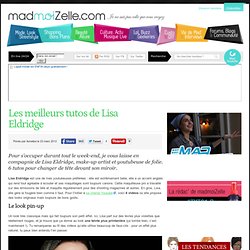 Pondu par Annelise le 23 mars 2012 Pour s'occuper durant tout le week-end, je vous laisse en compagnie de Lisa Eldridge, make-up artist et youtubeuse de folie. 6 tutos pour changer de tête devant son miroir. Lisa Eldridge est une de mes youtubeuses préférées : elle est extrêmement belle, elle a un accent anglais qui rend tout agréable à écouter et ses maquillages sont toujours canons. Cette maquilleuse pro a travaillé sur des émissions de télé et maquille régulièrement pour des shooting magazines et autres.
Hair Week: My Messy Bun
Hair Week: The 5-Minute (Red Carpet Ready) Up-Do
OMG can you believe it's almost the end of Hair Week !? No!! LOL. If you liked these posts, I'll just have to do lots more of them throughout the year. :)
Hair Week: Simple, Sassy "S" Curls
Did anyone try out yesterday's Hair Week hairdo called the waterfall braid ? If so, don't forget to upload pics for a chance to be featured in our Pics + Videos Gallery ! Anyway, today Travisean and I are going to show you how to achieve perfect "S" curls.
Stay In And Have A Bath - It's January! "There must be quite a few things that a hot bath won't cure, but I don't know many of them." - Sylvia Plath, The Bell Jar Depending on where in the world you are, it feels as though there's no better time of year to soak in a tub than post NewYear, when the holidays are over and we settle into the quiet, dark months of January and February. If you were lucky, you may have received some delicious bathing goodies over the holiday that can be put to good use now. Whatever the time of year I love nothing more than to sink into a hot bath - and relax. I rarely have time for pampering treats, like massages or days at the spa, so if I have any free time (night or day), and want to really switch off and de-stress, I light a candle, run the bath and unleash some of my favourite bath-time treats.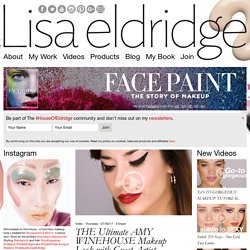 When you've heard friends and strangers alike swear by the same beauty brand, you can be pretty sure it boasts a collection of must-have, trustworthy products. And, if a little research uncovers that professional makeup artists are also stocking it, well, what are you waiting for? If you haven't yet spent hours upon hours browsing through Make Up For Ever's impeccably well-stocked range of lipstick shades and waterproof shadows, join us. Aside from its vast and vibrant color palettes, MUFE is also known for its HD foundation, budge-proof liners, full-lash mascara, and waterproof concealers.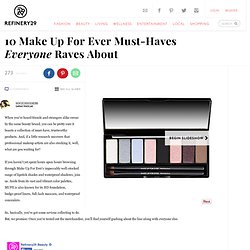 Style Bloggers Re-Create The Runway's Coolest Trends With Make Up For Ever
Hello Beautiful People! So excited to be back with new videos. Although I've been away from YouTube for a year, you've always been on my mind and in my heart. I am back for good!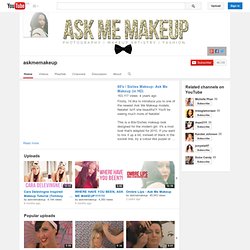 Chaîne de askmemakeup
Chaîne de SaraSabate
Nuit Infinie. Deux mots pour évoquer le mystère et le magnétisme, l'allure, que l'on veut toutes dégager à notre passage. Ceci est le nom de la collection de Noël, absolument sublime, de Chanel. Début décembre, je recevais une invitation pour un atelier, dont l'objectif était de réaliser deux looks différents avec la collection : un plus doux, pour une fête familiale, et un autre plus accentué, pour sortir avec nos copines.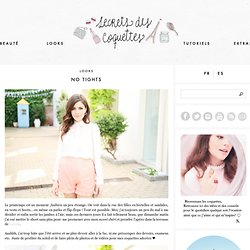 Girls, because we all have our sad/bad/mad hair moments when we *desperately* wish our hair were more this or less that (insert personal hair hell here), I wanted us to have a huge list of hairstyle resources that we could turn to for ideas and inspiration. So here are 101 hairstyle tips and tutorials, each one easy to follow and well selected to help your hair go from 0-60 in the time it takes you to get ready for work. Without further ado, hair we go! 101 hairstyle tutorials and hair care tips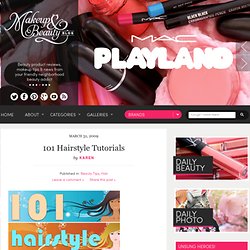 Honest, elegant and artistic describes my videos best. Inquiries - MichellePhanBusiness@gmail.com I was born an artist, a self taught painter for 10 years and went through an additional 3 years at Ringling College of Art and Design. Makeup is another medium to me. Like Michelangelo once said "I saw the angel in the marble and carved until I set him free. " Instead, when I see a face, it's a canvas and I want to bring out the masterpiece from within it. "Live as if your were to die tomorrow.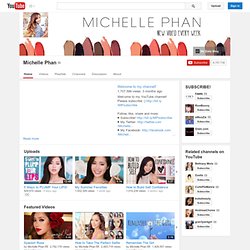 Barbie Transformation Tutorial