Product Design
Usability News 91 - Shrestha. By S.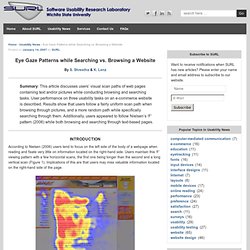 Shrestha & K. Lenz Summary: This article discusses users' visual scan paths of web pages containing text and/or pictures while conducting browsing and searching tasks. List of checklists and worksheets dealing with presentation planning, design and delivery. Jack Dorsey, Square - Instrument Everything. Jack Dorsey, Square - The Power of User Narratives.
Data Analysis
3d Printing. Tag cloud. Foundation-l word cloud, created with the complete gzip'ed list archives (without duplicate emails from archives and all headers and quoted text in body), using IBM Word Cloud Generator build 32.[1] A tag cloud with terms related to Web 2.0 History[edit] In the language of visual design, a tag cloud (or word cloud) is one kind of "weighted list", as commonly used on geographic maps to represent the relative size of cities in terms of relative typeface size.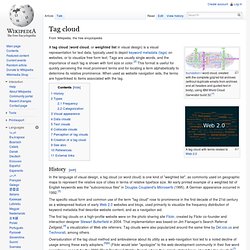 Guide to Website Navigation Design Patterns. In web design, there are certain common design patterns that are used for interaction.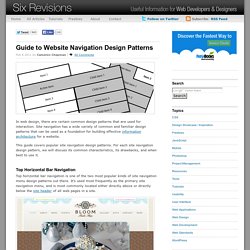 Site navigation has a wide variety of common and familiar design patterns that can be used as a foundation for building effective information architecture for a website. This guide covers popular site navigation design patterns. For each site navigation design pattern, we will discuss its common characteristics, its drawbacks, and when best to use it. Top Horizontal Bar Navigation Top horizontal bar navigation is one of the two most popular kinds of site navigation menu design patterns out there.
Mapping. In 1932, Charles O.
Paullin and John K. Wright published Atlas of the Historical Geography of the United States, a reference of almost 700 maps about a varied set of topics, such as weather, travel, and population. The Digital Scholarship Lab at the University of Richmond brought the atlas to digital life. In this digital edition we've tried to bring—hopefully unobtrusively and respectfully—Paullin and Wright's maps a bit closer to that ideal. Loading… Everything You've Been Told About Mobile App Design By Developers Is Bullshit | Usability Counts | User Experience, Social Media. Or, Design Your Own Mobile Application With These Nine Easy Steps… 2011 is the year of mobile.
This year is the tipping point that's really going to turn the World Wide Web into a "platform doesn't matter" medium. If you're doing User Experience and you don't have a mobile app in your portfolio, you'd better get cracking. We've been working on a few applications as prototypes (iPad, iPhone, and Android), and I'm at version 1.1 of Pick An Excuse (finally iOS 3 compatible). Home. Isaac Hall's answer to Dropbox: Why is Dropbox more popular than other tools with similar functionality. Case Study: UX, Design, and Food on the Table. (One of the common questions I hear is how to reconcile design and user experience (UX) methods with the Lean Startup.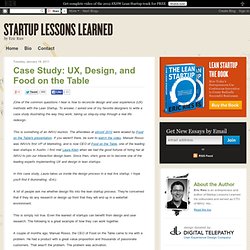 To answer, I asked one of my favorite designers to write a case study illustrating the way they work, taking us step-by-step through a real life redesign. This is something of an IMVU reunion. The attendees at sllconf 2010 were wowed by Food on the Table's presentation. Usability First: Usability in Website and Software Design.
---