MOMocrats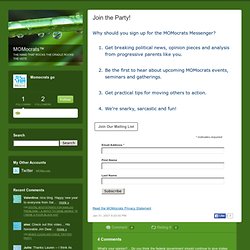 Join the Party!
Why should you sign up for the MOMocrats Messenger? Get breaking political news, opinion pieces and analysis from progressive parents like you. Be the first to hear about upcoming MOMocrats events, seminars and gatherings. Get practical tips for moving others to action. We're snarky, sarcastic and fun! Read the MOMocrats Privacy Statement
MOMocrats (MOMocrats) on Twitter
MOMocrats
MOMocrats Contributor Blogs
MOMocrats
We are the MOMocrats!
MOMocrats™
Facebook Page PayPal Donation buttons a How To Guide | facebook | social-advice- Advice for charities