MOMocrats
Join the Party!
Have an account? Sign in New to Twitter? Join Today »
MOMocrats (MOMocrats) on Twitter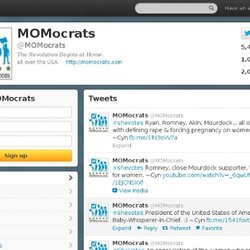 MOMocrats
MOMocrats Contributor Blogs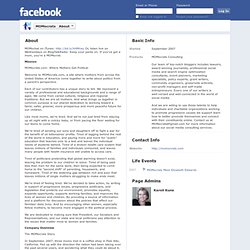 The MOMocrats Story In September, 2007, three moms met in a coffee shop in Palo Alto, California. Fed up with the direction the nation had been taking over the past several years, and wondering what they could do about it, they came to discuss a plan to impact the 2008 presidential election. Stefania Pomponi Butler, Beth Blecherman, and Glennia Campbell were all mombloggers with a serious intere...st in politics.
MOMocrats
We are the MOMocrats!
It all started with a smart, heated post cross-posted to the MOMocrats from Advocates for Youth (AFY), lambasting the Obama administration and the Secretary of Health and Human Services' decision to override the FDA's recommendation to offer Plan B as an over-the-counter drug. Plan B, of course, is known as the "day-after" pill, preventing the implantation of a fertilized egg in the womb, much as can happen randomly in any woman's cycle without influence by any medicines. In backchannel emails, we each weighed in.
MOMocrats™