Blog Tools
Empire Avenue | My Profile
TypePad Hacks
This blog has been around long enough for its focus to shift a few times… The core mission of making TypePad rock hasn't really changed, but the methods have shifted a bit. The original manifesto can be found here, but it seemed like time for an update. Stage One: Consumer Advocacy, Guerrilla Criticism I founded typepadhacks.org in 2006 to suggest features and changes I felt would significantly improve the TypePad platform. The initial focus of the site was: User Design: Collecting useful hacks for extending the capabilities of TypePad blogs.
Art of Travel Blogging: The Travel Blogging Community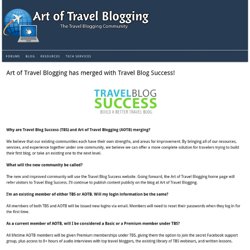 Why are Travel Blog Success (TBS) and Art of Travel Blogging (AOTB) merging? We believe that our existing communities each have their own strengths, and areas for improvement. By bringing all of our resources, services, and experience together under one community, we believe we can offer a more complete solution for travelers trying to build their first blog, or take an existing one to the next level. What will the new community be called? The new and improved community will use the Travel Blog Success website.
glennia / Dashboard
Check PAGE RANK of Web site pages Instantly In order to check pagerank of a single web site, web page or domain name, please submit the URL of that web site, web page or domain name to the form below and click "Check PR" button. the free PR checker tool enables you to check the current pagerank of your web site instantly via the form above, however, you might consider to be quite boring to visit online page rank checking tool every time you'd like to check Google pagerank of your web pages.. so, it might be a good idea to put a small page rank icon to your site to check and display your Google rankings right on your web site pages. To check PR icons - click here. Add Free PAGE RANK Check tool to your site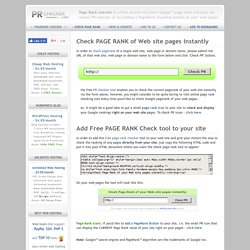 My Work Desk
We had a chance to go toe-to-toe with our very own Richard Lally, aka Mr. Popular (and quite possibly "Mr. Slick," according to the picture, at least.) We tried our best to catch him off guard with our offbeat questions, but our brawn was no match for his brain. Birth Name: Richard Raymond LallyCurrent Residence: Somewhere between here and thereYears with Studio: Eight (that's 45 in dog years)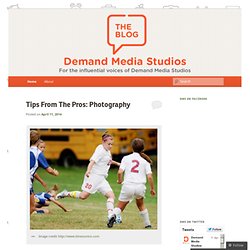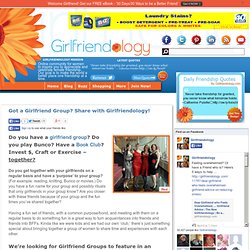 Got a Girlfriend Group? Share with Girlfriendology, Girlfriendology is looking for women's groups | Girlfriendology
Do you have a girlfriend group? Do you play Bunco? Have a Book Club? Invest $, Craft or Exercise – together? Do you get together with your girlfriends on a regular basis and have a 'purpose' to your group?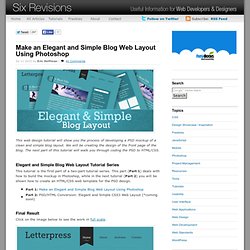 This web design tutorial will show you the process of developing a PSD mockup of a clean and simple blog layout. We will be creating the design of the front page of the blog. The next part of this tutorial will walk you through coding the PSD to HTML/CSS. Elegant and Simple Blog Web Layout Tutorial Series This tutorial is the first part of a two-part tutorial series. This part (Part 1) deals with how to build the mockup in Photoshop, while in the next tutorial (Part 2) you will be shown how to create an HTML/CSS web template for the PSD design.
Make an Elegant and Simple Blog Web Layout Using Photoshop
Tour
Custom Twitter Backgrounds | Easy WAHM Websites