SEO
Registrierung. 24 Eye-Popping SEO Statistics. SEO isn't exactly the most understood medium in online marketing.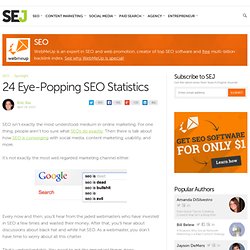 For one thing, people aren't too sure what SEOs do exactly. Then there is talk about how SEO is converging with social media, content marketing, usability, and more. SEO Download: Kostenlose Studienarbeit zum Thema Linkbuilding. Pascal Landau studiert Angewandte Informatik an der DHBW in Karlsruhe und hat im Rahmen seinen Studiums eine Studienarbeit zum Thema Linkbuilding geschrieben.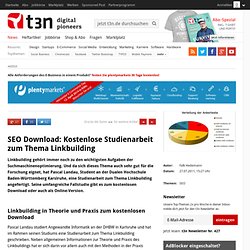 Neben allgemeinen Informationen zur Theorie und Praxis des Linkbuildings hat er sich darin vor allem auch mit den Methoden in der Praxis beschäftigt. In einem eigenen Kapitel stellt er die in der Praxis am häufigsten verwendeten Linkbuilding Maßnahmen vor und evaluiert sie durch ein Bewertungsschema. Richtig in die Praxis geht es dann im Kapitel "Fallstudie im Bereich Linkbuilding". 10 Super Easy SEO Copywriting Tips for Improved Link Building. Compare the two posts below, both written by the exact same SEO expert and each containing around the same number of words.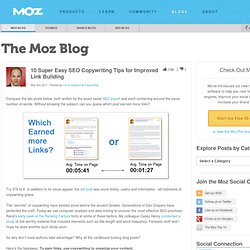 Without knowing the subject, can you guess which post earned more links? Try 378 to 6. 77 Offline-Tipps um eine Website bekannt zu machen! Sommerloch?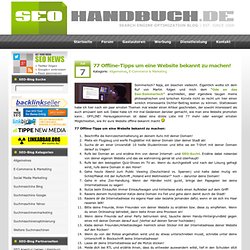 Naja, ein bisschen vielleicht. Eigentlich wollte ich dem Ruf von Martin folgen und mich dem "Ode an das Seo-Sommerloch" anschließen, aber irgendwie taugen meine philosophischen und lyrischen Künste nicht so recht um hier einen wirklich interessante Dichter-Beitrag leisten zu können. Stattdessen habe ich hier nach ein paar ernsten Themen mal wieder einen Artikel geschrieben, der sowohl interessant als auch amüsant sein soll. Dabei habe ich mir mal Gedanken darüber gemacht, wie man eine Website promoten kann… OFFLINE! HOW TO: Optimize Your Site for Search Engine Marketing. This post originally appeared on the American Express OPEN Forum, where Mashable regularly contributes articles about leveraging social media and technology in small business.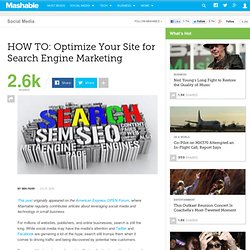 For millions of websites, publishers, and online businesses, search is still the king. While social media may have the media's attention and Twitter and Facebook are garnering a lot of the hype, search still trumps them when it comes to driving traffic and being discovered by potential new customers. Because of the importance of search traffic to online business, there is an entire industry dedicated to improving websites' visibility in search engine results: Search Engine Marketing (SEM). SEM is a complex topic that focuses on search engine optimization (SEO), but also includes the use of paid advertising and contextual advertisements in order to bring a website's articles or product pages to the top of search engine result pages (SERPs).
---