Design
Get flash to fully experience Pearltrees
Why does a particular call to action fly, while another crashes and burns?
Story goes : Shannon (the secretary) has lost her cat and has asked David (the graphic designer) to help with a lost poster. This is their email correspondence… Read from top to bottom….
"This year's line of Lega-lega t-shirts comes in a specially designed gable top carton for extra freshness! Once opened, inside you'll find a cool Lega-lega t-shirt, and a small sketchbook for doodling and sketching when you feel like it.
A well-designed pricing table and sign-up page can make or break your online business. Getting users to hit the signup button is one thing, but making the actual signup process easier and helping people chose the right plan or package is a science in itself.
Most designers wireframe their designs in one way or another, even if it just involves them making quick sketches on the back of some scratch paper. Wireframing is an important part of the design process, especially for more complex projects. Wireframes can come in handy when you're communicating with clients, as it allows them to visualize your ideas more easily than when you just describe them verbally.
Google has always tried to empower and encourage website designers and developers so that they can build engaging website that can add value to user experience.
Many years ago I was working on a design project with an e-commerce company who was selling electronics on the Web. The design team was working on a large redesign of their web site in response to their latest thinking on what works best for selling their products.
If you are a graphic designer or an interaction designer and have ever been tasked with creating a style guide or UI guidelines document (both are different and I've had the pleasure to work on both of them creating templates and the actual documents for brands and products), this list should help you out as a consolidated list of references. This list is going to be constantly updated (and will ultimately be a monster list, it's quite modest for now) of publicly accessible style guides and UI guideline documents on the web.
As a designer, writer, husband and father (among other things), my life is pretty full and I absolutely love pretty much anything that can save me time.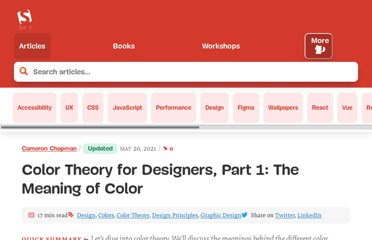 Color in design is very subjective. What evokes one reaction in one person may evoke a very different reaction in somone else. Sometimes this is due to personal preference, and other times due to cultural background.
Design decisions based on gut feelings, simple reasoning, and rules of thumb can be as effective, if not more, than those based on complex analyses I recently learned something extremely fascinating from a book called Gut Feelings: The Intelligence of the Unconscious .
Looking for Manning Publications Co.? Try typing »manning.com« instead of »mannig.com«.