Writing tips and tricks
Get flash to fully experience Pearltrees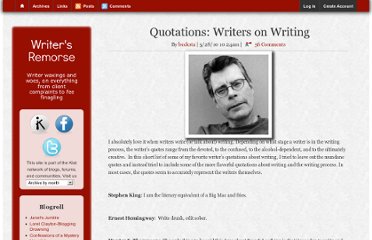 I absolutely love it when writers write (or talk about) writing. Depending on what stage a writer is in the writing process, the writer's quotes range from the devoted, to the confused, to the alcohol-dependent, and to the ultimately creative. In this short list of some of my favorite writer's quotations about writing, I tried to leave out the mundane quotes and instead tried to include some of the more flavorful quotations about writing and the writing process. In most cases, the quotes seem to accurately represent the writers themselves.
English 50 – Intro to Creative Writing: Exercises for Story Writers Basic Theory:
Eight rules for writing fiction: 1. Use the time of a total stranger in such a way that he or she will not feel the time was wasted.
Janet Fitch is the author of "White Oleander" and "Paint it Black," and she teaches writing at USC. It seems like every time I run into her at a reading, she introduces one or two or more of her students who she has encouraged to come along, people whose work she praises. This enthusiastic engagement makes her, well, nicer than many writing teachers, and that niceness might be why she's posted a list of 10 writing tips that can help almost anyone on her blog.
How much about your characters do you really know? Small details might seem superfluous even irrelevant to the story you intend to write, but the smallest detail informs the bigger picture. The more you know about your characters, the better you'll create believable characters who live and breathe on the page and in their own fictional world.
English 50 – Intro to Creative Writing: Exercises for Story Writers More Exercises: Write the first 250 words of a short story, but write them in ONE SENTENCE.
Update
We've presented the pages here as a facsimile of the original Word document - with the authors' corrections and strikethroughs (of discarded sections) as they appeared on the page. The blue text - again, presented as it appears in the actual script - denotes revisions made to the final draft. So, if you happen to be a dreadful would-be comedy writer posting fan-fiction on comedy discussion boards in the hope that the producers might snap you up for future projects, why not take a look how it's to be done...