Privacy
Privacy (from Latin : privatus "separated from the rest, deprived of something, esp. office, participation in the government", from privo "to deprive") is the ability of an individual or group to seclude themselves or information about themselves and thereby reveal themselves selectively.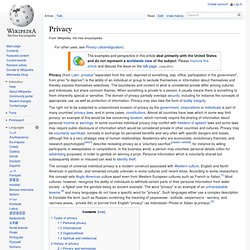 Privacy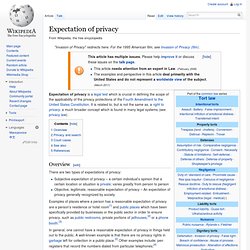 Expectation of privacy is a legal test which is crucial in defining the scope of the applicability of the privacy protections of the Fourth Amendment to the United States Constitution . It is related to, but is not the same thing as a right of privacy , a much broader concept which is found in many legal systems (see privacy law ). [ edit ] Overview There are two types of expectations of privacy:
Privacy law
Harvard Law Review. Vol. IV December 15, 1890 No. 5 THE RIGHT TO PRIVACY [*] .
Warren and Brandeis, "The Right to Privacy"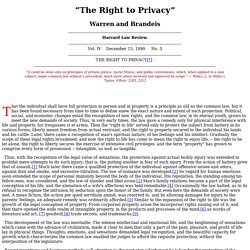 Invasion of privacy
Chapter 6: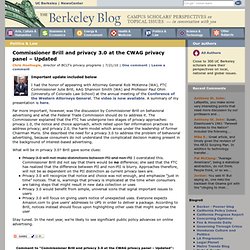 Chris Hoofnagle , director of BCLT's privacy programs | 7/21/10 | | Important update included below
Commissioner Brill and Privacy 3.0 at the CWAG Privacy Panel – Updated
Andrew B.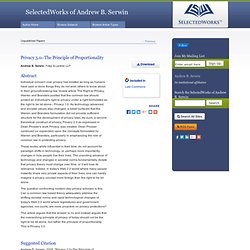 Privacy 3.0--The Principle of Proportionality
(pdf)AndrewSerwin Privacy3.0 a reexamination of the principle of proportionality
Dean T. Prosser
Dean T. Prosser, Jr. (May 10, 1917 - September 24, 2007), was a Republican member of the Wyoming House of Representatives from 1971–1983, who authored major environmental legislation to preserve the Wyoming landscape.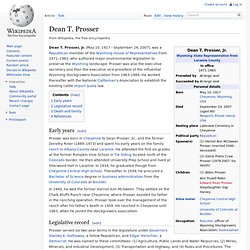 First published Tue May 14, 2002; substantive revision Mon Jul 9, 2012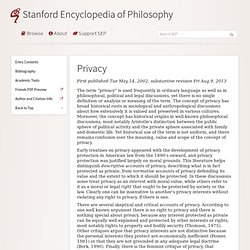 Privacy
Top 50 Sites to Learn About Information Privacy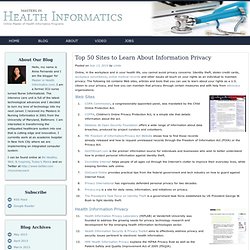 Online, in the workplace and in your health life, you cannot avoid privacy concerns. Identity theft, stolen credit cards, workplace surveillance , online medical records and other issues all touch on your rights as an individual to maintain privacy. The following list contains Web sites, articles and tools that you can use to learn about your rights as a U.S. citizen to your privacy, and how you can maintain that privacy through certain measures and with help from advocacy organizations.
When it comes to anonymity in cyberspace is there way to balance privacy and security? The option to remain anonymous on the Internet is critical to the concept of free speech.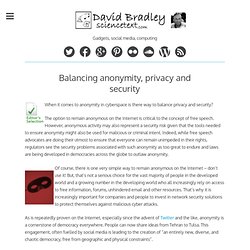 Balancing anonymity, privacy and security
University of Washington - School of Law; Stanford University - Law School July 16, 2010
The Boundaries of Privacy Harm by Ryan Calo
Q&A: How Do You Define 'Privacy Harm'? - Digits
By Jennifer Valentino-DeVries In debates about online privacy, one question always seems to crop up: What's the harm?
Technology Review: Why Privacy Is Not Dead
Each time Facebook's privacy settings change or a technology makes personal information available to new audiences, people scream foul. Each time, their cries seem to fall on deaf ears. The reason for this disconnect is that in a computational world, privacy is often implemented through access control. Yet privacy is not simply about controlling access. It's about understanding a social context, having a sense of how our information is passed around by others, and sharing accordingly. As social media mature, we must rethink how we encode privacy into our systems.
April 1, 2004: Gmail Hits Webmail G-Spot
2004: Google unveils Gmail.
In 2004 everyone freaked out when Gmail launched because Google would be reading your emails to figure out what ads to serve you. "Privacy advocates objected to the advertising model, which involves Google's robot eyes scanning every e-mail for keywords and displaying contextual advertisements alongside a user's inbox," noted Wired . That might sound familiar to your great-great-great grandparents.
Ok You Luddites, Time To Chill Out On Facebook Over Privacy
Mike Arrington interrogates Mark Zuckerberg, Mike Arrington interrogates Mark Zuckerberg techcrunch on USTREAM. The Web
It's time to go public about privacy
Interview With Tim O'Reilly on Reasons to Give up Some Privacy
Privacy is a Zombie: Quasi-Public Intimacy and Facebook