Open Graph
Building the Social Web Together. f8 "Open" Graph Zuckerburg 2010. 1 of 4 Facebook F8 Feight Keynote - Mark Zuckerburg. 2 of 4 Facebook F8 Feight Keynote - Mark Zuckerburg. 3 of 4 Mark Zuckerburg F8 Feight Facebook Keynote 4/21/2010. 4 of 4 Facebook F8 Feight Keynote - Mark Zuckerburg. Carnage4Life F's Open Graph Protocol from a Web Developer's Perspective. David Recordon of Facebook has an interesting post titled Why f8 was good for the open web where he talks about how some of Facebook's announcements at their recent F8 conference increase the openness of the Web.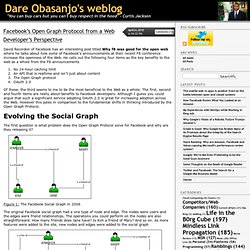 He calls out the following four items as the key benefits to the web as a whole from the F8 announcements No 24-hour caching limit An API that is realtime and isn't just about content The Open Graph protocol OAuth 2.0 Of these, the third seems to me to be the most beneficial to the Web as a whole. The first, second and fourth items are really about benefits to Facebook developers. Although I guess you could argue that such a significant service adopting OAuth 2.0 is great for increasing adoption across the Web. I Think Facebook Just Seized Control Of The Internet. The opening keynote at Facebook's f8 conference today in San Francisco was short and sweet.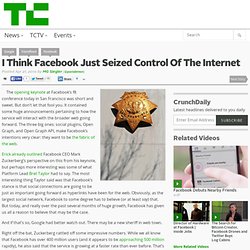 But don't let that fool you. It contained some huge announcements pertaining to how the service will interact with the broader web going forward. Are Like Buttons Evil? The Open Web Reacts To Facebook's Not-So-Open Graph. The tech community is still digesting the implications of Facebook's plans to spread its "Like" buttons everywhere and take over the Web with its so-called Open Graph.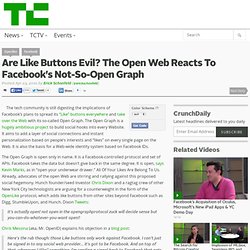 The Open Graph is a hugely ambitious project to build social hooks into every Website. It aims to add a layer of social connections and instant personalization based on people's interests and "likes" on every single page on the Web. It is also the basis for a Web-wide identity system based on Facebook IDs. The Open Graph is open only in name. Facebook en Open Graph: meer traffic en conversies | Frankwatching. Wat is Facebook Open Graph?
Wat is de waarde van de 'Like button' voor zoekmachineoptimalisatie-activiteiten? Is Facebook de grote concurrent van Google? Facebook's Open Graph: It Depends On What The Meaning Of The Word "Open" Is. Grab the popcorn.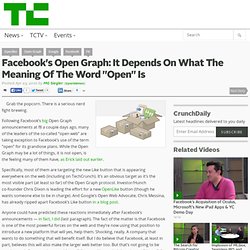 There is a serious nerd fight brewing. Following Facebook's big Open Graph announcements at f8 a couple days ago, many of the leaders of the so-called "open web" are taking exception to Facebook's use of the term "open" for its grandiose plans. While the Open Graph may be a lot of things, it is not open, is the feeling many of them have, as Erick laid out earlier. Facebook's Open Graph Personalizes the Web. Facebook has created a platform that allows sites and apps to share information about users in order to tailor offers, features and services to each one's interests and tastes — even if that individual has never visited the site before.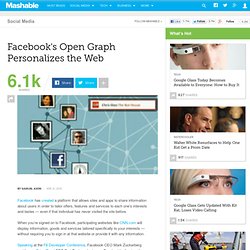 When you're signed on to Facebook, participating websites like CNN.com will display information, goods and services tailored specifically to your interests — without requiring you to sign in at that website or provide it with any information. Speaking at the F8 Developer Conference, Facebook CEO Mark Zuckerberg and former FriendFeed CEO Bret Taylor, who is now Facebook's director of product, named three new features that will make this possible and easy to implement. Open Graph Zuckerberg and Taylor described a concept called "Open Graph" that will be useful to businesses and services.
Are Going Mobile. Is the New Facebook a Deal With the Devil? Facebook blew people's minds today at its F8 developer conference but one sentiment that keeps coming up is: this is scary.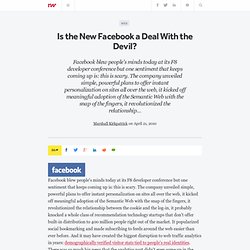 The company unveiled simple, powerful plans to offer instant personalization on sites all over the web, it kicked off meaningful adoption of the Semantic Web with the snap of the fingers, it revolutionized the relationship between the cookie and the log-in, it probably knocked a whole class of recommendation technology startups that don't offer built-in distribution to 400 million people right out of the market. It popularized social bookmarking and made subscribing to feeds around the web easier than ever before. And it may have created the biggest disruption to web traffic analytics in years: demographically verified visitor stats tied to people's real identities. There was so much big news that the analytics part didn't even come up in the keynote. F appears to be the only repository of data in this equation - and that makes the whol.
Facebook just shook the tech world by announcing several major initiatives that collectively constitute an aggressive move to weave the social net on top of the existing Web.The rumors were that the leading social network would launch a "Like" button for the entire Web.
Instead, Zuckerberg & Co. unveiled a bold and visionary new platform that cannot be ignored. The bits of this platform bring together the visions of a social, personalized and semantic Web that have been discussed since del.icio.us pioneered Web 2.0 back in 2004. Facebook's vision is both minimalistic and encompassing - but its ambition is to kill off its competition and use 500 million users to take over entire Web. Whether we like it (pun intended) or not, we have to understand what this move means. Ignore Facebook Open Graph at your peril – this is Web 3.0. The importance of Facebook's Open Graph announcement cannot be overstated.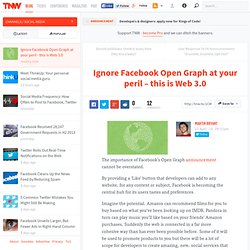 By providing a 'Like' button that developers can add to any website, for any content or subject, Facebook is becoming the central hub for its users tastes and preferences. Imagine the potential. Amazon can recommend films for you to buy based on what you've been looking up on IMDB, Pandora in turn can play music you'll like based on your friends' Amazon purchases. Suddenly the web is connected in a far more cohesive way than has ever been possible before. Social objects for beginners. Understanding the Open Graph Protocol. I attended Facebook's F8 conference yesterday (missed the keynote IRL, but you can catch it online) and came away pondering the Open Graph Protocol.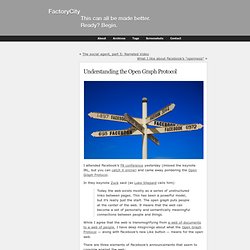 In they keynote Zuck said (as Luke Shepard calls him): Today the web exists mostly as a series of unstructured links between pages. This has been a powerful model, but it's really just the start. The open graph puts people at the center of the web. Chris Messina. Exclusive: 18 new ways Mark Zuckerberg rules social networking.
---