Net neutrality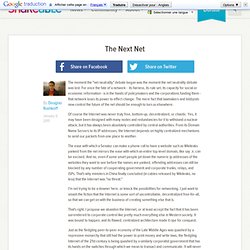 The moment the "net neutrality" debate began was the moment the net neutrality debate was lost. For once the fate of a network - its fairness, its rule set, its capacity for social or economic reformation - is in the hands of policymakers and the corporations funding them - that network loses its power to effect change. The mere fact that lawmakers and lobbyists now control the future of the net should be enough to turn us elsewhere. Of course the Internet was never truly free, bottom-up, decentralized, or chaotic. Yes, it may have been designed with many nodes and redundancies for it to withstand a nuclear attack, but it has always been absolutely controlled by central authorities.
How to save Julian Assange's movement from itself. American diplomacy seems to have survived Wikileaks's "attack on the international community," as Hillary Clinton so dramatically characterized it, unscathed. Save for a few diplomatic reshuffles, Foggy Bottom doesn't seem to be deeply affected by what happened. Certainly, the U.S. government at large has not been paralyzed by the leaks—contrary to what Julian Assange had envisioned in one of his cryptic-cum-visionary essays, penned in 2006. In a fit of technological romanticism, Assange may have underestimated the indispensability of American power to the international system, the amount of cynicism that already permeates much of Washington's political establishment, and the glaring lack of interest in foreign policy particulars outside the Beltway.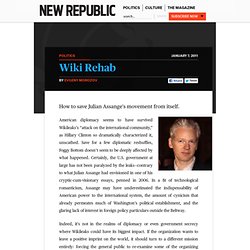 Who Controls the Internet?: Illusions of a Borderless World (9780195152661): Jack Goldsmith, Tim Wu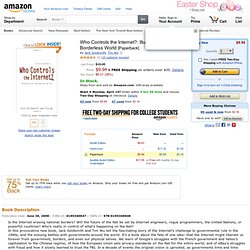 Is the Internet truly "flattening" the modern world? Will national boundaries crumble beneath the ever-increasing volume of Internet traffic? Goldsmith and Wu, both professors of law (Goldsmith at Harvard, Wu at Columbia), think not, and they present an impressive array of evidence in their favor. The authors argue national governments will continue to maintain their sovereignty in the age of the Internet, largely because of economics: e-businesses-even giants such as Yahoo, Google and eBay-need governmental support in order to function.
The US Federal Communications Commission's recent vote to impose net neutrality rules on broadband providers will lead to lengthy court battles, as well as efforts in Congress to repeal the rules, a group of Internet law experts said Wednesday. Even supporters of the FCC's Dec. 21 vote predicted that multiple court challenges are likely as soon as the FCC officially publishes the new rules in the Federal Register. Court challenges to the rules are "inevitable," said Colin Crowell, former senior counselor to FCC Chairman Julius Genachowski . Multiple lawsuits in courts across the US are likely, with some questioning the FCC's authority to make rules affecting Internet service providers and other groups suggesting the rules are arbitrary, added Markham Erickson, executive director of the Open Internet Coalition and a supporter of the rules. The new rules prohibit service providers from selectively blocking or slowing Web traffic.
FCC net neutrality decision sets up court battle, say experts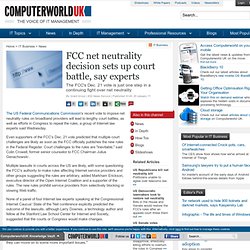 Eben Moglen Is Reshaping Internet With a Freedom Box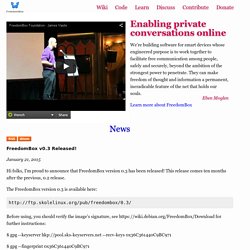 I am pleased to announce our first FreedomBox software release. The FreedomBox 0.1 image is available here (.torrent) (sha512sum: 867f5bf462102daef82a34165017b9e67ed8e09116fe46edd67730541bbfb731083850ab5e28ee40bdbc5054cb64e4d0e46a201797f27e0b8f0d2881ef083b40). This 0.1 version is primarily a developer release, which means that it focuses on architecture and infrastructure rather than finish work.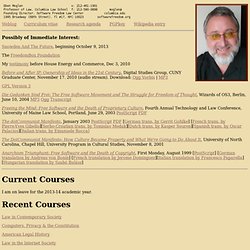 Eben Moglen v: 212-461-1901 Professor of Law, Columbia Law School f: 212-580-0898 moglen@ Founding Director, Software Freedom Law Center columbia.edu 1995 Broadway (68th Street), fl #17, NYC 10023 softwarefreedom.org Weblog Curriculum vitae Research agenda PGPkey Wikipedia entry Possibly of Immediate Interest:
Eben Moglen
Net Neutrality: Save the Internet from Corporate Censorship!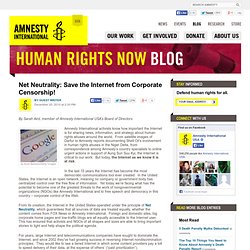 By Sarah Aird, member of Amnesty International USA's Board of Directors Amnesty International activists know how important the Internet is for sharing news, information, and strategy about human rights abuses around the world. From satellite images of Darfur to Amnesty reports documenting Shell Oil's involvement in human rights abuses in the Niger Delta, from correspondence among Amnesty's country specialists to online urgent actions in support of Aung Sun Suu Kyi, the Internet is critical to our work.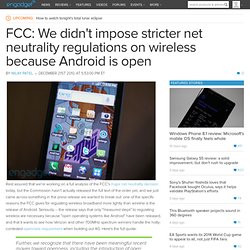 FCC: We didn't impose stricter net neutrality regulations on wireless because Android is open
Rest assured that we're working on a full analysis of the FCC's major net neutrality decision today, but the Commission hasn't actually released the full text of the order yet, and we just came across something in the press release we wanted to break out: one of the specific reasons the FCC gives for regulating wireless broadband more lightly than wireline is the release of Android. Seriously -- the release says that only "measured steps" to regulating wireless are necessary because "open operating systems like Android" have been released, and that it wants to see how Verizon and other 700MHz spectrum winners handle the hotly-contested openness requirement when building out 4G. Here's the full quote: Further, we recognize that there have been meaningful recent moves toward openness, including the introduction of open operating systems like Android.
photo © 2005 dougward | more info (via: Wylio)In a 3-2 vote split down party lines the FCC approved the first "enforceable" net neutrality regulations this morning. These rules face opposition from all sides, with some holding that FCC has overstepped its boundaries and others saying that the still unpublished framework does not offer enough protection. "Given the importance of an open Internet to our economic future…it is essential that the FCC fulfill its historic role as a cop on the beat to ensure the vitality of our communications networks and to empower and protect consumers of those networks," FCC commissioner Julian Genachowski said at the meeting.
FCC Net Neutrality Vote Is Just The Beginning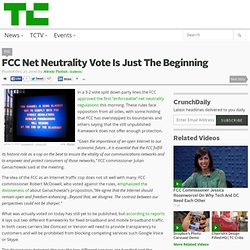 FCC Blackout | Flickr : partage de photos !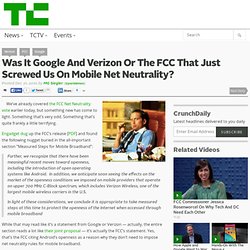 We've already covered the FCC Net Neutrality vote earlier today, but something new has come to light. Something that's very odd. Something that's quite frankly a little terrifying. Engadget dug up the FCC's release [PDF] and found the following nugget buried in the all-important section "Measured Steps for Mobile Broadband": Further, we recognize that there have been meaningful recent moves toward openness, including the introduction of open operating systems like Android. In addition, we anticipate soon seeing the effects on the market of the openness conditions we imposed on mobile providers that operate on upper 700 MHz C-Block spectrum, which includes Verizon Wireless, one of the largest mobile wireless carriers in the U.S.In light of these considerations, we conclude it is appropriate to take measured steps at this time to protect the openness of the Internet when accessed through mobile broadband
Was It Google And Verizon Or The FCC That Just Screwed Us On Mobile Net Neutrality?
Earlier today, Apple co-founder Steve Wozniak published a passionate open letter to the FCC that described his personal history with the telecommunications industry. Wozniak followed that up with a surprise appearance at the Federal Communication Commission's public hearing on new open Internet rules and net neutrality. Steven Levy of Wired Magazine tweeted about the unexpected arrival: "Woz is at FCC hearing to speak against the plan–sez that with these rules, he couldn't have done Apple." Interviewed by various media outlets after the hearing (see video below), Wozniak explained his presence at the hearing: I wanted to be here because this day was so significant to my life.
Steve Wozniak on the FCC and Internet freedom
What is "Net Neutrality?"
The world wide web went live, on my physical desktop in Geneva, Switzerland, in December 1990. It consisted of one Web site and one browser, which happened to be on the same computer. The simple setup demonstrated a profound concept: that any person could share information with anyone else, anywhere. In this spirit, the Web spread quickly from the grassroots up. Today, at its 20th anniversary, the Web is thoroughly integrated into our daily lives.
Net Neutrality Timeline | Lobbynomics
Perdu dans la neutralité ? Pour y voir plus clair, Lobbynomics réalise un éclairage original du concept, à travers l'histoire des réseaux de télécommunication. L'histoire de la neutralité des réseaux depuis la fin du 18e siècle, quel intérêt ?
La belle histoire de la neutralité des réseaux » Article » OWNI, Digital Journalism
Tim Wu: Net Neutrality and Free Speech
Lessig: It's Time to Demolish the FCC - Newsweek
Freedom of Information Act (FOIA) Home Page
DOC-303745A1
FCC To Push 'Net Neutrality' - Bloomberg
Telecomix (telecomix) on Twitter
Timothy Karr: Obama FCC Caves on Net Neutrality -- Tuesday Betrayal Assured
Cerf: Governments shouldn?t have a monopoly on Internet governance
The UN Needs to Ensure an Open and Inclusive Approach to Internet Governance
IGF-Working-Group-Decision1
Is a UN Internet takeover looming? Not quite
Google and Verizon Joint Submission on the Open Internet
Net Neutrality as Diplomacy | Yale Law and Policy Review
A joint policy proposal for an open Internet
Google, Verizon and net neutrality: reaction from the web | Technology
Industry Cautious on Net Neutrality Rules
FCC Commissioner On Verizon-Google Proposal: Time To Put Consumers First
Why Google Became A Carrier-Humping, Net Neutrality Surrender Monkey (UPDATED) | Epicenter 
Facebook Enters the Google-Verizon Net Neutrality Debate
A paper trail of betrayal: Google's net neutrality collapse
Compromis over netneutraliteit mislukt
Google Is Anakin, Verizon Is The Emperor, And The Dark Side Is Winning
Franken: Net Neutrality "Biggest Issue Since Freedom of Reli
Keen on … Net Neutrality: Is America Losing its Edge? (TCTV)
Phase II - -
Bill of Rights in Cyberspace, amended « BuzzMachine
Net neutrality is hypocrisy
Neutrality Or Bust
EXCLUSIVE: FCC Dems Narrowing Net Neutrality Gaps
Net-neutrality battle peaks
Senate Session
Al Franken: The Most Important Free Speech Issue of Our Time
De Maizière scheint für staatliche Regelung zu Netzneutralität zu sein : netzpolitik.org