Embassy Cables
The Manning Verdict: Obama's Defining Injustice SPIEGEL ONLINE - August 05, 2013 By using the Espionage Act to punish Bradley Manning, the Obama administration has shown how far it will go to intimidate leakers. His sentencing is a stain on the president's legacy and on America's global reputation. A Commentary By Hans Hoyng more... [ Comment ]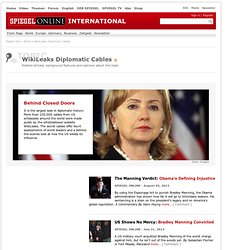 WikiLeaks Diplomatic Cables - SPIEGEL ONLINE - Nachrichten
WikiLeaks: Please use #cablegate to d
Cable Search BETA
Kabels
StateLogs | Wikileaks diplomatic cables, by OWNI
Cablegate's cables: Full-text search
CableGate Viewer
All cables with tags - Google Fusion Tables
This website hosts an archive of all 251,287 US Embassy diplomatic cables that were released by WikiLeaks between November 28, 2010 and September 2, 2011. While the cables are generally available at http://wikileaks.org/cablegate.html, we find it hard to search or even navigate the site to read the cables. We have made all 251,287 cables available here at Dazzlepod with the hope to make it easier for readers to browse, search, share and discuss about the released cables.
Cable | Browse all cables from WikiLeaks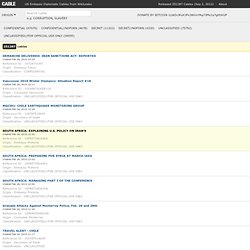 Wikileaks Cablegate Discussion Forums
Cablesearch - Wikileaks open search API
Cablegate wiki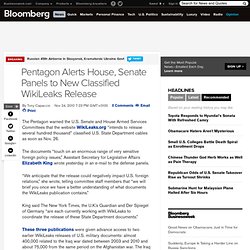 Pentagon Alerts House, Senate Panels to New Classified WikiLeaks Release
The Pentagon warned the U.S. Senate and House Armed Services Committees that the website WikiLeaks.org "intends to release several hundred thousand" classified U.S. State Department cables as soon as Nov. 26.
Cable game
Cablegate, the Game
News blog + WikiLeaks US embassy cables live | News
Guardian WikiLeaks (GdnCables) on Twitter
7.52am: MasterCard, Visa, the Swedish prosecution authority, Joe Lieberman, Sarah Palin, PayPal, Twitter, PostFinance, Amazon and EveryDNS.net. It is an very eclectic mix, but their websites are all under attack, or threat of attack, by supporters of WikiLeaks. A full account of Operation Payback and its "major shitstorm" is available here.
WikiLeaks US embassy cables: live updates | News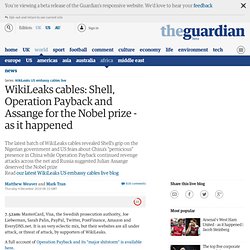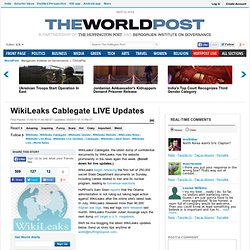 WikiLeaks Cablegate LIVE Updates
Share + According to a recently released cable, a facility in Yemen holding nuclear material was left unsecured after its one guard was removed and a security camera broke, according to the AP. The cable quoted one official as saying, "Very little now stands between the bad guys and Yemen's nuclear material." Assange was asked about the decision to release cables that identified sites vulnerable to terrorist attacks when Katie Couric interviewed him on Friday. Assange told her:
WikiLeaks Archive ? Cables Uncloak U.S. Diplomacy - Interactive Feature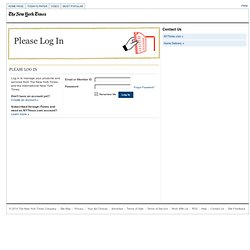 WikiLeaks Archive — Cables Uncloak U.S. Diplomacy
@import url("http://graphics8.nytimes.com/packages/css/multimedia/bundles/SlidingGallery.css"); Some of the cables, made available to The New York Times and several other news organizations, were written as recently as late February, revealing the Obama administration's exchanges over crises and conflicts. The material was originally obtained by , an organization devoted to revealing secret documents.
Die US-Botschaftsdepeschen - SPIEGEL ONLINE - Nachrichten
Bradley Manning comienza su nueva rutina
Los papeles del departamento de estado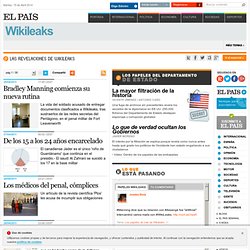 Mapa de los documentos secretos de Wikileaks en EL PA?S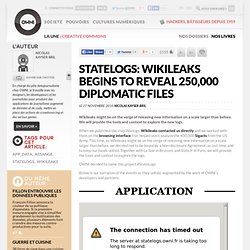 OWNI [Live] StateLogs: Wikileaks to reveal 250,000 diplomatic files » Article » OWNI, Digital Journalism
Wikileaks might be on the verge of releasing new information on a scale larger than before. We will provide the tools and context to explore the new logs. When we published the Iraqi Warlogs, Wikileaks contacted us directly and we worked with them on the browsing interface that helped users analyze the 400,000 Sigacts from the US Army. This time, as Wikileaks might be on the verge of releasing new information on a scale larger than before, we decided not to be bound by a Non-disclosure Agreement, as last time, and to keep our hands untied. Together with Le Soir in Brussels and Slate.fr in Paris, we will provide the tools and context to explore the logs. OWNI decided to name this project #StateLogs.
Compleet interview met Julian Assange
South Africa's premier news source, provides breaking news on national, world, Africa, sport, entertainment, technology & more.
Nyheter - Wikileaks - Aftenposten.no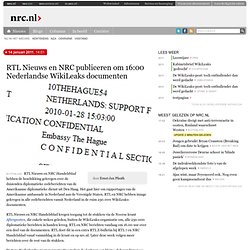 Buitenland RTL Nieuws en NRC Handelsblad hebben de beschikking gekregen over de duizenden diplomatieke codeberichten van de Amerikaanse diplomatieke dienst uit Den Haag. Het gaat hier om rapportages van de Amerikaanse ambassade in Nederland aan de Verenigde Staten.
RTL Nieuws en NRC publiceren om 16:00 Nederlandse Wikileaks documenten
NRC vr 14 januari 2011 |
Wikileaksdocumenten bij RTL en NRC
Video - WikiLeaks Diplomatic Cables Hit the Internet
Hillary Clinton attacks release of US embassy cables | World news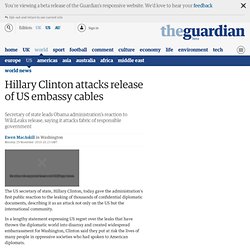 The US secretary of state, Hillary Clinton, today gave the administration's first public reaction to the leaking of thousands of confidential diplomatic documents, describing it as an attack not only on the US but the international community. In a lengthy statement expressing US regret over the leaks that have thrown the diplomatic world into disarray and created widespread embarrassment for Washington, Clinton said they put at risk the lives of many people in oppressive societies who had spoken to American diplomats. Barack Obama also criticised the leak.
Clinton Calls Leaks a Global 'Attack'
Le site WikiLeaks a commencé à publier dimanche soir une partie des 251 287 documents en sa possession, retranscrivant de nombreux échanges et rapports d'agents diplomatiques américains, parfois confidentiels, écrits entre 1996 et 2010. Ces publications s'effectuent en collaboration avec les rédactions du New York Times (Etats-Unis), du Guardian (Grande-Bretagne), d'El Pais (Espagne), du Spiegel (Allemagne) et du Monde pour la France, dont les journalistes ont commencé à analyser et synthétiser les informations contenues dans ces câbles, en fonction de leur importance (voir les dossiers du Monde sur la question). Mais ces sites, de même que WikiLeaks, veulent également rendre accessibles ces données brutes aux internautes. Et le premier outil de base, afin de consulter ces câbles, reste le moteur de recherche. Plusieurs interfaces sont apparues sur la Toile, permettant de trouver les documents publiés sur WikiLeaks grâce à des mots clés ou à des zones géographiques.
BOUSSOLE - WikiLeaks : où chercher les mémos ? - Big Browser - Blog LeMonde.fr
28 November 2010Last updated at 20:55 GMT Hillary Clinton: 'It is an attack on the international community' Whistle-blowing website Wikileaks has begun releasing extracts from secret cables sent by US embassies, giving an insight into current global concerns.
Wikileaks release of embassy cables reveals US concerns
Fallout over latest WikiLeaks release WikiLeaks begins an "unprecedented" release of U.S. cablesDocuments detail U.S. "backroom deals" and spying, WikiLeaks saysCongressional leaders join White House condemnation of WikiLeaks WikiLeaks says it is under cyberattack, but documents are already distributed (CNN) -- The online whistle-blower site WikiLeaks began publishing more than 250,000 diplomatic cables from U.S. embassies around the world Sunday, spawning sharp condemnation from the White House and congressional leaders.
WikiLeaks begins releasing trove of U.S. diplomatic messages
WikiLeaks 'surprised' by scale of US espionage
Wikileaks: Was die geheimen Dokumente verraten | Politik
Wikileaks: Druck auf Julian Assange wächst | Politik
Hinter den Kulissen der Diplomatie | Video
In Wake of WikiLeaks Cable Release, JFK, Ellsberg's Remarks on 'Secrecy', 'Covert Ops' Worth Noting
What if there are no secrets? « BuzzMachine
Joe Lieberman emulates Chinese dictators - Glenn Greenwald
Open Letter to Amazon.com
Video: Glenn Greenwald debate with Steven Aftergood
State Department To Columbia University Students: DO NOT Discuss WikiLeaks On Facebook, Twitter
US diplomats spied on UN leadership | World news
Rap News 6 - Wikileaks' Cablegate: the truth is out there
Cable game
Interview with German Interior Minister: 'WikiLeaks Is Annoying, But Not a Threat' - SPIEGEL ONLINE - News - International
WTF? OMG, LOL! CIA gives WikiLeaks taskforce naughty name | World news
Wikileaks - Cablegate / Statelogs
[November 2010] The WikiLeaks US Embassy Cables