Cyberwar
A massive 2007 cyberassault, traced to Russia, highlighted the need for Estonia to set up a Cyber Defense League, a force of programmers, computer scientists and software engineers who in wartime would function under a unified military command. iStockphoto
Volunteer Cyber Army Emerges In Estonia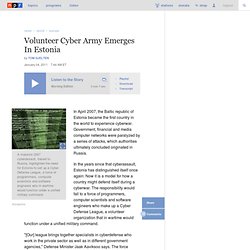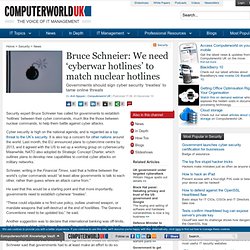 Security expert Bruce Schneier has called for governments to establish 'hotlines' between their cyber commands, much like the those between nuclear commands, to help them battle against cyber attacks.
Bruce Schneier: We need 'cyberwar hotlines' to match nuclear hotlines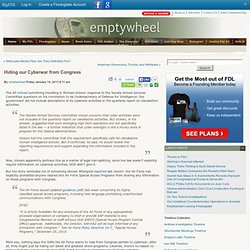 The AP noticed something troubling in Michael Vickers' response to the Senate Armed Services Committee questions on his nomination to be Undersecretary of Defense for Intelligence: the government did not include descriptions of its cyberwar activities in the quarterly report on clandestine activities. The Senate Armed Services Committee voiced concerns that cyber activities were not included in the quarterly report on clandestine activities.
Hiding our Cyberwar from Congress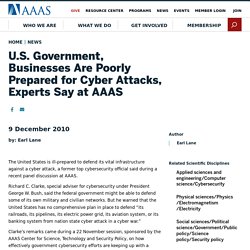 AAAS "U.S. Government, Businesses Are Poorly Prepared for Cyber Attacks, Experts Say at AAAS"
This page has been formatted for easy printing. Return to the normal display .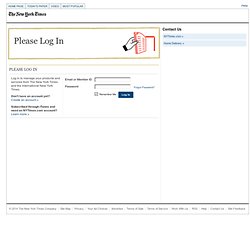 Nicholas Roberts for The New York Times Ralph Langner, an independent computer security expert, solved Stuxnet.
Stuxnet Worm Used Against Iran Was Tested in Israel
New info on Stuxnet
Stuxnet continues to make headlines.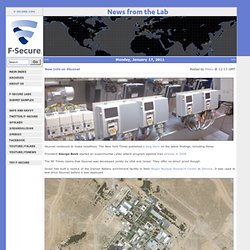 Hillary Clinton, speech on Internet freedom, Newseum, Washington, DC, January, 21, 2010 :
Applying U.S. principles on Internet freedom - Glenn Greenwald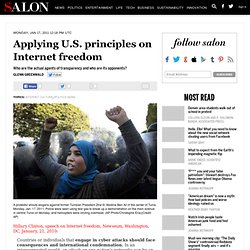 Risks of cyber war 'over-hyped' says OECD study
17 January 2011 Last updated at 10:33 GMT A huge solar flare could give rise to a global cyber shock, warns the report
stuxnet-increasingly-sounding-like-movie-plot.shtml from techdirt.com