Cybersecurity
White House proposal would ease FBI access to records of Internet activity. The Obama administration is seeking to make it easier for the FBI to compel companies to turn over records of an individual's Internet activity without a court order if agents deem the information relevant to a terrorism or intelligence investigation.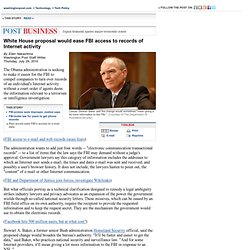 (FBI access to e-mail and web records raises fears) The administration wants to add just four words -- "electronic communication transactional records" -- to a list of items that the law says the FBI may demand without a judge's approval. Government lawyers say this category of information includes the addresses to which an Internet user sends e-mail; the times and dates e-mail was sent and received; and possibly a user's browser history. It does not include, the lawyers hasten to point out, the "content" of e-mail or other Internet communication. Oath of office. An oath of office is an oath or affirmation a person takes before undertaking the duties of an office, usually a position in government or within a religious body, although such oaths are sometimes required of officers of other organizations.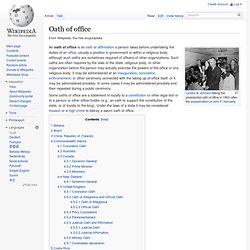 Such oaths are often required by the laws of the state, religious body, or other organization before the person may actually exercise the powers of the office or any religious body. It may be administered at an inauguration, coronation, enthronement, or other ceremony connected with the taking up of office itself, or it may be administered privately. In some cases it may be administered privately and then repeated during a public ceremony. Some oaths of office are a statement of loyalty to a constitution or other legal text or to a person or other office-holder (e.g., an oath to support the constitution of the state, or of loyalty to the king). Under the laws of a state it may be considered treason or a high crime to betray a sworn oath of office. USA PATRIOT Act. Het moment dat de USA PATRIOT Act wordt getekend door George W.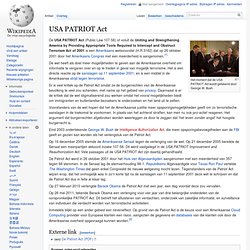 Bush. De USA PATRIOT Act (Public Law 107-56) of voluit de Uniting and Strengthening America by Providing Appropriate Tools Required to Intercept and Obstruct Terrorism Act of 2001 is een Amerikaans wetsvoorstel (H.R.3162) dat op 26 oktober 2001 door het Amerikaans Congres met een meerderheid is aangenomen.[1] De wet heeft als doel meer mogelijkheden te geven aan de Amerikaanse overheid om informatie te vergaren over en op te treden in geval van mogelijk terrorisme. Daniel Ellsberg at Google. Introducing the New Cybersecurity Coordinator. Macon Phillips December 22, 2009 07:30 AM EDT Today the White House announced the President's new White House Cybersecurity Coordinator, Howard Schmidt.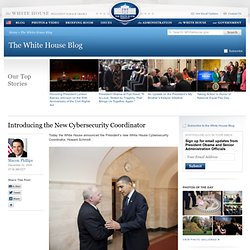 Habeas Corpus Act. Habeas corpus (Lat., "u moet/zult het lichaam hebben") is een rechtsbeginsel dat stelt dat de verdachte van een misdrijf binnen een bepaalde termijn van zijn aanklacht in kennis moet worden gesteld, dat deze in levenden lijve aan een rechter moet worden voorgeleid en dat gevangenneming slechts mag volgen op gerechtelijk bevel.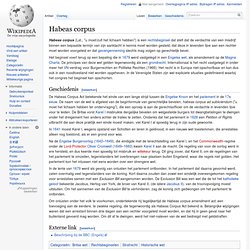 Het beginsel voert terug op een bepaling die in 1679 werd vastgelegd in een Engelse wet, als amendement op de Magna Charta. De principes van deze wet gelden tegenwoordig als een grondrecht. Langston Hughes. Langston Hughes in 1936 Door middel van zijn gedichten, verhalen en toneelstukken streed Hughes, in een tijd toen dat nog heel ongewoon was, voor Afro-Amerikaanse bewustwording en emancipatie en tegen racisme en discriminatie.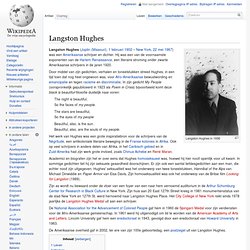 In zijn gedicht My People (oorspronkelijk gepubliceerd in 1923 als Poem in Crisis) bijvoorbeeld komt deze black is beautiful-filosofie duidelijk naar voren: The night is beautiful, So the faces of my people. Let America be America Again by Langston Hughes. Let America be America again.Let it be the dream it used to be.Let it be the pioneer on the plainSeeking a home where he himself is free.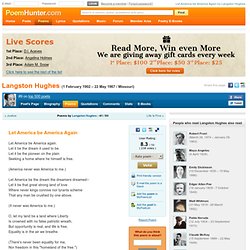 (America never was America to me.) Let America be the dream the dreamers dreamed--Let it be that great strong land of loveWhere never kings connive nor tyrants schemeThat any man be crushed by one above. (It never was America to me.) Top Secret America. The Washington Post (PostTSA) Top Secret America: Interactive map. NSA National Security Agency. Former NSA executive Thomas A. Drake may pay high price for media leak. F or seven years, Thomas A.
Drake was a senior executive at the nation's largest intelligence organization with an ambition to change its insular culture. He had access to classified programs that purported to help the National Security Agency tackle its toughest challenges: exploiting the digital data revolution and countering terrorism. Today, he wears a blue T-shirt and answers questions about iPhones at an Apple store in the Washington area. National Counterterrorism Center (NCTC) Counterterrorism Calendar. Defense Security Service (DSS) Internet Homepage - Flash Version. Truth About the Polygraph. An FBI backdoor in OpenBSD? You have to give Theo de Raadt credit: he's into openness.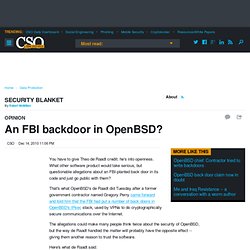 What other software product would take serious, but questionable allegations about an FBI-planted back door in its code and just go public with them? That's what OpenBSD's de Raadt did Tuesday after a former government contractor named Gregory Perry came forward and told him that the FBI had put a number of back doors in OpenBSD's IPsec stack, used by VPNs to do cryptographically secure communications over the Internet. The allegations could make many people think twice about the security of OpenBSD, but the way de Raadt handled the matter will probably have the opposite effect -- giving them another reason to trust the software. Robert McMillan: An bit more information fr... FBI-backdoors in veiligste BSD-variant. Nieuws - De open source Unix-variant OpenBSD blijkt backdoors te hebben.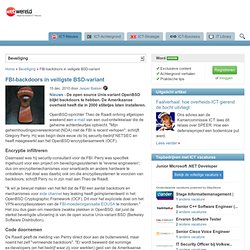 De Amerikaanse overheid heeft die in 2000 stilletjes laten installeren. OpenBSD-oprichter Theo de Raadt ontving afgelopen weekend een e-mail van een oud-ontwikkelaar die de geheime achterdeurtjes opbiecht. "Mijn geheimhoudingsovereenkomst (NDA) met de FBI is recent verlopen", schrijft Gregory Perry. Hij was begin deze eeuw cto bij security-bedrijf NETSEC en heeft meegewerkt aan het OpenBSD-encryptieraamwerk (OCF).
Encryptie infiltreren. Spies and Spooks: The (Mis)Adventures of the CIA - Photo Essays. Obama threatens to veto greater intelligence oversight - Glenn Greenwald. One of the principal weapons used by the Bush administration to engage in illegal surveillance activities — from torture to warrantless eavesdropping — was its refusal to brief the full Congressional Intelligence Committees about its activities. Instead, at best, it would confine its briefings to the so-called "Gang of Eight" — comprised of 8 top-ranking members of the House and Senate — who were impeded by law and other constraints from taking any action even if they learned of blatantly criminal acts.
This was a sham process: it allowed the administration to claim that it "briefed" select Congressional leaders on illegal conduct, but did so in a way that ensured there could be no meaningful action or oversight, because those individuals were barred from taking notes or even consulting their staff and, worse, because the full Intelligence Committees were kept in the dark and thus could do nothing even in the face of clear abuses.
Pelosi Deadlocks Over Intelligence Oversight Bill. Nancy Pelosi and Barack Obama are unlikely political foes, but the House Speaker is in the middle of an ugly fight with the President — as well as the CIA and powerful House and Senate Democrats and Republicans — about Congress's watchdog powers over the U.S. intelligence services. Bucking a veto threat by Obama and overruling a deal among the White House, Republicans and two Democratic committee chairmen, Pelosi is pushing to dramatically expand congressional oversight of the CIA and other intelligence agencies. At issue is Congress's ability to monitor the intelligence programs deemed most sensitive and closely held by the Executive Branch. And the battle is turning into the biggest confrontation yet over Executive power between the liberal House Speaker and a White House that has moved steadily to the center on national security matters.
National Security Letter Recipient Can Speak Out For First Time Since FBI Demanded Customer Records From Him. August 10, 2010 FBI Partially Lifts Gag Order In ACLU Case FOR IMMEDIATE RELEASE CONTACT: (212) 549-2666; media@aclu.org. Pentagon creates 'cyber command' for waging online warfare | Technology. America has confirmed that it will be creating a new Pentagon "cyber command" to bring together the country's various hi-tech military units under one roof. US defence secretary Robert Gates ordered the formation of the group earlier today, following a period of debate over the best way to defend the country from attacks over the internet. The command - which will unite a string of organisations run by the army, navy, air force - plans to tie them together into a single, coherent group that is able to both defend the United States from information warfare and strike out at hostile nations if necessary.
The Department of Defence said that the group is set to begin operating later this year, and plans to be fully operation by October 2010. FBI to Wikipedia: Remove our seal. The FBI's seal, shown here in a photograph, is the subject of a legal dispute between the bureau and Wikipedia. The FBI threatens Wikipedia with legal action over the use of its sealWikipedia says it will not remove the FBI seal from an entry on the federal agencyFBI claims website duplicated its seal without permission, in violation of federal law (CNN) -- The U.S.
Federal Bureau of Investigation has threatened Wikipedia with legal action if the online encyclopedia doesn't remove the FBI's seal from its site. The seal is featured in an encyclopedia entry about the FBI. MI5 | UK Home Page. AIVD - Home. AIVD faalde rond Irak - Binnenland - Telegraaf.nl [24 uur actueel, ook mobiel] [binnenland] AIVD-affaire: een lekkend stel. Advocaat wil Balkenende laten getuigen in AIVD-zaak. Rechtbank weigert premier als getuige. Vrijspraak voor AIVD'ers. House Passes Cybersecurity Bill - The Caucus Blog. Bipartisan Policy Center. Sprint fed customer GPS data to cops over 8 million times. Yahoo Issues Takedown Notice for Spying Price List | Threat Leve.
Cryptome. Virgin Media becomes the first UK ISP to test a filesharing moni. S.3480: Protecting Cyberspace as a National Asset Act of 2010 - Protecting cyberspace comes at a cost | mndaily.com - Serving th. New Bill Would Let Obama Police Internet for National Security R. Senate Committee on Homeland Security and Governme. Cyber War - The Aurora Project. Cyber attacks are criminal. Britain joins cyber-security race | Technology. Fake femme fatale shows social network risks.
---