(in)direct forms of censorship and counterreactions
UN Special Rapporteur on the Promotion and Protectionthe Right to Freedom of Opinion and Expression
United Nations Special Rapporteur on the Promotion and Protectionthe Right to Freedom of Opinion and Expression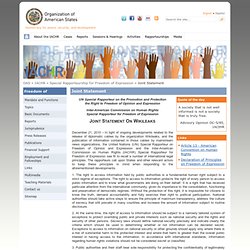 Submit ideas to info [at] ip-watch [dot] ch! We welcome your participation in article and blog comment threads, and other discussion forums, where we encourage you to analyse and react to the content available on the Intellectual Property Watch website.
Intellectual Property Watch » Blog Archive » Calls At UN For An International Body To Prevent Internet Control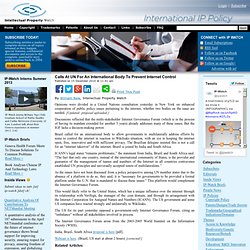 Gemeinsame Erklärung: Appell gegen die Angriffe auf Wikileaks
Gemeinsame Erklärung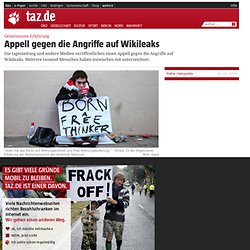 bewegung.taz - Appell für WikiLeaks - Über die Aktion
Appell gegen die Kriminalisierung von Wikileaks Allgemeine Erklärung der Menschenrechte der Vereinten Nationen Artikel 19: "Jeder hat das Recht auf Meinungsfreiheit und freie Meinungsäußerung; dieses Recht schließt die Freiheit ein, Meinungen ungehindert anzuhängen sowie über Medien jeder Art und ohne Rücksicht auf Grenzen Informationen und Gedankengut zu suchen, zu empfangen und zu verbreiten."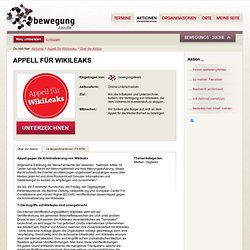 The powerful law firm at the center of the WikiLeaks plot - War Room
One of the big outstanding questions in the story of the plot to undermine WikiLeaks and Salon's Glenn Greenwald, as well as a separate plan to discredit critics of the Chamber of Commerce, is the nature of the role played by the large international law firm Hunton & Williams.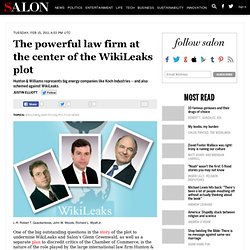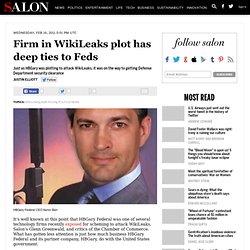 It's well known at this point that HBGary Federal was one of several technology firms recently exposed for scheming to attack WikiLeaks, Salon's Glenn Greenwald, and critics of the Chamber of Commerce. What has gotten less attention is just how much business HBGary Federal and its partner company, HBGary, do with the United States government.
Firm in WikiLeaks plot has deep ties to Feds - War Room
3311
U.S. planned to destroy WikiLeaks methods
"I'm considering all possible options" of fighting back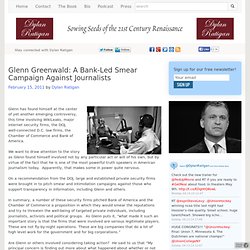 We want to draw attention to the story as Glenn found himself involved not by any particular act or will of his own, but by virtue of the fact that he is one of the most powerful truth speakers in American journalism today.
The First Amendment (Amendment I) to the United States Constitution prohibits the making of any law respecting an establishment of religion, impeding the free exercise of religion, abridging the freedom of speech, infringing on the freedom of the press, interfering with the right to peaceably assemble or prohibiting the petitioning for a governmental redress of grievances. It was adopted on December 15, 1791, as one of the ten amendments that comprise the Bill of Rights.
First Amendment to the United States Constitution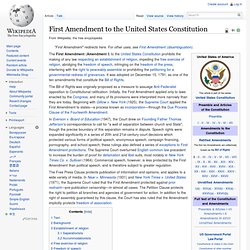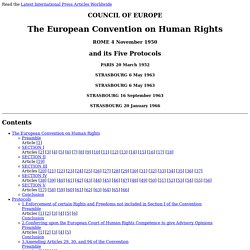 ROME 4 November 1950
European Convention on Human Rights and its Five Protocols
Assange Interview With Cenk Uygur (12/22/10)
Congress Hears WikiLeaks Is 'Fundamentally Different' From Media | Threat Level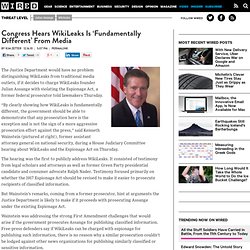 The Justice Department would have no problem distinguishing WikiLeaks from traditional media outlets, if it decides to charge WikiLeaks founder Julian Assange with violating the Espionage Act, a former federal prosecutor told lawmakers Thursday.
Wainstein(pdf) the espionage act and wikileaks
Posted by Ethan on Oct 1st, 2010 in Human Rights, ideas, Media | 4 comments
Ethan Zuckerman Public Spaces, Private Infrastructure –
Ethan Zuckerman intermediary censorship chapter-5
Policing Content in the Quasi-Public Sphere
September 2010 Authored by Jillian C. York, with contributions from Robert Faris and Ron Deibert, and editorial assistance from Rebekah Heacock Online conversations today exist primarily in the realm of social media and blogging platforms, most of which are owned by private companies.
Zeynep Tufekci argues that "What the Wikileaks furor shows us is that a dissent tax is emerging on the Internet": …the Internet is not a true public sphere; it is a public sphere erected on private property, what I have dubbed a "quasi-public sphere," where the property owners can sideline and constrain dissent…During these past weeks [we have seen] the crumbling of the facade of a flat, equal, open Internet and the revelation of an Internet which has corporate power occupying its key crossroads, ever-so-sensitive to any whiff of displeasure by the state. I saw an Internet in danger of becoming merely an interactive version of the television in terms of effective freedom of speech.
Wikilinks
How to save Julian Assange's movement from itself. American diplomacy seems to have survived Wikileaks's "attack on the international community," as Hillary Clinton so dramatically characterized it, unscathed. Save for a few diplomatic reshuffles, Foggy Bottom doesn't seem to be deeply affected by what happened.
A year ago this January, U.S. Secretary of State Hillary Clinton took the stage at Washington's Newseum to tout an idea that her State Department had become very taken with: the Internet's ability to spread freedom and democracy. "We want to put these tools in the hands of people who will use them to advance democracy and human rights," she told the crowd, drawn from both the buttoned-up Beltway and chronically underdressed Silicon Valley. Call it the Internet Freedom Agenda: the notion that technology can succeed in opening up the world where offline efforts have failed.
Freedom.gov - By Evgeny Morozov
The Internet, Ignored No More: Morozov's Case Against "Freedom.gov" » Article » OWNI.eu, Digital Journalism
Attempts to prosecute WikiLeaks endanger press freedoms - Glenn Greenwald
Pentagon Papers II? On WikiLeaks and the First Amendment - Law Blog
The Walkley Foundation - Newsbites
101213_letter_wikiLeaks_support
Walkley Foundation (walkleys) on Twitter
Australian Protest: The supporters of Julian Assange
Say No to Online Censorship!
Human Rights Watch: wikileaks publishers should not
Reporters Sans Frontières - Open letter to President Obama and General Attorney Holder regarding possible criminal prosecution against Julian Assange
Human Rights Organizations Worldwide Decry Attacks on Freedom of Expression
Human rights organizations around the world condemn Wikileaks censorship
Deutscher Journalisten Verband: Wikileaks
German newspapers in pro-WikiLeaks appeal
Wolfgang Blau: Germany's largest Journali
Duitse media steunen WikiLeaks
"Slut upp bakom Wikileaks" - Debatt - Expressen.se
Columbia j-school staff: WikiLeaks prosecution 'will set a dangerous precedent'
Journalists Are All Julian Assange
Nieman Lab: Columbia J-school faculty
Secrecy and Journalism in the New Media Age | Home
#Niemanleaks on Thursday: After WikiLeaks, a flood of new questions
Speakers: Secrecy and Journalism in the New Media Age
Bill Keller on how WikiLeaks has evolved, the NYT reporting process, and threats to national security » Nieman Journalism Lab » Pushing to the Future of Journalism
Secrecy and Journalism: Keynote II on Vimeo
Bill Keller: WikiLeaks isn't my kind of news org, but they have evolved » Nieman Journalism Lab » Pushing to the Future of Journalism
Secrecy and Journalism » Nieman Journalism Lab » Pushing to the Future of Journalism
techwithoutborders.org
Courage is Contagious
SPJ President ?dump? The consensus on WikiLeaks: there is no consensus. But consider the ethics
Hagit Limor (hlimor) on Twitter
Why Journalists Aren't Defending Julian Assange - Newsweek
SPJ News
Why American journalists have failed to support WikiLeaks | Media
PatrickMeier The Starfish and the Spider: 8 Principles of Decentralization
The Starfish and the Spider: The Unstoppable Power of Leaderless Organizations
Wiki - The Starfish and the Spider
Networks and Hierarchies: A Typology of Digital Activism Today
governments (inter)national law
temporary filed unordered
Bruce Schneier: WikiLeaks
WikiLeaks: We are under denial-of-service attack | Digital Media