(in)direct forms of censorship and counterreactions
United Nations Special Rapporteur on the Promotion and Protectionthe Right to Freedom of Opinion and Expression. UN Special Rapporteur on the Promotion and Protectionthe Right to Freedom of Opinion and Expression Inter-American Commission on Human RightsSpecial Rapporteur for Freedom of Expression Joint Statement On Wikileaks December 21, 2010 – In light of ongoing developments related to the release of diplomatic cables by the organization Wikileaks, and the publication of information contained in those cables by mainstream news organizations, the United Nations (UN) Special Rapporteur on Freedom of Opinion and Expression and the Inter-American Commission on Human Rights (IACHR) Special Rapporteur for Freedom of Expression see fit to recall a number of international legal principles.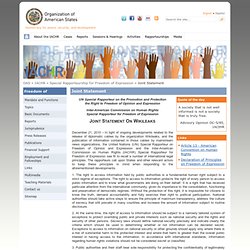 The rapporteurs call upon States and other relevant actors to keep these principles in mind when responding to the aforementioned developments. Intellectual Property Watch » Blog Archive » Calls At UN For An International Body To Prevent Internet Control. IP-Watch Interns Summer 2013 IP-Watch interns Brittany Ngo (Yale Graduate School of Public Health) and Caitlin McGivern (University of Law, London) talk about their Geneva experience in summer 2013. 2:42.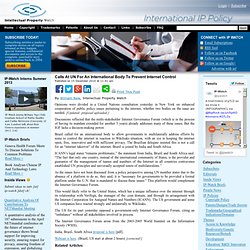 Submit ideas to info [at] ip-watch [dot] ch! We welcome your participation in article and blog comment threads, and other discussion forums, where we encourage you to analyse and react to the content available on the Intellectual Property Watch website. By participating in discussions or reader forums, or by submitting opinion pieces or comments to articles, blogs, reviews or multimedia features, you are consenting to these rules. 1. Gemeinsame Erklärung: Appell gegen die Angriffe auf Wikileaks. Gemeinsame Erklärung Die tageszeitung und andere Medien veröffentlichen einen Appell gegen die Angriffe auf Wikileaks.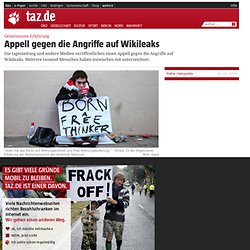 Mehrere tausend Menschen haben inzwischen mit unterzeichnet. "Jeder hat das Recht auf Meinungsfreiheit und freie Meinungsäußerung. " - Artikel 19 der Allgemeinen Erklärung der Menschenrechte der Vereinten Nationen. Appell für WikiLeaks - Über die Aktion. Appell gegen die Kriminalisierung von Wikileaks Allgemeine Erklärung der Menschenrechte der Vereinten Nationen Artikel 19: "Jeder hat das Recht auf Meinungsfreiheit und freie Meinungsäußerung; dieses Recht schließt die Freiheit ein, Meinungen ungehindert anzuhängen sowie über Medien jeder Art und ohne Rücksicht auf Grenzen Informationen und Gedankengut zu suchen, zu empfangen und zu verbreiten.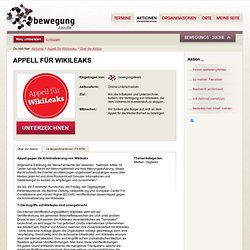 " die taz, die Frankfurter Rundschau, der Freitag, der Tagesspiegel, Perlentaucher.de, die Berliner Zeitung, netzpolitik.org und European Center For Constitutional and Human Rights (ECCHR) veröffentlichen diesen Appell gegen die Kriminalisierung von Wikileaks. 1. Die Angriffe auf Wikileaks sind unangebracht Die Internet-Veröffentlichungsplattform Wikileaks steht seit derVeröffentlichung der geheimen Botschaftsdepeschen der USA unter großem Druck. The powerful law firm at the center of the WikiLeaks plot - War Room.
One of the big outstanding questions in the story of the plot to undermine WikiLeaks and Salon's Glenn Greenwald, as well as a separate plan to discredit critics of the Chamber of Commerce, is the nature of the role played by the large international law firm Hunton & Williams.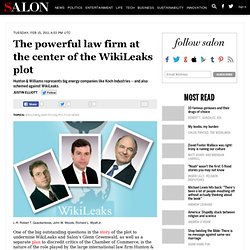 Hunton, which brags it employs 1,000 lawyers in 18 offices on three continents, has worked for both the Chamber and Bank of America. The company is nervous because WikiLeaks is reportedly planning to release internal bank documents, and Bank of America apparently connected with Hunton to help respond to the crisis. Hunton attorneys in turn had a series of e-mail communications — since hacked by WikiLeaks supporters and published online — with a trio of technology firms that proposed various schemes to attack WikiLeaks, Greenwald and critics of the Chamber.
Firm in WikiLeaks plot has deep ties to Feds - War Room. It's well known at this point that HBGary Federal was one of several technology firms recently exposed for scheming to attack WikiLeaks, Salon's Glenn Greenwald, and critics of the Chamber of Commerce.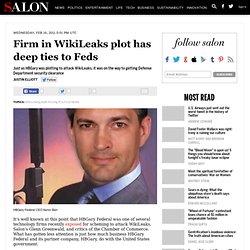 What has gotten less attention is just how much business HBGary Federal and its partner company, HBGary, do with the United States government. Internal HBGary Federal emails reviewed by Salon show that the firm was on its way to getting security clearance at the Department of Defense late last month. HBGary Federal CEO Aaron Barr has bragged that the firm provides "specialized threat intelligence, incident response, and information operations capabilities to the IC [Intelligence Community], DoD, and Federal agencies." The exact nature of the services provided by HBGary Federal — and what intelligence agencies might be involved — is not clear. 3311. U.S. planned to destroy WikiLeaks methods. "I'm considering all possible options" of fighting back. Glenn has found himself at the center of yet another emerging controversy, this time involving WikiLeaks, major internet security firms, the DOJ, well-connected D.C. law firms, the Chamber of Commerce and Bank of America.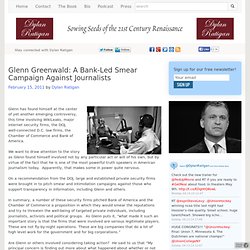 We want to draw attention to the story as Glenn found himself involved not by any particular act or will of his own, but by virtue of the fact that he is one of the most powerful truth speakers in American journalism today. Apparently, that makes some in power quite nervous. On a recommendation from the DOJ, large and established private security firms were brought in to pitch smear and intimidation campaigns against those who support transparency in information, including Glenn and others.
In summary, a number of these security firms pitched Bank of America and the Chamber of Commerce a proposition in which they would smear the reputations and try to threaten the well-being of targeted private individuals, including journalists, activists and political groups. First Amendment to the United States Constitution. The First Amendment (Amendment I) to the United States Constitution prohibits the making of any law respecting an establishment of religion, impeding the free exercise of religion, abridging the freedom of speech, infringing on the freedom of the press, interfering with the right to peaceably assemble or prohibiting the petitioning for a governmental redress of grievances.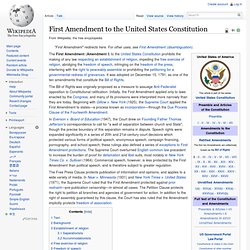 It was adopted on December 15, 1791, as one of the ten amendments that constitute the Bill of Rights. The Bill of Rights was originally proposed as a measure to assuage Anti-Federalist opposition to Constitutional ratification. Initially, the First Amendment applied only to laws enacted by the Congress, and many of its provisions were interpreted more narrowly than they are today. Beginning with Gitlow v. New York (1925), the Supreme Court applied the First Amendment to states—a process known as incorporation—through the Due Process Clause of the Fourteenth Amendment.
European Convention on Human Rights and its Five Protocols. ROME 4 November 1950 and its Five Protocols PARIS 20 March 1952 STRASBOURG 6 May 1963 STRASBOURG 16 September 1963.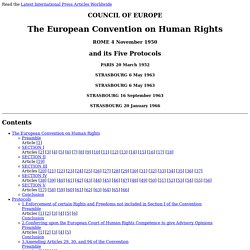 Assange Interview With Cenk Uygur (12/22/10) Congress Hears WikiLeaks Is 'Fundamentally Different' From Media | Threat Level. The Justice Department would have no problem distinguishing WikiLeaks from traditional media outlets, if it decides to charge WikiLeaks founder Julian Assange with violating the Espionage Act, a former federal prosecutor told lawmakers Thursday.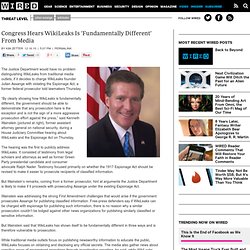 "By clearly showing how WikiLeaks is fundamentally different, the government should be able to demonstrate that any prosecution here is the exception and is not the sign of a more aggressive prosecution effort against the press," said Kenneth Wainstein (pictured at right), former assistant attorney general on national security, during a House Judiciary Committee hearing about WikiLeaks and the Espionage Act on Thursday. The hearing was the first to publicly address WikiLeaks. It consisted of testimony from legal scholars and attorneys as well as former Green Party presidential candidate and consumer advocate Ralph Nader. Wainstein(pdf) the espionage act and wikileaks. Ethan Zuckerman Public Spaces, Private Infrastructure – Posted by Ethan on Oct 1st, 2010 in Human Rights, ideas, Media | 4 comments I'm speaking at the Open Video Conference in New York City today on a panel with noted Indian legal activist, Lawrence Liang. The panel is titled "Public Spaces, Private Infrastructure", and we're going to talk about the challenges that come from hosting the "networked public sphere" on platforms owned by private, for-profit companies.
Here's what I'm planning on putting forward to open the conversation. Ethan Zuckerman intermediary censorship chapter-5. Policing Content in the Quasi-Public Sphere. September 2010 Authored by Jillian C. York, with contributions from Robert Faris and Ron Deibert, and editorial assistance from Rebekah Heacock Online conversations today exist primarily in the realm of social media and blogging platforms, most of which are owned by private companies. Wikilinks. Zeynep Tufekci argues that "What the Wikileaks furor shows us is that a dissent tax is emerging on the Internet": …the Internet is not a true public sphere; it is a public sphere erected on private property, what I have dubbed a "quasi-public sphere," where the property owners can sideline and constrain dissent…During these past weeks [we have seen] the crumbling of the facade of a flat, equal, open Internet and the revelation of an Internet which has corporate power occupying its key crossroads, ever-so-sensitive to any whiff of displeasure by the state.
I saw an Internet in danger of becoming merely an interactive version of the television in terms of effective freedom of speech. Wikileaks, The Pirate Party, And The Future Of The Internet. How to save Julian Assange's movement from itself. American diplomacy seems to have survived Wikileaks's "attack on the international community," as Hillary Clinton so dramatically characterized it, unscathed. Save for a few diplomatic reshuffles, Foggy Bottom doesn't seem to be deeply affected by what happened. Freedom.gov - By Evgeny Morozov. A year ago this January, U.S. Secretary of State Hillary Clinton took the stage at Washington's Newseum to tout an idea that her State Department had become very taken with: the Internet's ability to spread freedom and democracy. "We want to put these tools in the hands of people who will use them to advance democracy and human rights," she told the crowd, drawn from both the buttoned-up Beltway and chronically underdressed Silicon Valley.
Call it the Internet Freedom Agenda: the notion that technology can succeed in opening up the world where offline efforts have failed. The Internet, Ignored No More: Morozov's Case Against "Freedom.gov" » Article » OWNI.eu, Digital Journalism.
Symposium #pdfleaks2. Attempts to prosecute WikiLeaks endanger press freedoms - Glenn Greenwald. Pentagon Papers II? On WikiLeaks and the First Amendment - Law Blog. The Walkley Foundation - Newsbites. 101213_letter_wikiLeaks_support. Walkley Foundation (walkleys) Australian Protest: The supporters of Julian Assange. Say No to Online Censorship! Human Rights Watch: wikileaks publishers should not. Reporters Sans Frontières - Open letter to President Obama and General Attorney Holder regarding possible criminal prosecution against Julian Assange. Human Rights Organizations Worldwide Decry Attacks on Freedom of Expression. Human rights organizations around the world condemn Wikileaks censorship. Deutscher Journalisten Verband: Wikileaks. German newspapers in pro-WikiLeaks appeal.
Wolfgang Blau: Germany's largest Journali... Duitse media steunen WikiLeaks. "Slut upp bakom Wikileaks" - Debatt - Expressen.se. Columbia j-school staff: WikiLeaks prosecution 'will set a dangerous precedent' Journalists Are All Julian Assange. Nieman Lab: Columbia J-school faculty... Secrecy and Journalism in the New Media Age | Home. #Niemanleaks on Thursday: After WikiLeaks, a flood of new questions. Speakers: Secrecy and Journalism in the New Media Age. Bill Keller on how WikiLeaks has evolved, the NYT reporting process, and threats to national security. Secrecy and Journalism: Keynote II. Bill Keller: WikiLeaks isn't my kind of news org, but they have evolved. Secrecy and Journalism. Techwithoutborders.org. Courage is Contagious.
SPJ President ?dump? The consensus on WikiLeaks: there is no consensus. But consider the ethics. Hagit Limor (hlimor) Why Journalists Aren't Defending Julian Assange. SPJ News. Why American journalists have failed to support WikiLeaks | Media. PatrickMeier The Starfish and the Spider: 8 Principles of Decentralization. The Starfish and the Spider: The Unstoppable Power of Leaderless Organizations. Wiki - The Starfish and the Spider. Networks and Hierarchies: A Typology of Digital Activism Today.
Corporate. Ad hominem. Anonymous. Language. Petitions. Temporary filed unordered. Bruce Schneier: WikiLeaks. WikiLeaks: We are under denial-of-service attack | Digital Media.
---