Bank of america
WikiLeaks Founder Assange Plans Release of U.S. Bank's Documents Next Year. WikiLeaks founder Julian Assange, who told Forbes magazine that he'll release documents from a U.S. bank next year, said in 2009 that his group had a hard drive from a Bank of America Corp. executive.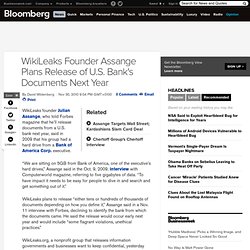 "We are sitting on 5GB from Bank of America, one of the executive's hard drives," Assange said in the Oct. 9, 2009, interview with Computerworld magazine, referring to five gigabytes of data. "To have impact it needs to be easy for people to dive in and search and get something out of it." WikiLeaks plans to release "either tens or hundreds of thousands of documents depending on how you define it," Assange said in a Nov. 11 interview with Forbes, declining to identify the bank from which the documents came. Network. The WikiLeaks strategy: Bank of America buys up abusive domain names. Bank of America has snapped up hundreds of abusive domain names for its senior executives and board members in what is being perceived as a defensive strategy against the future publication of damaging insider info from whistleblowing Website WikiLeaks.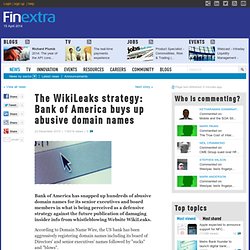 According to Domain Name Wire, the US bank has been aggressively registering domain names including its board of Directors' and senior executives' names followed by "sucks" and "blows". For example, the company registered a number of domains for CEO Brian Moynihan: BrianMoynihanBlows.com, BrianMoynihanSucks.com, BrianTMoynihanBlows.com, and BrianTMoynihanSucks.com. The wire report counted hundreds of such domain name registrations on 17 December alone. Bank of America Also Refuses to Handle WikiLeaks Payments. Financial giant Bank of America has added its name to the list of institutions dropping support for WikiLeaks, announcing that it has stopped handling any payments to or from the whistle-blowing website.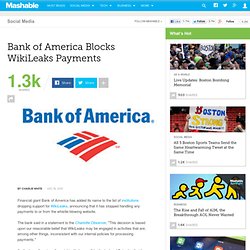 The bank said in a statement to the Charlotte Observer, "This decision is based upon our reasonable belief that WikiLeaks may be engaged in activities that are, among other things, inconsistent with our internal policies for processing payments. " As the huge American financial institution confidently declared Saturday that it was standing against the website headed by controversial figure Julian Assange, his WikiLeaks organization fired back a Twitter post urging consumers to stop doing business with Bank of America. "We ask that all people who love freedom close out their accounts at Bank of America," pleaded the WikiLeaks tweet. Bank of America stops handling Wikileaks payments.
18 December 2010Last updated at 16:06 The Bank of America said it stopped "transactions of any kind" for Wikileaks Bank of America has stopped handling payments for whistle-blowing website Wikileaks, joining several other major financial institutions.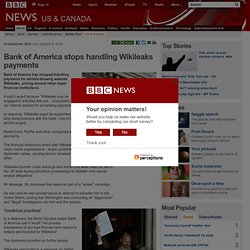 It said it acted because "Wikileaks may be engaged in activities that are... inconsistent with our internal policies for processing payments". In response, Wikileaks urged its supporters to stop doing business with the bank - one of the world's largest. MasterCard, PayPal and other companies earlier cut off Wikileaks' payments. Gordon Whitman: 11 Ways Bank of America Practices Hurt Americans. Today's front page New York Times story about Bank of America illegally breaking into people's homes and taking their possessions is a painful reminder that many American families are spending the holiday season desperately trying to save their homes.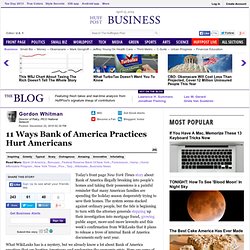 The system seems stacked against ordinary people, but the tide is beginning to turn with the attorney generals stepping up their investigation into mortgage fraud, growing public anger, more-and-more lawsuits and this week's confirmation from WikiLeaks that it plans to release a trove of internal Bank of America documents early next year.
What WikiLeaks has is a mystery, but we already know a lot about Bank of America practices that are hurting Americans and prolonging the economic crisis. Here are some of the big issues that impact families and communities, from a report card that PICO National Network and National People's Action put out last week on Brian Moynihan's first year as CEO. Banks Accused of Illegally Breaking Into Homes. Bank Of America Working With High Level Counter-Espionage Unit In Advance Of WikiLeaks Disclosure. Facing WikiLeaks Threat, Bank of America Plays Defense. Crisis PR Online: WikiLeaks 10, Bank of America 0. Frantic internal review of secrecy procedures?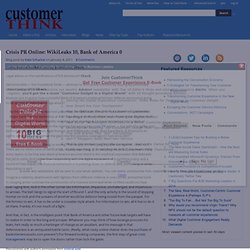 Check. Legal advice on the ramifications of full disclosure? Check. Bank Of America Suck. The American Dream Film. WikiLeaks Won't Publish Bank Documents Immediately, Tribune Says. Neuigkeiten zu geheimen Bank-Dokumenten. Laut intern.de plant WikiLeaks-Sprecher Julian Assange am kommenden Montag (17.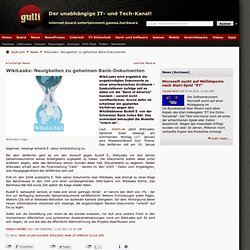 Januar) eine Pressekonferenz zum Thema. Das Verfahren soll am 19. Januar beginnen. News Headlines. Bank of America | Home | Personal. Wikileaks Bank Of America Fraud And Corruption Documents. Anonymous (OperationLeakS) Balboa Insurance Group. Bank of America Unit Tried to Hide Foreclosure Information, Hackers Say. A hacker organization known as Anonymous released a series of e-mails on Monday provided by a former Bank of America employee who claims they show how a division of the bank sought to hide information on foreclosures.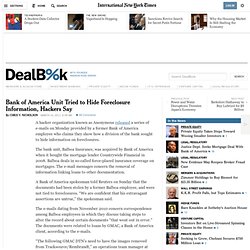 The bank unit, Balboa Insurance, was acquired by Bank of America when it bought the mortgage lender Countrywide Financial in 2008. Balboa deals in so-called force-placed insurance coverage on mortgages. The e-mail messages concern the removal of information linking loans to other documentation. A Bank of America spokesman told Reuters on Sunday that the documents had been stolen by a former Balboa employee, and were not tied to foreclosures. Hacker group releases BofA employee correspondence. Leakers take their shot at BofA - Street Sweep: Fortune's Wall Street Blog. We may soon find out whether it's possible to shame one of the big U.S. banks by exposing its mortgage missteps.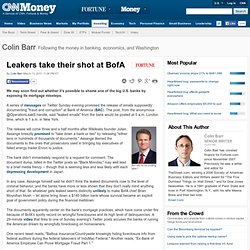 A series of messages on Twitter Sunday evening promised the release of emails supposedly documenting "fraud and corruption" at Bank of America (BAC). The post, from the anonymous @OperationLeakS handle, said "leaked emails" from the bank would be posted at 5 a.m. London time, which is 1 a.m. in New York.
---