Good reads
natural sciences - myScience.ch - The Swiss Portal for Research and Innovation
helfandpaper.pdf (application/pdf Object)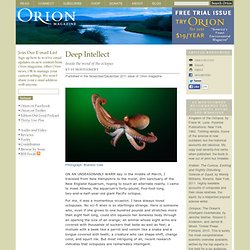 Inside the mind of the octopus by Sy Montgomery Photograph: Brandon Cole ON AN UNSEASONABLY WARM day in the middle of March, I traveled from New Hampshire to the moist, dim sanctuary of the New England Aquarium, hoping to touch an alternate reality. I came to meet Athena, the aquarium's forty-pound, five-foot-long, two-and-a-half-year-old giant Pacific octopus.
Avoid_News_Part1_TEXT.pdf (application/pdf Object)
TICS_Neuroecon.pdf (application/pdf Object)
McAllen, Texas and the high cost of health care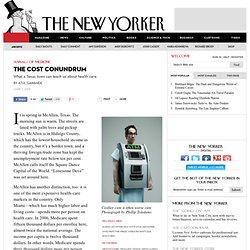 It is spring in McAllen, Texas. The morning sun is warm. The streets are lined with palm trees and pickup trucks. McAllen is in Hidalgo County, which has the lowest household income in the country, but it's a border town, and a thriving foreign-trade zone has kept the unemployment rate below ten per cent.
22 August 2011 Last updated at 20:42 ET By Jane Wakefield Technology reporter Algorithms are spreading their influence around the globe If you were expecting some kind of warning when computers finally get smarter than us, then think again. There will be no soothing HAL 9000-type voice informing us that our human services are now surplus to requirements. In reality, our electronic overlords are already taking control, and they are doing it in a far more subtle way than science fiction would have us believe. Their weapon of choice - the algorithm.
When algorithms control the world