IDE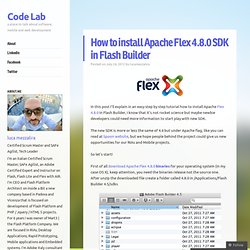 In this post I'll explain in an easy step by step tutorial how to install Apache Flex 4.8.0 in Flash Builder, I know that it's not rocket science but maybe newbie developers could need more information to start play with new SDK. The new SDK is more or less the same of 4.6 but under Apache flag, like you can read at Spoon website, but we hope people behind the project could give us new opportunities for our RIAs and Mobile projects. So let's start!
How to install Apache Flex 4.8.0 SDK in Flash Builder « Flash Platform & Co.
Many of you who build medium to large-sized Flex projects with Flex Builder know that you need to modify the memory settings of the JVM in FlexBuilder.ini. For example, my JVM settings in FlexBuilder.ini look like this: -Xms512m -Xmx1024m -XX:MaxPermSize=256m -XX:PermSize=64m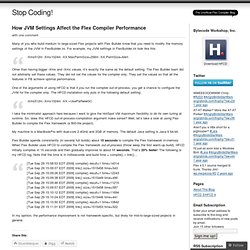 How JVM Settings Affect the Flex Compiler Performance « Stop Cod
Running Flex 4 SDK and FlashDevelop
Using only Flash IDE for ActionScript or AIR projects is almost never final choice for many developers. In fact, majority of developers use all kind of available tools. When team work is involved usable knowledge of these tools is a must and this is also a big plus in anyone's portfolio. Here is small intro how to introduce Flex 4 SDK + FlashDevelop workflow.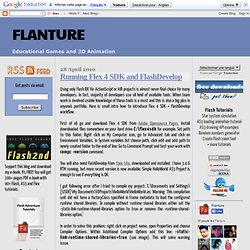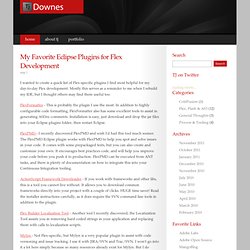 May 3 I wanted to create a quick list of Flex-specific plugins I find most helpful for my day-to-day Flex development. Mostly this serves as a reminder to me when I rebuild my IDE, but I thought others may find them useful too. FlexFormatter - This is probably the plugin I use the most. In addition to highly configurable code formatting, FlexFormatter also has some excellent tools to assist in generating ASDoc comments. Installation is easy, just download and drop the jar files into your Eclipse plugins folder, then restart Eclipse.
My Favorite Eclipse Plugins for Flex Development — TJ Downes
FlashBuilder 4 tip: install ANT prospective in Eclipse version: