Icones
Iconmonstr. App. Fontello - easy iconic fonts composer. Les icônes : 40 Icônes de qualité pour vos prochains Templates - icones-ressources. Vector icône, t l chargement gratuit des vecteurs, des outils gratuits T l chargement gratuit de Vector, PSD, FLASH, JPG - www.fordesigner.com. All the materials uploaded by net friends.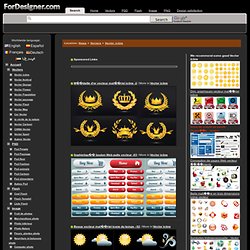 Only learning.All The vector mentioned are the property of their respective owners, and are either freeware, shareware, demo versions or public domain. The licence mentioned above the download button is just an indication. 5 Best High Quality Icons Search Engine Websites For Web Designers and Developers. April 11th, 2011 Ntt.cc Icons are one of the most important element for a website.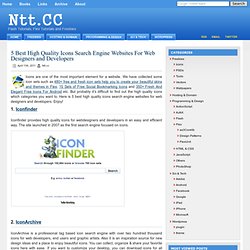 We have collected some icon sets such as 480+ free and fresh icon sets help you to create your beautiful skins and themes in Flex, 15 Sets of Free Social Bookmarking Icons and 350+ Fresh And Elegant Free Icons For Android etc. But probably it's difficult to find out the high quality icons which categories you want to. Here is 5 best high quality icons search engine websites for web designers and developers. 110 icônes de qualité pour vos prochains webdesign - icones. 200 icones toutes fraiches pour vos prochains Webdesign - Blog Du Webdesign Magazine. NounProject.
40 Professional Icon Sets For Free Download - Smashing Magazine. Advertisement When it comes to icons, web designers and graphic artists have an excellent opportunity to showcase their craft, prove their experience and explore their creativity.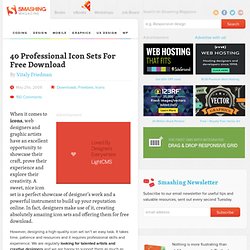 A sweet, nice icon set is a perfect showcase of designer's work and a powerful instrument to build up your reputation online. In fact, designers make use of it, creating absolutely amazing icon sets and offering them for free download. 25 Fresh and Useful Icon Sets. 463 shares 8 Free & Useful Minimal Icon Sets Icons are certainly a very important element of a design.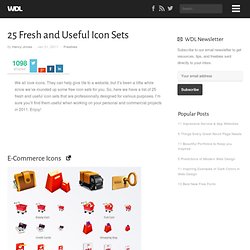 It doesn't matter if you are putting together a website or app, icons will be the key for several user interactions. This is why it's always good to fill your library with good icons you can count on.
---