Ergonomie
User Interface Design Tools for Web Designer | Web Help 101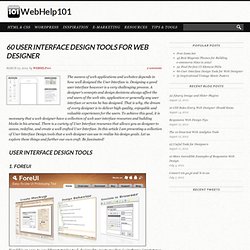 The success of web applications and websites depends in how well designed the User Interface is. Designing a good user interface however is a very challenging process. A designer's concepts and design decisions always affect the end users of the web site, application or generally any user interface or service he has designed. That is why, the dream of every designer is to deliver high quality, enjoyable and valuable experiences for the users.
Today, Web site Design is a very important part of current Graphic Design. To keep up with the fast-paced web design industry you must look out self education sources, such as books, books are very important, helps us to build our spirit, give information, helps us to write and think better, help us to chose right or wrong. Books are widely available everywhere as there are non-stop supply of information out there for us web designers. Books are keen to assist you indesigning for today's landscape, rather than rooting you in the past. With modern designers having to cater for mobile browsers, tablets, netbooks and also massive widescreen displays, the concept of design that anticipates and responds to your users' needs is key.
40+ Useful Free Online Books for Web Designers | Web Design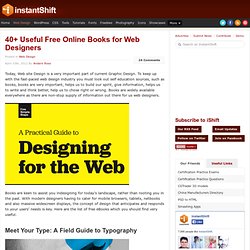 Livres de référence sur l'ergonomie des interfaces et l'utilisabilité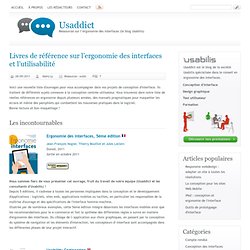 Voici une nouvelle liste d'ouvrages pour vous accompagner dans vos projets de conception d'interface. Ils traitent de différents sujets connexes à la conception centrée utilisateur. Vous trouverez dans notre liste de réelles références en ergonomie depuis plusieurs années, des manuels pragmatiques pour maquetter les écrans et même des pamphlets qui combattent les mauvaises pratiques dans le logiciel. Bonne lecture et bon maquettage !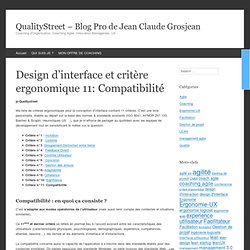 Posté par jc-Qualitystreet le 23 février 2011 Ma liste de critères ergonomiques pour la conception d'interface contient 11 critères. C'est une liste personnelle, établie au départ sur la base des normes & standards existants (ISO 9241, AFNOR Z67 133, Bastien & Scapin, Heuristiques US …), que je m'efforce de partager au quotidien avec les équipes de développement tout en sensibilisant le métier sur la question. Critère n°1 : Incitation Critère n°2 : Lisibilité Critère n°3 : Groupement-Distinction entre items Critère n°4 : Feedback Direct Critère n°5 : Contrôle Utilisateur Critère n°6 : Concision Critère n°7 : Gestion des erreurs Critère n°8: Adaptabilité Critère n°9: Cohérence Critère n°10: Signifiance Critère n°11: Compatibilité C'est s'adapter aux modes opératoires de l'utilisateur (mais aussi tenir compte des contextes et situations similaires).
Design d'interface et critère ergonomique 11: Compatibilité
MenUA