Emulatori
GEBA ROMS
English Amiga Board
Browse
Roms,Emulators,Games|The Old Computer|Nes Roms|Snes Roms|N64 Roms|GBA Roms|Mame Roms|Free Download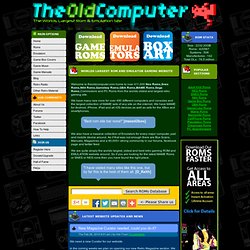 New Magazine Curator needed, could you do it? Thu Feb 06, 2014 9:01 pm | by Hot Trout | 0 comments We need a new Curator for our website.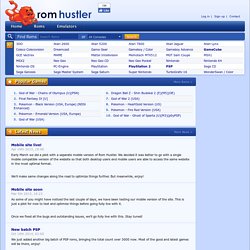 Rom Hustler - Download Snes roms Mame roms N64 roms GBA roms Genesis roms
MAME Updated to 0.152 Apr 2nd, 03:29 Sorry for the delay on this update (and the skipping of 0.151). MAME has just been updated to its latest version: 0.152. NDS Updated Apr 1st, 12:23
New to Emulation? Make sure to visit our tutorial section first! Looking to play classic games on your PC, Mac or mobile device?
CoolROM.com - ROMs and Emulators - SNES ROMs NES ROMs N64 ROMs MAME ROMs GBA ROMs NDS ROMs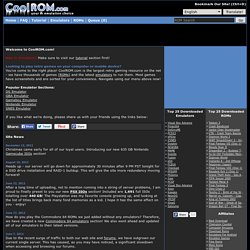 MAME | Multiple Arcade Machine Emulator
Planet Emulation - Les jeux video ont aussi leur histoire !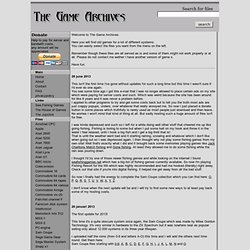 30 november 2012 The last of the Commodore 16 files are here, almost 5000 of them!! Wow now I have to find a new system to add once more, meanwhile get the files here: Commodore 16 Z files 5 november 2012
The Game Archives - games / roms / emulators