WEB
WEB DESIGN. HTML EMAIL BOILERPLATE v 0.5 updated 11/5.
SEO
Events. Information on upcoming events; Resources from past events Since 2004, Web Directions has been organizing world leading conferences for web professionals.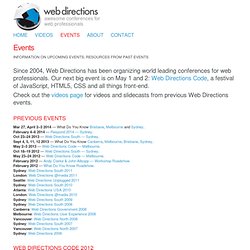 Our next big event is on May 1 and 2: Web Directions Code, a festival of JavaScript, HTML5, CSS and all things front-end. Check out the videos page for videos and slidecasts from previous Web Directions events. The evolution of the web. Aviary Developers.
Normalize.css: Make browsers render all elements more consistently. Mappa Mondiale Domini Registrabili. Sobees Launches iPad App NewsMix, A Socially Curated Digital Magazine. Sobees has made a business of creating innovative social media clients, particularly focusing on bringing Twitter, Facebook and social search to the a variety of platforms.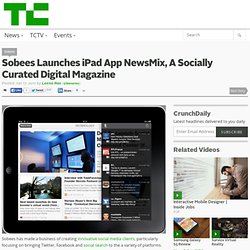 Today, the developer is getting into the news business with the launch of NewsMix, an iPad app which presents news and content shared by your social circle in a magazine format on the device. The app, which costs $2.99 in the App Store, allows you to create and mix a digital magazine composed of content shared in your Twitter, Facebook and RSS feeds (Google Reader and feed search). The app will categorize content in a magazine or show news in a separate timeline format for Facebook and Twitter. And you can view photos and videos in separate sections.
DESIGN. HTML5. CSS3. JQUERY - JAVASCRIPT. WEB FONT. SOCIAL MEDIA. Wordpress. Joomla. FIREWORKS.
Cosa succede in rete ogni 60 secondi? | Infografica | Grafica Pubblicitaria e Comunicazione. 5 Good Things To Use As Pinned Tabs In Your Browser. The Big Three web browsers all now have pinning ability.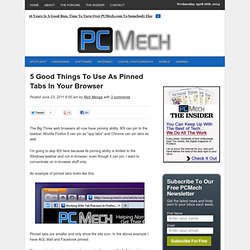 IE9 can pin to the taskbar, Mozilla Firefox 5 can pin as "app tabs" and Chrome can pin tabs as well. I'm going to skip IE9 here because its pinning ability is limited to the Windows taskbar and not in-browser; even though it can pin, I want to concentrate on in-browser stuff only. An example of pinned tabs looks like this: Pinned tabs are smaller and only show the site icon. Bulletproof Web Design Contracts. When you boil it down to its barest essentials, the sales process is simply a series of verbal agreements that ultimately gets documented in writing.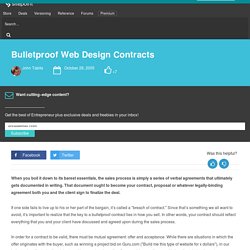 That document ought to become your contract, proposal or whatever legally-binding agreement both you and the client sign to finalize the deal. If one side fails to live up to his or her part of the bargain, it's called a "breach of contract. " Since that's something we all want to avoid, it's important to realize that the key to a bulletproof contract lies in how you sell. In other words, your contract should reflect everything that you and your client have discussed and agreed upon during the sales process. Useful Resources, Tools and Services for Web Designers - Smashing Magazine. Advertisement Productivity is a crucial asset of professional Web designers and developers.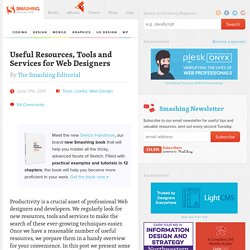 We regularly look for new resources, tools and services to make the search of these ever-growing techniques easier. Once we have a reasonable number of useful resources, we prepare them in a handy overview for your convenience. In this post we present some of the useful resources and tools for designers and Web developers. Best Free Online Applications and Services. Online applications (also known as web applications or webware) are getting more popular, particularly when broadband Internet access has become more common and readily available to more users.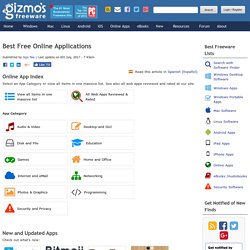 With online applications and services, you do not need to download and install them into your computer for using them—you just need to open up a browser and access them online. Not only that you can save harddisk space as they do not need to be installed, but also you can work with files that are saved online from any computer anywhere, without the need to carry a storage device even a USB stick around with you. 5 Social Media Tools That Solve Practical Problems | oneforty. 8 Things Newbie Web Designers Should Know About SEO. Even the most SEO obsessed web site owners still want a site that looks good.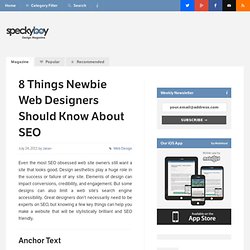 Design aesthetics play a huge role in the success or failure of any site. Elements of design can impact conversions, credibility, and engagement. But some designs can also limit a web site's search engine accessibility. Great designers don't necessarily need to be experts on SEO, but knowing a few key things can help you make a website that will be stylistically brilliant and SEO friendly. Jumpchart - Simple Website Planning and Wireframing. Code Snippets. Balsamiq. Online Mind Mapping and Brainstorming - MindMeister.
---