WEB FONT
The idea of the Google Webfonts Directory is great: offering everyone free webfonts, which you can include in your website with just one line of code and without worrying about the multiple webfont formats, subsetting, file size, download speed and so on. When the service started in 2010 it offered just a couple of fonts. Today the catalogue has already grown to 250 fonts and Google announced there will even be a lot more fonts in the near future. But let's face it: Most of the fonts are crap! They are of poor quality, derived from commercial fonts or just downright ugly. But there are also a few very fine fonts among them.
The 10 best fonts from the Google Webfonts Directory
Advertisement Every now and then, we look around, select fresh free high-quality fonts and present them to you in a brief overview. The choice is enormous, so the time you need to find them is usually time you should be investing in your projects. We search for them and find them so that you don't have to. In this selection, we're pleased to present Tondu, Banda, Morning Glory, Matilde, Bohema, Weston Round Slab, Highlands, Cabin, Linden Hill and other fonts. Please note that while most fonts are available for commercial projects, some are for personal use only and are clearly marked as such in their descriptions.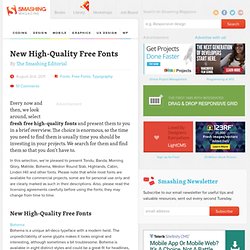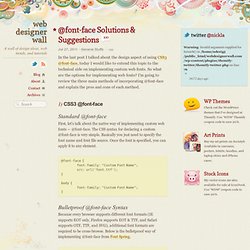 In the last post I talked about the design aspect of using CSS3 @font-face, today I would like to extend this topic to the technical side on implementing custom web fonts. So what are the options for implementing web fonts? I'm going to review the three main methods of incorporating @font-face and explain the pros and cons of each method. 1) CSS3 @font-face Standard @font-face
@font-face Solutions & Suggestions
FF Subsetter - Optimize your Web FontFont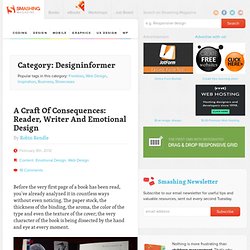 A Craft Of Consequences: Reader, Writer And Emotional Design Before the very first page of a book has been read, you've already analyzed it in countless ways without even noticing. The paper stock, the thickness of the binding, the aroma, the color of the type and even the texture of the cover; the very character of the book is being dissected by the hand and eye at every moment.
Download Hundreds of Free @font-face Fonts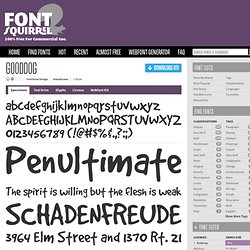 This license can also be found at this permalink: http://www.fontsquirrel.com/license/GoodDog ———————————————————————————————————— Fonthead Design End User License Agreement———————————————————————————————————— By downloading and/or installing Fonthead Design fonts ("software") you agree to the following user license terms:
Dopo aver visto come utilizzare un particolare font in un sito web, ci siamo scontrati con la carenza di uniformità di supporto sui tipi di font (.eot, .otf, .ttf. ecc.) da parte dei browser. Dobbiamo quindi trovare un modo per trasformare il nostro font nei vari formati. Se si avesse a disposizione un font di qualunque genere e lo si volesse rendere disponibile per ogni piattaforma e browser, possiamo ricorrere ad un convertitore online: uno dei più popolari è sicuramente FontSquirrel. Cosa permette di fare questo tool online? Scegliendo il carattere desiderato fra i molti font presenti nel suo archivio, possiamo scaricare il relativo pack contenente tutti i formati possibili, compreso il formato .svg ed il CSS con la proprietà @font-face già compilata.
CSS3 @font-face: Google Fonts e altri strumenti online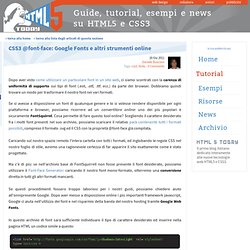 Scaricare i Google web fonts in un comando grazie a wget « Informatiche {bubbakk}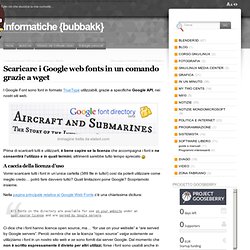 I Google Font sono font in formato TrueType utilizzabili, grazie a specifiche Google API, nei nostri siti web. immagine tratta da elated.com Prima di scaricarli tutti e utilizzarli, è bene capire se la licenza che accompagna i font e ne consentirà l'utilizzo e in quali termini, altrimenti sarebbe tutto tempo sprecato