HTML5
Ascensor Template Html5 & Css3 navigazione verticale, orizzontale, obliqua - by Daniele Votta. HTML5 Rocks - A resource for open web HTML5 developers. App Cache Tools and Auto-Generators. As you know, the Application Cache helps you run your web app offline, significantly speeds up startup time, and reduces bandwidth bills.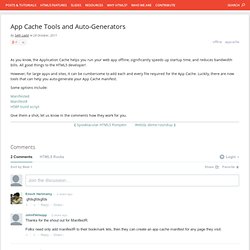 All good things to the HTML5 developer! However, for large apps and sites, it can be cumbersome to add each and every file required for the App Cache. Luckily, there are now tools that can help you auto-generate your App Cache manifest. Some options include: HTML5 Readiness. 10 IE CSS3 and HTML5 Modern Browser Mimics. Let face it, some people are stuck using Internet Explorer as their web browser.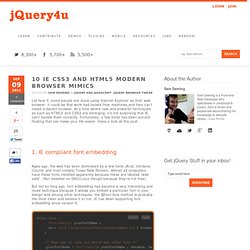 It could be that work had locked thier machines and they can't install a decent browser. At a time where new and powerful techniques as such as HTML5 and CSS3 are emerging, it's not surprising that IE can't handle them correctly. Fortunately, a few tricks has been around floating that can make your life easier. Have a look at this post. HTML5 and CSS3 in Dreamweaver CS5.5 – Part 1: Building the web page. WTF is HTML5 (Infographic)
Geolocation
TOOLS. TUTORIALS. ESEMPI. DATABASE. Why You Should Pay Attention to Google Swiffy - HTML5 Grind. Google's Swiffy can convert basic Flash applications to HTML5.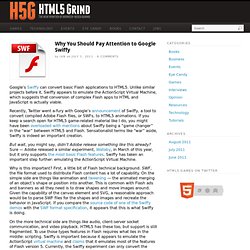 Unlike similar projects before it, Swiffy appears to emulate the ActionScript Virtual Machine, which suggests that conversion of complex Flash apps to HTML and JavaScript is actually viable. Recently, Twitter went a-fury with Google's announcement of Swiffy, a tool to convert compiled Adobe Flash files, or SWFs, to HTML5 animations. If you keep a search open for HTML5 game-related material like I do, you might have been overloaded with mentions about Swiffy being a "game changer" in the "war" between HTML5 and Flash.
Sensationalist terms like "war" aside, Swiffy is indeed an important creation. But wait, you might say, didn't Adobe release something like this already? Da Flash CS5 all'HTML5 in un click: Adobe Wallaby. Un luogo comune non poco diffuso vuole Flash antagonista di HTML5 e viceversa, soprattutto dopo l'avvento dell'iPad, iPhone et similia.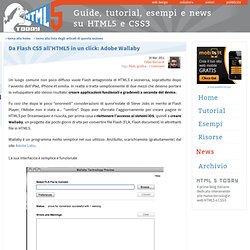 In realtà si tratta semplicemente di due mezzi che devono portare lo sviluppatore allo stesso risultato: creare applicazioni funzionali e gradevoli a seconda del device. Fu così che dopo le poco "onorevoli" considerazioni di quest'estate di Steve Jobs in merito al Flash Player, l'Adobe non è stata a... "sentire". Wallaby | Adobe Flash FLA to HTML. Create a page flip effect with HTML5 canvas. Net magazine is the number one choice for the professional web designer and developer.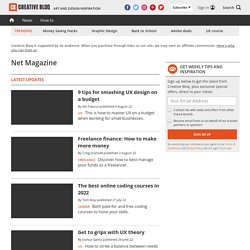 It's here that you find out about the latest new web trends, technologies and techniques – all in one handy package. Each issue boasts a wealth of expert tips and advice, including in-depth features and over 30 pages of advanced front- and backend tutorials on subjects as diverse as CSS, HTML, JavaScript, WordPress, PHP, and plenty more. net compiles the hottest new sites from around the web, and being the voice of web design, our mission is to source the best articles written by the best people in the industry and feature interviews and opinions crammed with inspiration and creative advice. In short, If you're serious about web design and development, then net is the magazine for you.
Editorial. 20 cose che ho imparato sui browser e sul Web. IllustrazioneChristoph Niemann Autori/editorMin Li Chan, Fritz Holznagel, Michael Krantz Curatore del progettoMin Li Chan & The Google Chrome Team DesignFiPaul Truong SviluppoFi Ringraziamenti speciali a.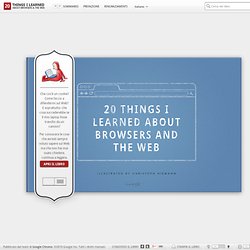 Page Flip - sfoglia le pagine web come un libro con HTML5. Uno dei siti più belli che sfrutta l'HTML5 è sicuramente il progetto made in Google "20 cose che ho imparato sui browser e il web", un sito che fa del page flip il suo cavallo di battaglia.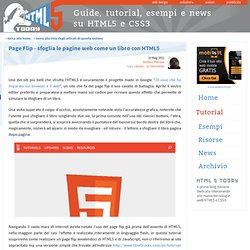 Aprite il vostro editor preferito e preparatevi a mettere mano sul codice per ricreare questo effetto che permette di simulare lo sfogliare di un libro. Una volta superato il colpo d'occhio, assolutamente notevole vista l'accuratezza grafica, noterete che l'utente può sfogliare il libro scegliendo due vie, la prima consiste nell'uso dei classici bottoni, l'altra, quella che vi sorprenderà, si scoprirà avvicinando il puntatore del mouse sul bordo destro del libro che, magicamente, inizierà ad alzarsi in modo da invogliare - ed istruire - il lettore a sfogliare il libro pagina dopo pagina. HTML5 Cross Browser Polyfills - GitHub. So here we're collecting all the shims, fallbacks, and polyfills in order to implant html5 functionality in browsers that don't natively support them.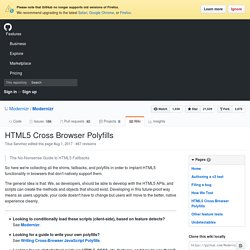 The general idea is that: we, as developers, should be able to develop with the HTML5 apis, and scripts can create the methods and objects that should exist. Developing in this future-proof way means as users upgrade, your code doesn't have to change but users will move to the better, native experience cleanly. Looking for a way to conditionally load these scripts client-side based on feature detects? See Modernizr. HTML5 Video Player Comparison.
---