FIREWORKS
Fireworks texture gallery. Documentation | Orange Commands. FW Extensions. Rapid interactive prototyping with HTML, CSS, and JavaScript using Fireworks and Dreamweaver CS4. This article describes how to add HTML, CSS, and JavaScript to Fireworks documents to create enhanced functionality in the HTML pages that you export.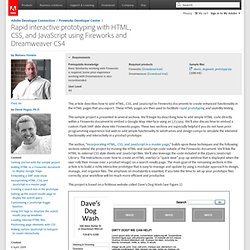 These HTML pages are then used to facilitate rapid prototyping and usability testing. This sample project is presented in several sections. We'll begin by describing how to add simple HTML code directly within a Fireworks document to embed a Google Map interface using an iframe. Aaron Beall - Fireworks Guru. Adobe Fireworks Extensions, Commands and Panels - johndunning.com. FireworksGuru Forum. Prototyping for the Apple iPhone using Fireworks. Before you learn how to set up your Fireworks prototype, it is important to understand the principles of this concept, what you can achieve, and why you want this.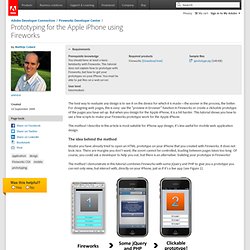 Using this technique to build your iPhone prototype in Fireworks gives you a number of advantages that can help you, your stakeholders, and potential users of your app to get the best possible preview of how it's going to work. Using Fireworks, your prototype gains the following benefits: Click through the screens the way you normally do with a Fireworks mockupMake use of the full screen (no Safari buttons)Export directly from Fireworks without the need to change CSS or HTML afterwardsOpen the app from the iPhone home screenDisable the zoomSend links to every iPhone without even being an official iPhone developer On the other hand, you don't want to have to learn highly technical programming skills or put your users through unnecessary hoops just to view your prototype.
25 Awesome Adobe Fireworks Resources for Web and App Developers. Adobe Fireworks' features and work-flow undeniably make it the industry pioneer and leader for web graphic prototyping and rapid web site building.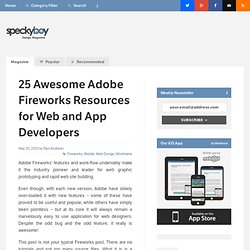 Even though, with each new version, Adobe have slowly over-loaded it with new features – some of these have proved to be useful and popular, while others have simply been pointless – but at its core it will always remain a marvelously easy to use application for web designers. Despite the odd bug and the odd feature, it really is awesome! This post is not your typical Fireworks post. There are no tutorials and not too many source files. Progettare applicazioni per iPhone senza saper scrivere una riga di codice. Robert Scoble, onnipresente scopritore e commentatore americano di novità del web e dell'hi-tech, ha intervistato Luke Kilpatrick (altro geek, con più doti da sviluppatore che da comunicatore, però) su un tema molto interessante, date le proporzioni che stanno raggiungendo giorno dopo giorno le storie di successo di applicazioni per iPhone su App Store.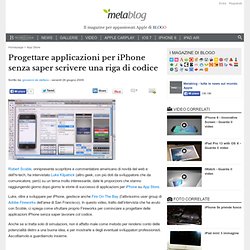 Luke, oltre a sviluppare per iPhone, gestisce anche Fire On The Bay (l'attivissimo user group di Adobe Fireworks dell'area di San Francisco). In questo video, tratto dall'intervista che ha avuto con Scoble, ci spiega come sfruttare proprio Fireworks per cominciare a progettare delle applicazioni iPhone senza saper lavorare col codice. Anche se si tratta solo di simulazioni, non è affatto male come metodo per rendersi conto delle potenzialità dietro a una buona idea, e per mostrarle a degli eventuali sviluppatori professionisti.
Build a Promotional iPhone App Website Wireframe in Fireworks. Wireframing is a useful part of the website design process.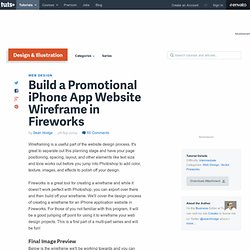 It's great to separate out this planning stage and have your page positioning, spacing, layout, and other elements like text size and tone works out before you jump into Photoshop to add color, texture, images, and effects to polish off your design. Fireworks is a great tool for creating a wireframe and while it doesn't work perfect with Photoshop, you can export over there and then build off your wireframe. We'll cover the design process of creating a wireframe for an iPhone application website in Fireworks.
---