ESEMPI
Wormz. Un esperimento in canvas e HTML5. Abbiamo già visto in passato delle vere e proprie opere d'arte realizzate con tecnologie HTML5.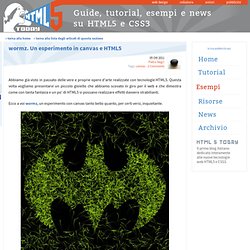 Questa volta vogliamo presentarvi un piccolo gioiello che abbiamo scovato in giro per il web e che dimostra come con tanta fantasia e un po' di HTML5 si possano realizzare effetti davvero strabilianti. Ecco a voi wormz, un esperimento con canvas tanto bello quanto, per certi versi, inquietante. 15 Free HTML5 and CSS Templates. Ready-made HTML5 templates are currently one of the most sought after resources within the web design community.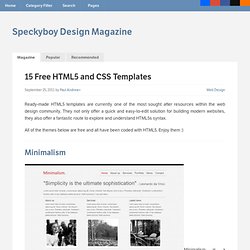 They not only offer a quick and easy-to-edit solution for building modern websites, they also offer a fantastic route to explore and understand HTML5s syntax. All of the themes below are free and all have been coded with HTML5. Enjoy them :) HTML5 Canvas Tutorials. Pure CSS3 Post Tags. This is a rather simple pure CSS trick you can use to style your blog post tags, usually placed at the bottom of the posts.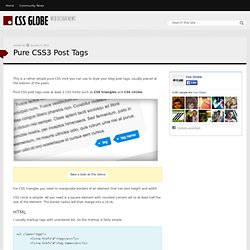 Pure CSS post tags uses at least 2 CSS tricks such as CSS triangles and CSS circles. Take a look at the demo For CSS triangles you need to manipulate borders of an element that has zero height and width. HTML5 mobile webapp framework | Lemberg Blog. The Wine Cabinet.
---