Crafts
In Asia, rice glue is a well-known product. This extremely resistant adhesive can be used to glue all types of paper. It is used in traditional bookbinding and luxury cardboard products: papers bonded with rice glue are considered tear-proof. Though white when moist, rice glue becomes transparent as it dries. In 1/3 liter (1 1/3 cups) of water, cook 7 oz of rice or rice flour* over low heat. You can also use leftover rice that has already been cooked.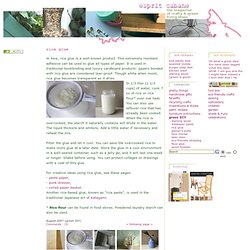 Rice glue recipe, esprit cabane, eco-friendly DIY and decorative arts
Edit Article Edited by Febejebe, Teresa, Krystle, Eric and 7 others Want a quick, easy and cheap way to display your favorite photos? Grab a piece of A4 paper!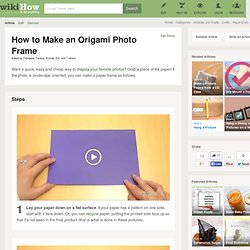 How to Make an Origami Photo Frame: 12 steps (with pictures)
Several weeks ago I was heading out the door to a dinner party. In one arm I held a big salad bowl. In the other was a glass jar of salad dressing I had just made. As I tried to manuever open our heavy front door, the jar slipped out of my hand.
lizzy writes: magical carpet cleaner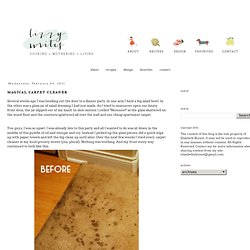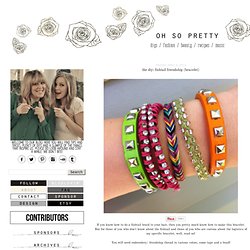 If you know how to do a fishtail braid to your hair, then you pretty much know how to make this bracelet. But for those of you who don't know about the fishtail and those of you who are curious about the logistics of my specific bracelet, well, read on! You will need embroidery/ friendship thread in various colors, some tape and a bead! I used 9 strands of thread in 9 different colors.
Growing up, I spent countless hours making colorful friendship bracelets. Their resurgence prompted me to rediscover this summer pastime. Here are instructions for one of my favorite patterns – hearts! You will need embroidery thread in two colors. Measure the thread using twice the length of your arm (from your fingertips to your shoulder and then back to your fingertips) for each string. Cut it.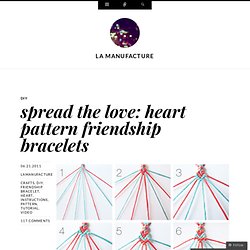 When I bought something at a store recently, the clerk handed me my purchase in a bag made from a newspaper. I liked it very much and had to make some more—thus today's DIY recycled newspaper project: gift bags made from the Wall Street Journal. You can vary the dimensions, of course, but here's what I used to create a bag that's 5" tall, 4.5" wide, and 3" deep. Stack two sheets of newspaper on top of each other.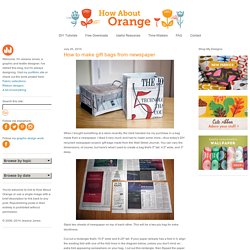 20 Ways To Reuse Your Old Sweaters {Fun Finds From Pinterest!}