Weiqi
天元围棋 在线直播- 56.com. 囲碁・将棋チャンネルホームページ. --- 바둑TV --- Welcome to the Frontpage. Go go gadgéto moyo. The Game of Go / Baduk / Weiqi. La Voie du Go : jeu de Go, stratégie et pensée asiatique. Variations on Go. Ritchie press. Découvrez notre nouvelle collection et impressionnez vos amis par vos connaissances des techniques les plus modernes du go contemporain la collection ritchie press est malheureusement indisponible pour le moment,étant partie avec ma femme dans la valise de Nestor De La Palissade aux Bahamas. récompense à qui la ramènera (la collection, pas ma femme, faites-en bon usage) en attendant une mystérieuse contributrice nous a permis de vous présenter une nouvelle collection: the new masters of the future times, comprenant deux ouvrages extrèmement pertinents ainsi qu'un jeu de société révolutionnaire.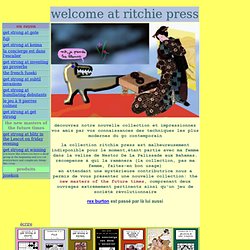 Tsumego.org - Bienvenue. Exercices interactifs pour apprendre le jeu de go. Ces pages s'inspirent de celles réalisées par Hiroki Mori.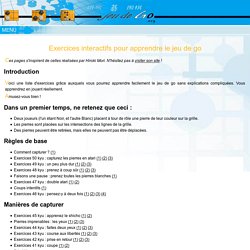 N'hésitez pas à visiter son site! Introduction Voici une liste d'exercices grâce auxquels vous pourrez apprendre facilement le jeu de go sans explications compliquées. Vous apprendrez en jouant réellement. Jasiek's Go (Weiqi, Baduk) Homepage. Les liens de Dariush. The Game of Go / Baduk / Weiqi. Game of Go / Baduk / Weiqi General MainWhat is Go?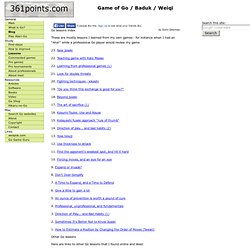 Chinese Go Terms. > Home > My Weiqi Pages > Chinese Go Terms The Chinese Go Terms list here is very much outdated.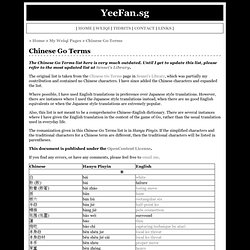 Until I get to update this list, please refer to the most updated list at Sensei's Library. The original list is taken from the Chinese Go Terms page in Sensei's Library, which was partially my contribution and contained no Chinese characters. I have since added the Chinese characters and expanded the list. Where possible, I have used English translations in preference over Japanese style translations. How To Play Go Baduk Weiqi and Igo. Much like chess, Go is a two player game with a special board and set of playing pieces.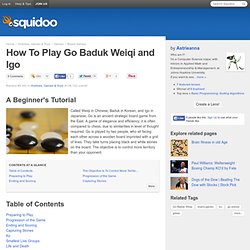 The Board The board consists of a grid of lines, whose size is specified by counting the number of intersections, including the ones on the edges. Commonly used sizes are 9x9, 13x13, and 19x19.
---