Divers sympa
Générateur HTML gratuit en ligne
Femtoo - Track and monitor webpage changes and receive notifications
Directory of open access journals
Articles Curating Digital Spaces, Making Visual Arguments: A Case Study in New Media Presentations of Ancient ObjectsDaniel Price, University of Houston; Rex Koontz, University of Houston; Lauren Lovings, Independent scholar Curating is often seen as a mediation between artist, work, and audience, with the curator firmly at the center. The central role of the curator has been further emphasized with the rise of the curator as artist and the institutional and physical limitations of museum spaces. We argue that there are important alternative spaces of meaning to be developed between object and audience. Digital curating, in particular, allows for greater audience participation, both by expanding the potential audience and by allowing visitors to navigate through the virtual galleries under their own direction.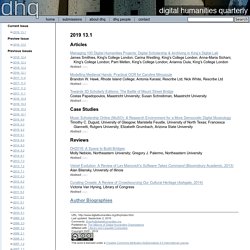 DHQ: Digital Humanities Quarterly: Fall 2010
Le Bouillon des bibliobsédés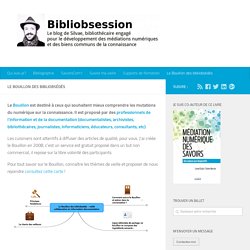 Le Bouillon des Bibliobsédés est destiné à tous ceux qui s'intéressent aux apprentissages en réseaux et qui souhaitent mieux comprendre les mutations engendrées par le numérique. Il est proposé par des professionnels de l'information et de la documentation (documentalistes, archivistes, bibliothécaires, journalistes, informaticiens, consultants) En tant que fondateur je suis très fier d'annoncer que nous avons plus de 2 000 abonnés aux fils rss, presque 1500 sur twitter, autant sur facebook ainsi que 1 000 abonnés par courriel ! Au total, le Bouillon et le Nectar disséminent des liens à plus de 6 000 abonnés ! (voir les compteurs sur le site)
Calenda
Hypotheses.org | Carnets de recherches en Sciences humaines et sociales
Cl?o - Centre pour l'?dition ?lectronique ouverte
Reinventing Research? Information Practices in the Humanities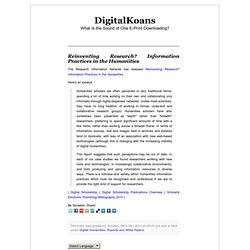 The Research Information Network has released Reinventing Research? Information Practices in the Humanities. Here's an excerpt:
ISIDORE - Accès aux données et services numériques de SHS
Welcome to Open Library
Open Archives Initiative
Le gratuit des Webmasters
Rumkin.com
Tools 4 noobs - tools you didn't even know you needed
Free Texts Maker, Glowing Words
The Free Web Stuff : Button Generator, Free Web Buttons
FREE Digital Photo Editing This site shows photo editing tools that are fun and easy to use. Free web based photo editors, fun photo editors, photo tools like Photoshop Express, Ribbet, PicMonkey, Citrify and more... Photofunia Style Photo EditorsPhotofunia offers high quality photo editing for free.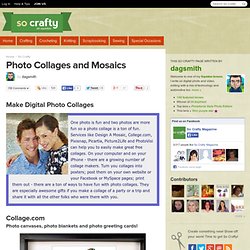 FREE Photo Collages
LittleDiggs
Where music lives
GARRIGUE - Le capital risque alternatif et solidaire de l'humain et de son environnement
HACKING AND OTHER FUN STUFF
Discover New Music - Commercial Free Internet Radio - Rock, Pop and Alternative - Deeper Into Music
Virtual Interactive Music Museum on Vimeo
Pandora Radio - Listen to Free Internet Radio, Find New Music
Music on demand, free and unlimited music without download
Listen to Online Radio for free. MeeMix, Free Internet Radio that gets you.
The Art of Polymer Clay Millefiori Techniques: Projects and Inspiration for Creative Canework (9780823099184): Donna Kato, Vernon Ezell
Calligraphy is a type of visual art. It is often called the art of fancy lettering.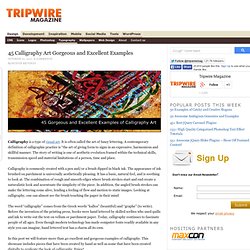 45 Calligraphy Art Gorgeous and Excellent Examples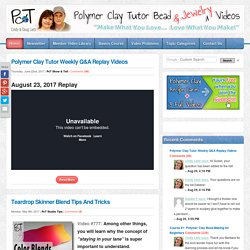 6 Videos #468 to #473: As many creative choices for making these art journals, as there are artists! Read More Video #467: I'm Love'n my brand new Kitchenaid Counter Top Convection Oven. Read More New Years Eve Murder Mystery Trumps First Friday, Polymer Clay Tutor Publishing Schedule. Read More
"I learned by making mistakes... Now you don't have to."
Steampunkery: Polymer Clay and Mixed Media Projects (9780980231465): Christi Friesen