Divers sympa
Générateur HTML gratuit en ligne. Femtoo - Track and monitor webpage changes and receive notifications. Free music. Directory of open access journals. DHQ: Digital Humanities Quarterly: Fall 2010. Articles Computational Stylistic Analysis of Popular Songs of Japanese Female Singer-songwritersTakafumi Suzuki, Toyo University; Mai Hosoya, Tokyo University This study analyzes popular songs composed by Japanese female singer-songwriters.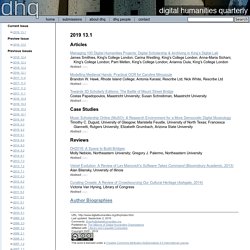 Popular songs are a good representation of modern culture and society. Songs by female singer-songwriters account for a large portion of the current Japanese hit charts and particularly play an important role in understanding the Japanese language and communication style. In this study, we applied new methods of computational stylistics to the lyrics of the songs. Le Bouillon des bibliobsédés. Le Bouillon des Bibliobsédés est destiné à tous ceux qui s'intéressent aux apprentissages en réseaux et qui souhaitent mieux comprendre les mutations engendrées par le numérique.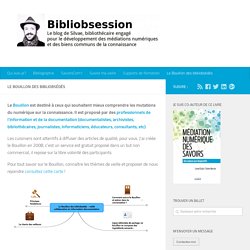 Il est proposé par des professionnels de l'information et de la documentation (documentalistes, archivistes, bibliothécaires, journalistes, informaticiens, consultants) En tant que fondateur je suis très fier d'annoncer que nous avons plus de 2 000 abonnés aux fils rss, presque 1500 sur twitter, autant sur facebook ainsi que 1 000 abonnés par courriel ! Au total, le Bouillon et le Nectar disséminent des liens à plus de 6 000 abonnés ! (voir les compteurs sur le site) Calenda. Hypotheses.org | Carnets de recherches en Sciences humaines et sociales. Cl?o - Centre pour l'?dition ?lectronique ouverte. Reinventing Research? Information Practices in the Humanities.
The Research Information Network has released Reinventing Research?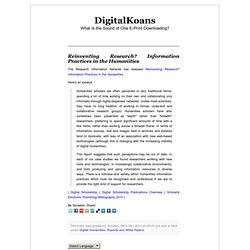 Information Practices in the Humanities. Here's an excerpt: ISIDORE - Accès aux données et services numériques de SHS. Welcome to Open Library. Open Archives Initiative. Le gratuit des Webmasters. Rumkin.com. Tools 4 noobs - tools you didn't even know you needed. Free Texts Maker, Glowing Words. The Free Web Stuff : Button Generator, Free Web Buttons. FREE Photo Collages. FREE Digital Photo Editing This site shows photo editing tools that are fun and easy to use.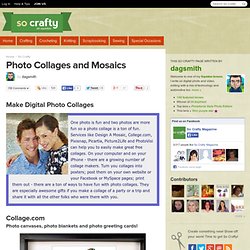 Free web based photo editors, fun photo editors, photo tools like Photoshop Express, Ribbet, PicMonkey, Citrify and more... Photofunia Style Photo EditorsPhotofunia offers high quality photo editing for free. LittleDiggs. Where music lives. GARRIGUE - Le capital risque alternatif et solidaire de l'humain et de son environnement. HACKING AND OTHER FUN STUFF. Discover New Music - Commercial Free Internet Radio - Rock, Pop and Alternative - Deeper Into Music. Virtual Interactive Music Museum.
Pandora Radio - Listen to Free Internet Radio, Find New Music. Music on demand, free and unlimited music without download. Listen to Online Radio for free. MeeMix, Free Internet Radio that gets you. The Art of Polymer Clay Millefiori Techniques: Projects and Inspiration for Creative Canework (9780823099184): Donna Kato, Vernon Ezell. 45 Calligraphy Art Gorgeous and Excellent Examples. Calligraphy is a type of visual art.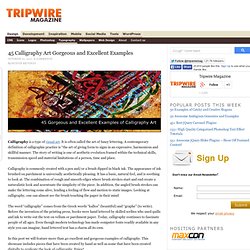 It is often called the art of fancy lettering. A contemporary definition of calligraphic practice is "the art of giving form to signs in an expressive, harmonious and skillful manner. The story of writing is one of aesthetic evolution framed within the technical skills, transmission speed and material limitations of a person, time and place. Calligraphy is commonly created with a pen and/or a brush dipped in black ink. The appearance of ink brushed on parchment is universally aesthetically pleasing. "I learned by making mistakes... Now you don't have to." Video #509: Taking a look at the color mixing and baking properties of this "made-for-kids" brand of polymer clay.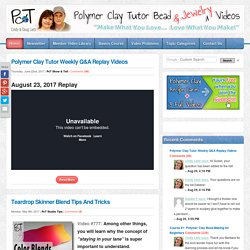 Read More Video #508: Slicing your polymer clay canes and flat sheets requires the right tools… here are some options and ideas for you. Read More Video #500: Really getting to know your polymer colors so that you can see how some shades can bully the other ones. Read More. Steampunkery: Polymer Clay and Mixed Media Projects (9780980231465): Christi Friesen.
---