Divers sympa
Générateur HTML gratuit en ligne
Femtoo - Track and monitor webpage changes and receive notifications
DOAJ has migrated to a new, open source platform! Take a look around; we welcome your feedback. You may notice that the number of journals in DOAJ has dropped from 10 027 to 9804. This is because we have fine-tuned the counting functionality. During the migration to the new platform, we identified a group of journals whose ISSNs have changed over time, e.g. because of a title change.
Directory of open access journals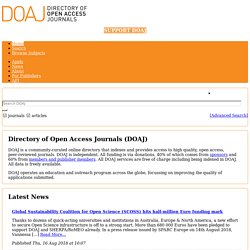 Articles Computational Stylistic Analysis of Popular Songs of Japanese Female Singer-songwritersTakafumi Suzuki, Toyo University; Mai Hosoya, Tokyo University This study analyzes popular songs composed by Japanese female singer-songwriters. Popular songs are a good representation of modern culture and society. Songs by female singer-songwriters account for a large portion of the current Japanese hit charts and particularly play an important role in understanding the Japanese language and communication style. In this study, we applied new methods of computational stylistics to the lyrics of the songs.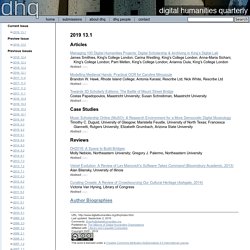 DHQ: Digital Humanities Quarterly: Fall 2010
Le Bouillon des bibliobsédés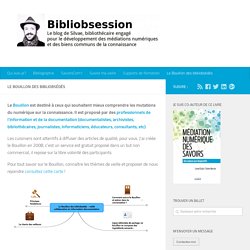 Le Bouillon des Bibliobsédés est destiné à tous ceux qui s'intéressent aux apprentissages en réseaux et qui souhaitent mieux comprendre les mutations engendrées par le numérique. Il est proposé par des professionnels de l'information et de la documentation (documentalistes, archivistes, bibliothécaires, journalistes, informaticiens, consultants) En tant que fondateur je suis très fier d'annoncer que nous avons plus de 2 000 abonnés aux fils rss, presque 1500 sur twitter, autant sur facebook ainsi que 1 000 abonnés par courriel ! Au total, le Bouillon et le Nectar disséminent des liens à plus de 6 000 abonnés ! (voir les compteurs sur le site)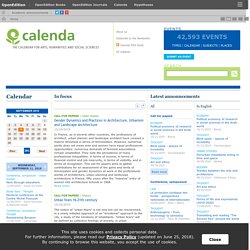 Calenda
Alors qu'il a donné lieu à un grand nombre de travaux dans les années 1970 et malgré un certain regain d'intérêt, le thème des catégories populaires est aujourd'hui relativement peu traité dans les sciences sociales. Avec la crise, ou plutôt « les crises » (crise du marché du travail, du logement, des banlieues, des services publics, etc.), ces catégories se trouvent pourtant au centre de nouvelles inégalités qui battent en brèche l'hypothèse d'une « moyennisation » de la société. À la lumière de cette nouvelle donne sociale, ce numéro se propose d'interroger la position spécifique des catégories populaires dans la stratification sociale, leurs expériences de la précarité, la manière dont elles y font face, mais aussi la façon dont elles apparaissent dans les discours et les représentations et s'y forgent une voix.
Hypotheses.org | Carnets de recherches en Sciences humaines et sociales
Cl?o - Centre pour l'?dition ?lectronique ouverte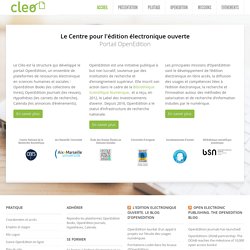 Le Cléo est la structure qui développe le portail OpenEdition, un ensemble de plateformes de ressources électronique en sciences humaines et sociales : OpenEdition Books (les collections de livres), Revues.org (les revues), Hypothèses (les carnets de recherche), Calenda (les annonces d'événements).En savoir plus OpenEdition est une initiative publique à but non lucratif, soutenue par des institutions françaises de recherche et d'enseignement supérieur. Elle inscrit son action dans le cadre de la Bibliothèque Scientifique Numérique et a reçu, en 2012, le Label Equipex des Investissements d'avenir.En savoir plus Les principales missions d'OpenEdition sont le développement de l'édition électronique en libre accès, la diffusion des usages et compétences liées à l'édition électronique, la recherche et l'innovation autour des méthodes de valorisation et de recherche d'information induites par le numérique.En savoir plus
Reinventing Research? Information Practices in the Humanities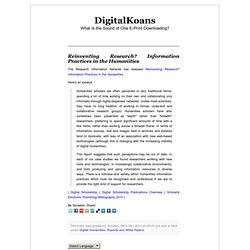 The Research Information Network has released Reinventing Research? Information Practices in the Humanities. Here's an excerpt:
Appels à projets Ecos-Sud / Colombie 15 avr. 2014 Le comité ECOS-Sud, instrument des ministères chargés des Affaires étrangères, de l'Éducation nationale et de la Recherche, pour la coopération scientifique et universitaire avec l'Amérique hispanophone, lance un appel à projets avec la Colombie pour l'année 2014.Colombie Les projets franco-colomb ... Appel à projets ERA-NET COFASP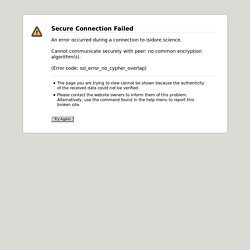 ISIDORE - Accès aux données et services numériques de SHS
Welcome to Open Library
Open Library is an open, editable library catalog, building towards a web page for every book ever published. More Just like Wikipedia, you can contribute new information or corrections to the catalog.
Open Archives Initiative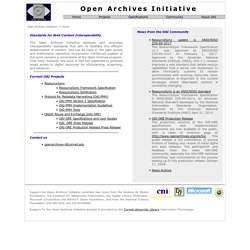 Standards for Web Content Interoperability The Open Archives Initiative develops and promotes interoperability standards that aim to facilitate the efficient dissemination of content. OAI has its roots in the open access and institutional repository movements. Continued support of this work remains a cornerstone of the Open Archives program. Over time, however, the work of OAI has expanded to promote broad access to digital resources for eScholarship, eLearning, and eScience.
Le gratuit des Webmasters
Rumkin.com
New design Time for a fresh design, folks. With the amazing power of Twitter Bootstrap we made a more simple design just perfect for large resolutions, but with just as cool on your mobile phone as well. Go ahead and try it on any device, it's quite awesome. Convert seconds to HH:MM:SS
Tools 4 noobs - tools you didn't even know you needed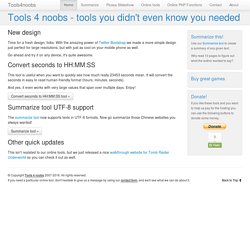 Free Texts Maker, Glowing Words
The Free Web Stuff : Button Generator, Free Web Buttons
FREE Digital Photo Editing This site shows photo editing tools that are fun and easy to use. Free web based photo editors, fun photo editors, photo tools like Photoshop Express, Ribbet, PicMonkey, Citrify and more... Photofunia Style Photo EditorsPhotofunia offers high quality photo editing for free.
FREE Photo Collages
LittleDiggs
Size: 400 sq. ft.Location: East Village, New York CityArchitect: Jordan Parnass Digital Architecture Storage, restraint, and efficiency were key in carving this bachelor's studio in the East Village into a live-work sculpture for a grown-up. Living and working in just under 500 square feet, Michael Pozner, Head of Retail Development for American Apparel (which is based in LA), had been pushing the limits of what his apartment, in its current configuration, would accommodate. He'd purchased the studio back in 1999, before the boom of the last decade, and wasn't anxious to move. But between his office needs and his many toys and quirky art pieces, the apartment was jam-packed and nothing had a place. The solution was ultimately about exploiting every opportunity for storage, and then combining those spaces and the kitchen, bathroom, and sleeping loft into an intricately sculpted wood-paneled central service core.
Where music lives
L'actu Notre partenaire la Nef lance la campagne "Je vote POUR une Banque Ethique en France" C'est une grande campagne de mobilisation auprès de ses sociétaires et de toutes personnes souhaitant soutenir la Nef pour qu'elle devienne une banque de plein exercice et ainsi la toute première banque éthique en France.
GARRIGUE - Le capital risque alternatif et solidaire de l'humain et de son environnement
HACKING AND OTHER FUN STUFF
Discover New Music - Commercial Free Internet Radio - Rock, Pop and Alternative - Deeper Into Music
Virtual Interactive Music Museum on Vimeo
Pandora Radio - Listen to Free Internet Radio, Find New Music
Dear Pandora Visitor, We are deeply, deeply sorry to say that due to licensing constraints, we can no longer allow access to Pandora for listeners located outside of the U.S., Australia and New Zealand. We will continue to work diligently to realize the vision of a truly global Pandora, but for the time being we are required to restrict its use. We are very sad to have to do this, but there is no other alternative.
Music on demand, free and unlimited music without download
Listen to Online Radio for free. MeeMix, Free Internet Radio that gets you.
The Art of Polymer Clay Millefiori Techniques: Projects and Inspiration for Creative Canework (9780823099184): Donna Kato, Vernon Ezell
45 Calligraphy Art Gorgeous and Excellent Examples
"I learned by making mistakes... Now you don't have to."
Steampunkery: Polymer Clay and Mixed Media Projects (9780980231465): Christi Friesen