Langues
Radio Stations on your iPhone, iPad, iPod Touch, Android, Blackberry, and other app-enabled mobile phones. Get in touch via the Contact Us below if you're interested in these apps. Also, find the top new songs, playlists, and music on our website! Listen to the best radio stations out there, including music radio , public radio , college radio , talk radio , and more! Find the best international artists and the best internet broadcasts, from topics as diverse as christmas music, business talk, as well as weather information. Over 10,000 stations in this directory from all over the world!
Free Online Radio Stations - Listen to Live Internet Radio, AM, FM Stations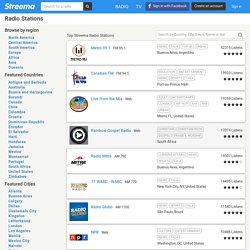 TOMA - Internet TV
Il existe en néerlandais trois auxiliaires : zijn (être) , hebben (avoir) et worden (auxiliaire du passif) et deux grandes catégories de verbes: les verbes réguliers comme werken (travailler ) et les verbes irréguliers comme zingen (chanter) : PRÉTÉRIT DE L'INDICATIF (= passé simple et imparfait français) En néerlandais comme en français, les pronoms personnels ont des formes différentes selon qu'ils occupent la fonction de sujet (je, tu, il, elle, etc.) ou celle de complément (me, te, le, la, lui, etc.).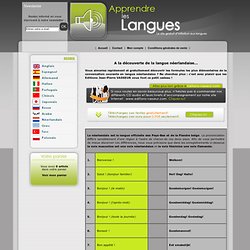 Apprendre le Neerlandais, cours de Neerlandais en ligne avec Apprendre Les Langues, le site gratuit d'apprentissage des langues.
Langue auxiliaire universelle - Les Bahá'ís de France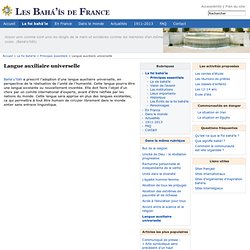 Bahá'u'lláh a prescrit l'adoption d'une langue auxiliaire universelle, en perspective de la réalisation de l'unité de l'humanité. Cette langue pourra être une langue existante ou nouvellement inventée. Elle doit faire l'objet d'un choix par un comité international d'experts, avant d'être ratifiée par les nations du monde. Cette langue sera apprise en plus des langues existantes, ce qui permettra à tout être humain de circuler librement dans le monde entier sans entrave linguistique. Anglais - arabe - chinois - espagnol - français - portugais - russe Les langues ont connu des sorts différents au cours de l'histoire. Dans certaines parties du monde, les processus de développement des langues nationales, les efforts d'unification politique et les conquêtes militaires ont porté la cohésion linguistique à son degré maximal. Ce résultat est particulièrement manifeste dans les pays où l'on parle une langue indo-européenne, principalement en Europe et en Amérique. Ailleurs, l'interventionnisme en matière de langue s'amorce lentement et porte parfois un dur coup aux langues minoritaires, dans la mesure où l'expansionnisme linguistique s'exerce au profit des grandes langues déjà bien établies.
Les langues internationales
Méthodes d'apprentissage d'une langue étrangère - étranger - Formation - Orientation
Apprendre par vous même Dans un premier temps, l'approche de la langue peut se faire de façon individuelle, ludique (lecture de journaux, de romans dans la langue) ou plus professionnelle en achetant des livres avec des CD rom audio. Il existe également des sites internet pouvant vous aider à apprendre une langue tout en restant chez vous, c'est le cas d' EnglishPortal.com Le mensuel Vocable vous permet d'apprendre des mots de vocabulaire (en allemand, en anglais et en espagnol) tout en vous instruisant. Consultez leur site internet : Vocable.fr Les cours d'auto apprentissage sont aujourd'hui monnaie courante est peuvent être composés de CD, de cassettes vidéo ainsi que de manuels et d'exercices. La méthode Assimil, par exemple, demande très peu d'efforts, de l'ordre de 20 à 30 minutes par jour, et aucune leçon à apprendre. Il suffit d'écouter, de lire et de répéter un texte à haute voix.
Apprendre 1 Langue
kulupu pi toki pona