WebSocial
Skomeet - Tchattez avec des inconnus
Ce Blog Post est dédié à tous ceux qui, ces derniers mois, m'ont demandé ce qu'était Twitter . Et à toi, fidèle utilisateur de Facebook, qui entends parler de Twitter et te demandes vaguement de quoi il s'agit. " Mer elle es folle " se diront nombre d'entre vous, peut-être même la majorité, qui n'est pas concernée puisque mon cercle relationnel est plus twittophile que la moyenne des internautes; je leur demanderai donc de faire preuve de silence d'indulgence, même de me corriger si besoin (et de rebondir sur un autre article si l'envie leur en prend…). Pour les autres, ceux qui se sont vaguement demandé ce que Twitter pouvait bien apporter de plus que Facebook, voici une petite explication basée sur mon expérience du phénomène.
Twitter expliqué aux facebookien
Tweetz TV | Videos mentioned on Twitter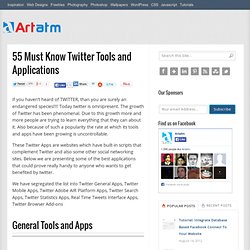 55 Must Know Twitter Tools and Applications | Artatm
If you haven't heard of TWITTER, than you are surely an endangered species!!!! Today twitter is omnipresent. The growth of Twitter has been phenomenal. Due to this growth more and more people are trying to learn everything that they can about it. Also because of such a popularity the rate at which its tools and apps have been growing is uncontrollable.
15 comptes à suivre sur Twitter quand on démarre - William Rejau
twitter | DR Retrouvez moi sur Twitter : http://twitter.com/william_rejault Vous démarrez sur Twitter et vous ne connaissez personne.
Chatroulette is a place where you can interact with new people over text-chat, webcam and mic. In order to use it, you need to have latest Flash Player installed. If you are having any problems with Flash Player installation, please post about it on Adobe Flash Player forum.
Le créateur de Chatroulette est un lycéen russe de 17 ans
Comment déclencher une épidémie de sourires sur Chatroulette | R
Yoocasa
Accueil
What is F.B. Purity? Watch a video overview of F.B. Purity by RE:TechFocus | Screenshots F.B. (Fluff Busting) Purity is a Facebook customizing browser extension.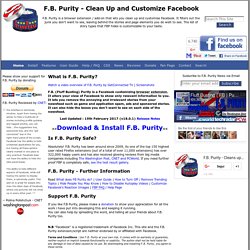 Facebook Purity ; Cleaning Your Facebook Homepage From Applicati
» Pourquoi et comment j'ai purgé mon profil Facebook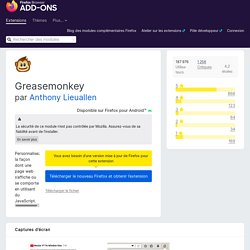 Privacy Policy This Privacy Policy governs the manner in which Greasemonkey collects, uses, maintains and discloses information collected from users (each, a "User") of the Greasemonkey Application. This privacy policy applies to the Application and all products and services offered by Greasemonkey. Personal identification information We do not collect personal identification information from Users.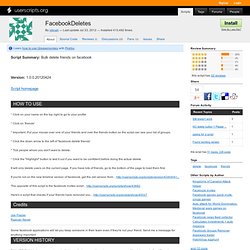 FacebookDeletes for Greasemonkey
* Click on your name on the top right to go to your profile * Click on 'friends' * Important: Put your mouse over one of your friends and over the friends button so the script can see your list of groups. * Click the down arrow to the left of 'facebook delete friends' * Tick people whom you don't want to delete. * Click the "Highlight" button to test it out if you want to be confident before doing the actual delete.
FacebookAfterLife - Accueil
Construire une fan-page sur Facebook est l'une des étapes essentielles lors de l'établissement et du développement d'une communauté en ligne. Cela permet en effet à toute entité (aussi bien personnelle que professionnelle) d'offrir la possibilité aux internautes de retrouver leurs organismes préférés sur le plus gros réseau social du monde, tout en y apportant un aspect «social». Je vous proposais d'ailleurs 25 conseils pour la fan-page de votre organisme sur Facebook sur Kriisiis.fr le mois dernier, article que je vous conseille de lire parallèlement à celui-ci. Alors qu'aujourd'hui ces fan-pages se sont banalisées, il est devenu difficile de proposer mieux que les autres, ou tout simplement, différent des autres. Je me permets alors de vous rappeler qu'il existe de nombreuses applications auxiliaires pouvant vous aider, et vous propose 10 outils pour agrémenter la fan-page de votre organisme sur Facebook.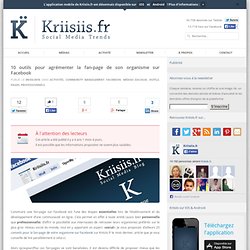 Facebook Layouts -
Social Plus, extension firefox et chrome pour Facebook
Be yourself. Be anonymous. Be anyone. Ask and answer - anything and anybody! Join the conversation now...