Cool Stuff
Biography Wendy MacNaughton is an illustrator and a graphic journalist based in San Francisco. Her documentary series Meanwhile tells the stories of communities through drawings and the subject's own words, and is being published as an anthology by Chronicle Books in 2014. She's illustrated two other forthcoming books: Lost Cat, A True Story of Love, Desperation & GPS Technology, by Caroline Paul and Wendy MacNaughton (Bloomsbury, 2013) and The Essential Scratch & Sniff Guide to Wine, by Richard Betts (Houghton Mifflin, 2013). She has degrees in fine art/advertising and social work from Art Center College of Design and Columbia University.
Wendy MacNaughton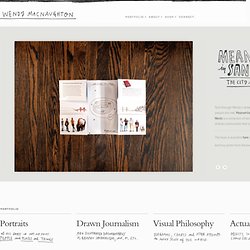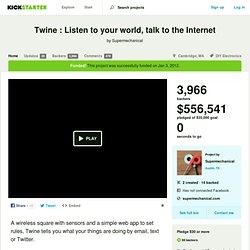 The Kickstarter is over, but if you missed out on backing us, not to worry. You can still join the thousands of other awesome Twine owners by pre-ordering on Supermechanical. It's the next best thing to being an original backer! Follow us on Facebook or Twitter. Want to hook up things to the Web?
Atlas of Prejudice 2 [English Edition] Get your copy on: Amazon US / Amazon UK / Amazon DE / Amazon FR / Amazon IT / Amazon ES Atlas der Vorurteile 2 [German Edition] Get your copy on: Amazon DE Atlas of Prejudice [English Edition]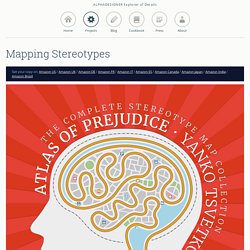 Guide: How to Defeat US DNS Censorship (Changing Your DNS Server)
We've been running a series for guides for some time on how to defeat DNS censorship as suggested by the PROTECT-IP Act. Today, we'll show you another method that requires no installation or downloading anything. All it requires is what comes with your computer. We'll show you how to do this with Windows 7 and show you a helpful tip if you are using Windows XP instead. If the United States is planning on simply modifying the DNS system so that alleged copyright infringing websites will no longer appear, then defeating such censorship has proven very trivial.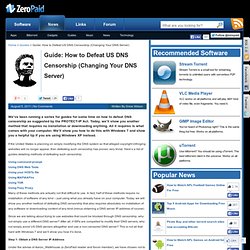 Genetika Rock Radio.com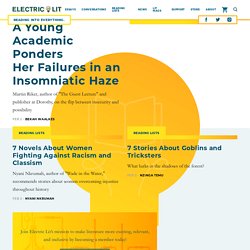 Electric Literature
Recommended Reading App Get stories from your literary heroes delivered to your iPhone or iPad every week. Saguaro by Carson Mell Our second novel features sex, drugs, rock & roll, and a dose of redemption. Rontel by Sam Pink Thought Catalog says our first novel may be Sam Pink's "best work to date." Electric Literature 6 Nathan Englander Mary Otis Matt Sumell Steve Edwards Marc Basch
Nerds in Love |
I have never seen "Tangled" dicksneeze: It looks like such a cute movie and I want to watch it. Someone send me a link to watch it for free online. Disney fandom? dicksneeze:
Oh, So That's What That Really Means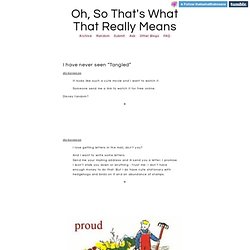 Ojos de Papel
La primavera pasada cuando asistí al taller de Amy Tangerine que organizaba Kds en Barcelona Muriel hizo unas fotos chulísimas con un adaptador para su Lomo que hace fotos de 360º y que os sonaran de algo porque ya nos enseño una de ellas en su Lo "Up & down". Ese fin de semana tuve un trancazo terrible así que no fui precisamente el alma de la fiesta pero desde que vi estas fotos tenía claro que quería hacer un Lo con ellas y no dejar ninguna fuera. Y precisamente ahí es donde ha estado el reto de esta página, en utilizar 4 fotos tan largas sin que la página quedará ahogada con tanto espacio ocupado. Papel de la colección Graphic Loop y cámaras troqueladas, todas de la marca Color Conspirancy, chevron realizado con los nuevos troqueles de Kesi´art, costura, alfabeto negro de foam y tinta Distress Black Shoot en los bordes para dar profundidad a la página son los elementos utilizados en esta ocasión.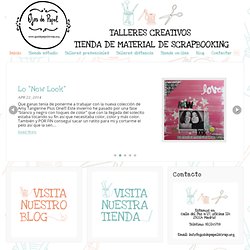 The Dictionary of Obscure Sorrows is a compendium of invented words written by John Koenig. Each original definition aims to fill a hole in the language—to give a name to emotions we all might experience but don't yet have a word for. The author's mission is to capture the aches, demons, vibes, joys and urges that roam the wilderness of the psychological interior. Each sorrow is bagged, tagged and tranquilized, then released gently back into the subconscious. ▸ visit the facebook page to hear the backstory behind each word ▸ follow on twitter (@obscuresorrows) for whatever reason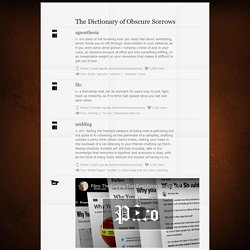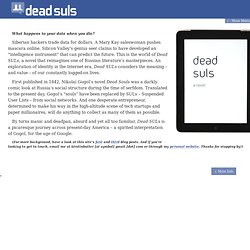 What happens to your data when you die? Siberian hackers trade data for dollars. A Mary Kay saleswoman pushes mascara online. Silicon Valley's genius seer claims to have developed an "intelligence instrument" that can predict the future. This is the world of Dead SULs, a novel that reimagines one of Russian literature's masterpieces. An exploration of identity in the Internet era, Dead SULs considers the meaning – and value – of our constantly logged-on lives.
Dead SULs