OpenGL
In this tutorial we will learn how to create a simple, empty OpenGL window from scratch. Actually we will be creating an OpenGL application, because I cover both windowed and full-screen modes here.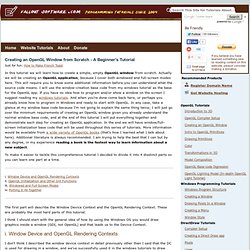 Creating an OpenGL Window from Scratch - A Beginner's Tutorial - Fallout Software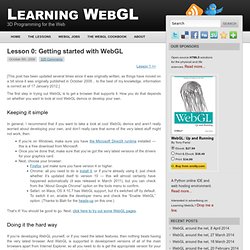 Lesson 0: Getting started with WebGL
Lesson 1 >>
OpenGL ES from da Ground Up...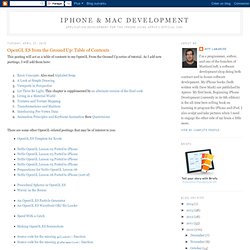 kimptoc said... Many Thanks for the series and this TOC - was just trying to do the same under my delicious bookmarks and then saw this :)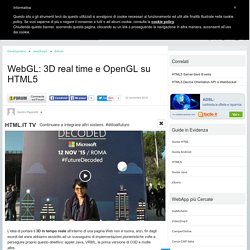 L'idea di portare il 3D in tempo reale all'interno di una pagina Web non è nuova, anzi, fin dagli esordi del www abbiamo assistito ad un susseguirsi di implementazioni pionieristiche volte a perseguire proprio questo obiettivo: applet Java, VRML, la prima versione di O3D e molte altre.
WebGL: 3D real time e OpenGL su HTML5
OpenGL ES 2.0 Programming Guide - Downloads
OpenGL ES from the Ground Up: Table of Contents
Great Tutorial Series on OpenGL ES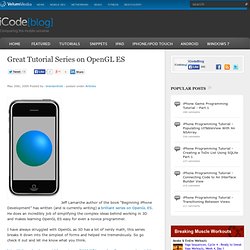 Jeff Lamarche author of the book "Beginning iPhone Development" has written (and is currently writing) a brilliant series on OpenGL ES. He does an incredibly job of simplifying the complex ideas behind working in 3D and makes learning OpenGL ES easy for even a novice programmer.
Here's a list of great resources for learning iPhone OpenGL ES for all you aspiring iPhone game programmers. I have created a new version of this list at: 18 OpenGL ES Resources That You Must Know! 1. The Black Art of 3D Game Programming Chapter 10 While this isn't an OpenGL ES resource it is a great introduction to the 2D and 3D math involved in using OpenGL ES. I mention it first because if you don't understand this stuff you'll have a hell of a time coding OpenGL ES, and this is a great introduction. The whole book can be found here for free.
OpenGL ES – 8 Great Resources For Learning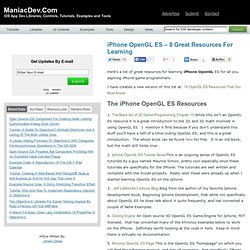 The Categorized OpenGL ES Tutorial Collection | iPhone, iOS 4, iPad SDK Development Tutorial and Programming Tips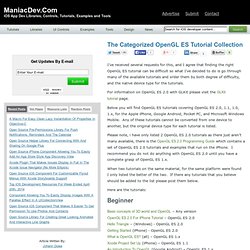 I've received several requests for this, and I agree that finding the right OpenGL ES tutorial can be difficult so what I've decided to do is go through many of the available tutorials and order them by both degree of difficulty, and the native device type for the tutorials. For information on OpenGL ES 2.0 with GLKit please visit the GLKit tutorial page. Below you will find OpenGL ES tutorials covering OpenGL ES 2.0, 1.1, 1.0, 1.x, for the Apple iPhone, Google Android, Pocket PC, and Microsoft Windows Mobile. Any of these tutorials cannot be converted from one device to another, but the original device type for each tutorial is listed. Please note, i have only listed 2 OpenGL ES 2.0 tutorials as there just aren't many available, there is the OpenGL ES 2.0 Programming Guide which contains a set of OpenGL ES 2.0 tutorials and examples that run on the iPhone. I recommend you do not do anything with OpenGL ES 2.0 until you have a complete grasp of OpenGL ES 1.x.
One of more the exciting new features of the iPhone 3GS is its faster, more advanced graphics hardware and support of OpenGL ES 2.0.
Getting Started with OpenGL ES 2.0 On The iPhone 3GS