Crafts
Clothing. Button Garland. I have an appallingly large stash of buttons in my crafting arsenal.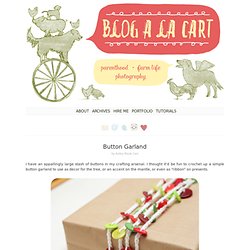 I thought it'd be fun to crochet up a simple button garland to use as decor for the tree, or an accent on the mantle, or even as "ribbon" on presents. All that's needed is the chain stitch. Wednes-diy. A few of you have asked about the amazing rope swirl tapestries in our new store displays and you're in luck because one of our display artists put together a tutorial on how to make them!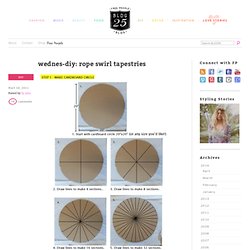 It looks like such a fun rainy day project. what you need: a large piece of cardboard, black marker, scissors, rope in various sizes and colors, neon twine, pompoms. use a variety of different colors and textures to create a fun swirl – these purple and orange tassels are just another piece of string woven in with the others! Once you've got it down, you can make a whole bunch in different sizes and colors, to create a whole wall tapestry just like the ones in our stores :) i can't wait to try this! Sea of Shoes: HAIR HOW-TO. I am sometimes asked how I style my hair, and while my method is far from perfect, I thought I'd show you how!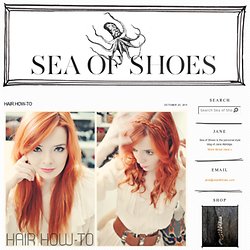 My hair is pretty straight and fine naturally and I always let it air dry. Since I go about three days between washes, I like to curl it on the first day and let it mellow out into some nice waves over the next two. Let's get started!
Knitting
Home.
---