Gatgets
PDF Sharing. 14 Awesome PowerPoint Resources. PowerPoint is stressful, isn't it?
It shouldn't be. There's nothing special about it. You use it everyday. Convert PDF to Word - Convert PDF to Doc - Convert online PDF to Word. Convertir pdf en word - convertir en ligne les document pdf en word - convertisseur pdf en word. PDF to Word Converter Desktop Software est un logiciel qui vous permettra de convertir vos fichiers PDF en Word (.Doc) ou en Rtf (.rtf) sans internet.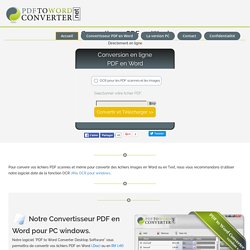 Le fichier word convertit sera facilement éditable par n'importe quel version du logiciel Word de microsoft. PDF to Word Converter Software est trés facile d'utilisation, vous pouvez par exemple ouvrir plusieurs fichier PDF en même temps, et les convertir tous en un seul clique en plusieurs formats: (.doc), (.rtf), (.txt) et (.tiff). Vous pouvez télécharger notre version d'essai tout moment. 14 jours d'essai gratuit. Desktop Nexus Wallpapers - Wallpaper, Desktop Wallpapers, Computer Backgrounds.
Alexa the Web Information Company.
---