Project
Students in grades 3–5 may be interested in exploring some foundational information about earthquakes and tsunamis, changes in the Earth's surface brought about by fault activity, or interesting and unusual bits of information about earthquakes. They may also be interested in discovering more about Japan's physical and cultural geography or in learning how to protect people and property during a natural disaster. Tremor Troop: Earthquakes—A Teacher's Package for K–6. Download this PDF file for a complete unit on earthquakes.
ORC On > 3-5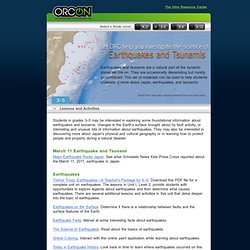 ORC On
The process of constructing the bridges required meticulous work by a team of students--who only had pasta to work with! The Bridge Model The second component of the Bridge Project was the construction of a bridge model. Students organized themselves into groups of three or four. Ms.
Virtual School House/Projects/the Bridge Project/Story Page 2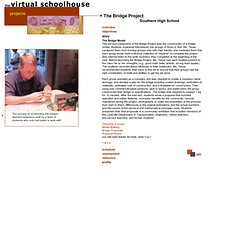 New-tritional Info « Mathalicious
Many restaurants are required to post nutritional information for their foods, including the number of calories. But what does "550 calories" really mean? Instead of calories, what if McDonald's rewrote its menu in terms of exercise? In this lesson, students will use unit rates and proportional reasoning to determine how long they'd have to exercise to burn off different McDonald's menu items.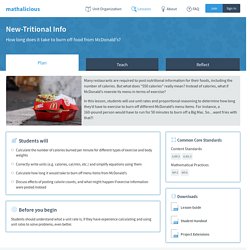 Welcome to YouTube! The location filter shows you popular videos from the selected country or region on lists like Most Viewed and in search results.To change your location filter, please use the links in the footer at the bottom of the page. Click "OK" to accept this setting, or click "Cancel" to set your location filter to "Worldwide". The location filter shows you popular videos from the selected country or region on lists like Most Viewed and in search results. To change your country filter, please use the links in the footer at the bottom of the page.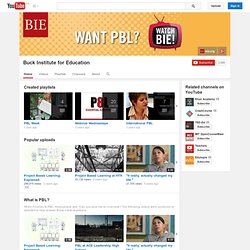 BIEPBL
Collaborative project-based learning and problem-based learning in higher education: a consideration of tutor and student roles in learner-focused strategies
Printer friendly version in PDF KEYWORDS: Collaborative Project-based Learning, Problem-based Learning, Facilitation. Introduction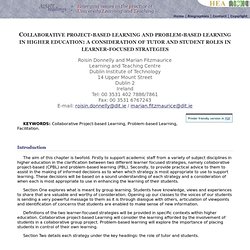 Project Based Learning Language Arts Projects | Best Kids Educational Websites
Project-based learning (PBL) is considered an alternative to paper-based, rote memorization, teacher-led classrooms. Proponents of project-based learning cite numerous benefits to the implementation of these strategies in the classroom including a greater depth of understanding of concepts, broader knowledge base, improved communication and interpersonal/social skills, enhanced leadership skills, increased creativity, and improved writing skills. John Dewey initially promoted the idea of "learning by doing."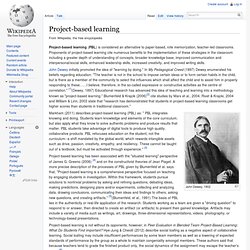 Project-based learning
Olander School for Project Based Learning 
Meridian: Getting A Grip On Project-Based Learning
Important Change: This resource will be chargeable on a per-school basis from 14th January 2013. Click here for more information Welcome to Museum Box, This site provides the tools for you to build up an argument or description of an event, person or historical period by placing items in a virtual box.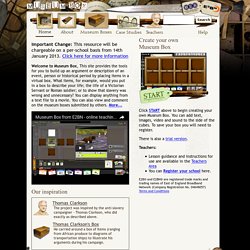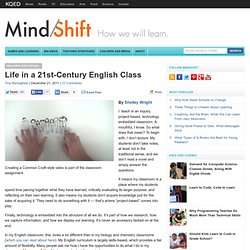 Teaching Strategies Creating a Common Craft-style video is part of the classroom assignment. By Shelley Wright I teach in an inquiry, project-based, technology embedded classroom. A mouthful, I know. So what does that mean?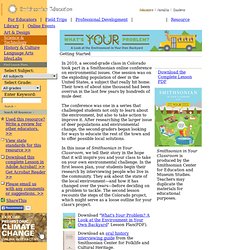 A Look at the Environment in Your Own Backyard
In 2010, a second-grade class in Colorado took part in a Smithsonian online conference on environmental issues. One session was on the exploding population of deer in the United States, a subject that really hit home. Their town of about nine thousand had been overrun in the last few years by hundreds of mule deer. The conference was one in a series that challenged students not only to learn about the environment, but also to take action to improve it. After researching the larger issue of deer populations and environmental change, the second-graders began looking for ways to educate the rest of the town and to offer possible local solutions.
Comedy Scripts, Funny Scripts, Free Comedy Scripts, Script Submissions
Constitution Day projects & Essays resources es/ms/hs Actively seek out alternative information ADA - assessment and action project Alternative Energy Sources and Conservation Attendance Improvement Campaign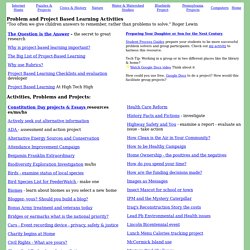 project based learning | EFL Projects
Project Based Learning Co-Laboratory
Learning theories in practice/Project-Based Language Learning
Introduction[edit] In the first section, a literature review on project-based learning (PjBL) is presented, including a definition, theoretical foundations, features, implementing steps, and a list of benefits as well as disadvantages, to provide a basic foundation for understanding how PjBL is used in language learning. In this section of the chapter, I refer to project-based language learning (PjBLL). Not only is the basic concept of PjBLL discussed and elaborated upon, but also it's implementation as well as effectiveness. Scenario 1 In Ms.
Search Results
Summary – Project Work in EFL Classrooms
CAELA: ESL Resources: Digests
Donna Moss, Arlington (VA) Education and Employment Program (REEP) Carol Van Duzer, National Center for ESL Literacy Education December 1998 Project-based learning is an instructional approach that contextualizes learning by presenting learners with problems to solve or products to develop. For example, learners may research adult education resources in their community and create a handbook to share with other language learners in their program, or they might interview local employers and then create a bar graph mapping the employers, responses to questions about qualities they look for in employees. This digest provides a rationale for using project-based learning with adult English language learners, describes the process, and gives examples of how the staff of an adult English as a second language (ESL) program have used project-based learning with their adult learners at varying levels of English proficiency. Rationale for Project-based Learning