Meals
The most wonderful time of the year | Katrina Runs For Food. It's that time of year again.
The day before the official kickoff to the Christmas season. Well, at least that's what the news people say. I start getting the Santa spirit the day after Halloween. Kaytucky Chicken. I have a really fun recipe for you!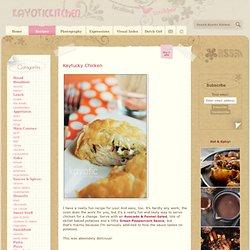 And easy, too. It's hardly any work; the oven does the work for you, but it's a really fun and tasty way to serve chicken for a change. Serve with an Avocado & Fennel Salad, lots of skillet baked potatoes and a little Green Peppercorn Sauce, but that's mainly because I'm seriously addicted to how the sauce tastes on potatoes. Honey-Bourbon Pulled Chicken. The Incredible Noodle Weenie.
---