learn
Get flash to fully experience Pearltrees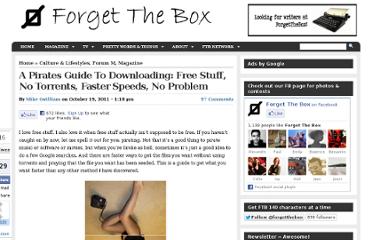 Email Share Sharebar 329 Email Share I love free stuff. I also love it when free stuff actually isn't supposed to be free.
1. FAULTY CAUSE: ( post hoc ergo propter hoc ) mistakes correlation or association for causation, by assuming that because one thing follows another it was caused by the other. example: A black cat crossed Babbs' path yesterday and, sure enough, she was involved in an automobile accident later that same afternoon. example: The introduction of sex education courses at the high school level has resulted in increased promiscuity among teens. A recent study revealed that the number of reported cases of STDs (sexually transmitted diseases) was significantly higher for high schools that offered courses in sex education than for high schools that did not. 2.
Let me start off by saying that I don't use textures all that often, but there are certainly times where I feel that an image could use just a little something extra. Textures are just another one of those things in digital photography that can be overused and overdone if you're not careful, and there are certainly right and wrong ways of going about it. So, for those that have never heard of this before or have yet to try it, you may be wondering what it means to add a texture to a photograph? Simply put, it means taking one image (usually of some sort of texture like peeling paint, a scratched surface, a textured wall or fabric) and applying it as an overlay to your actual image. The effect is achieved by changing the blend mode of the texture in photoshop so that the texture actually becomes translucent and part of the actual image. For this tutorial, I'll take a simple image I took in California during a surf competition, and add a texture to bring it to life.
Common Themes in Literature It has been argued that there are anywhere between 3 and 40 main themes in literature that continue to be explored by each successive generation of writers. No one knows for what the real number is--it depends on who you ask--but below is a list, not necessarily inclusive, of the most common ones. There are many variations, and there are often overlaps as well.
Truly passionate sex beats obligatory makeup sex any day. Maybe men don't feel the difference, but we women do. We hate fighting —it makes us feel alienated, confused, and downright disappointed. But the next time we bite your head off, don't rush to pack up your CDs. Experts insist that squabbling (but not screaming) is a healthy sign.
Hangovers are the worst. That nasty combo of headache, nausea and gut-pain can cost you precious hours of your life. While there are certainly preventative measures you can take to reduce the likelihood of a hangover (headache medication, food, lots of water before bed, etc.), inevitably you're going to get stuck with a dirty hangover that you need to crush before it kills your day. Here are 11 awesome hangover cures that you can turn to when you need to ease the pain. 11. Ginger
With Blurb, you'll find all the tools you need to make your own photo book, whether you're making a personalized wedding album, cookbook, baby book, travel photo book, or fundraising book. Count on bookstore-quality printing and binding, and a range of choices from Hardcover photobooks to Softcover paperbacks in an array of trim sizes. Use any of our free online book-making tools to create your own book. Learn how to publish a book and much more with our free how-to tips and tutorials or watch our two-minute BookSmart video and see how easy it is to make a coffee table photo book. Be sure to register and subscribe to Blurb emails to get the news first on Blurb events and promo code coupon offers.