Spells - candle, potion, chanting, etc
Mozilla Firefox
THE BOTTLE SPELL (Spell taken from "The Book Of Shadows") Used to neutralize the power of those who intend to do you physical harm, or hurt your reputation, or in any way pose a threat to your security. Ingredients: 4 tbsps Frankincense or Myrrh 4 tbsps Black powdered Iron 4 tbsps Sea Salt 4 tbsps Orris-root Powder (or oak moss) 1 white candle 1 bottle with a cork or lid Mortar and pestle Parchment Paper Black Ink or black ballpointpen Black thread 1.
Candle Magick Spells
The Irish Sacred Trees & Ogham.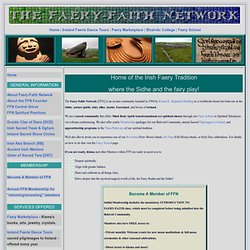 We revere the Irish Sacred Trees . To us they hold the ancient wisdom , for they have witnessed life on earth over large expanses of time. We cry to see trees cut down but rejoice when new trees are planted. We do not campaign against those people who cut our forests down, although we will give aid to those who do.
Wiccan Love Spells, White and all Free
Came here first, I see. No? Okay, fair enough, everyone needs love, but unless you happen to be the only son of Lily and James Potter (which makes you a fictional character) you may not be able to pull off a full fledged love spell right off the bat—few can. But here you will find some simple white magic love spells you will be able to perform with a minimum of fuss, and all free.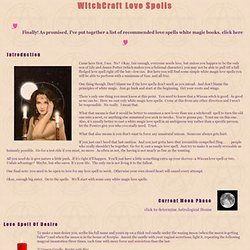 Wicca Spells Wiccan Spells Talismans Love Spells Magic Spells Ch
hope you enjoy this short essay on the origins and uses of cursing in the Irish tradition: the first section explores the Fili and their tradition of Satire which gives the Irish curse its particular flavour, while the second half explores what that tradition has evolved into in Modern practice. Where does the tradition of cursing in Ireland come from? Curses in Ireland come from the usual roots, folk magic and charms, mythology, and religion (the good versus evil model is simple and always popular) with famous examples of spell curses in folklore (eg the spell placed on Etain that turned her into various animals or the curse placed on the children of Lir.) These qualify as curses because they are malicious, inflict hardship on the victim, and are contingent on a set of extreme circumstances before they can be lifted.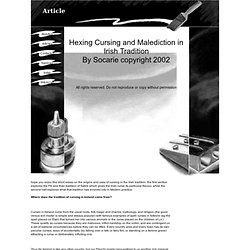 Page Title
Sage is passed for all to purify during the speeches The Sabbaths are the Eight Points of the Wheel of the Year. Winter, Spring, Summer and Autumn, the wheel turns on and on. In December, on the Winter Solstice, we celebrate Yule. It is a transition from Death to Life, as it is the moment of the Sun King's Birth, which reflects in our world as the beginning of the growth of light. The Crone gives her crown to the Maiden, and new replaces old.
RITUAL: Wiccan Yule
A Spell to Cast Away Darkness Belisama Fire 2001 In the center of the darkest storm, Is a brilliant rainbow, bright and warm. Look past the darkness that you see, There's more than what you think might be.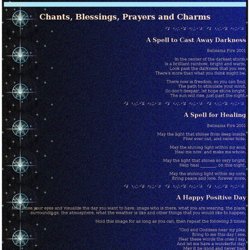 Discount Witch Jewelry Pagan Jewelry Wiccan Jewelry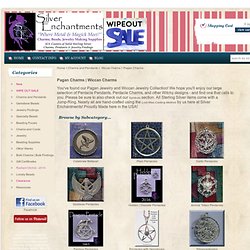 A Few Customer Comments: The quality of your jewelry findings and jewelry components just cannot be beat. Many thanks for such wonderful service, pricing and quality. Sincerely, Justine (PA) I just received my first order today. WOW!!
Wicca Store and Witchcraft Supplies for witch, wiccan, pagan -je
New Age Products & Self-Help Tools
Wicca Spells - Wicca Spells Home
Witchcraft & Shamanism - Full Moon Names
Love Spells to help you and assist you in finding the right person in your life and also to increase the bond in between two lovers. Love is a very essential element in our life. If there is no love in a person's life then his life will become a living hell.
LOVE SPELLS Spell Casting Services Love Magic Love Spells Powerf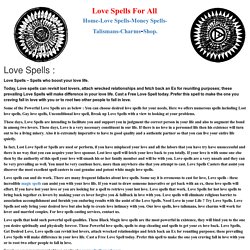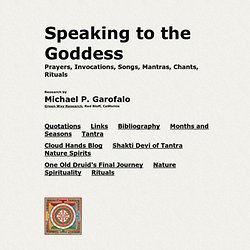 Quotations Links Bibliography Months and Seasons Tantra Cloud Hands Blog Shakti Devi of Tantra Nature Spirits One Old Druid's Final Journey Nature Spirituality Rituals Quotations
Goddess: Prayers, Invocations, Songs, Mantras, Chants, Rituals