POETRY
Short Sweet Love Poems | Short Love Poems
Do you have a short sweet love poem you'd like to share? Enter it below. Click below to see contributions from other visitors to this page...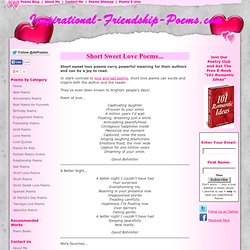 Cut the bindings off of books found at a used book store. Find poems in the pages by the process of obliteration. Put pages in the mail and send them all around the world. Lather, rinse, repeat.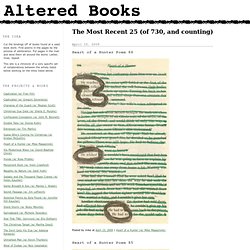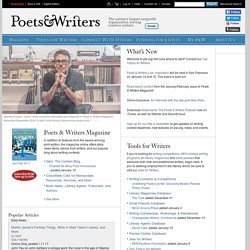 Begin 2014 by visiting our Literary Events Calendar, which has information on readings, workshops, and conferences that offer inspiration, education, and a sense of community. Or visit the Writing Prompts and Exercises page, which helps writers develop the skills, knowledge, and dedication needed to achieve their writing goals. The Poets & Writers Speakeasy is a convenient, open, and reliable digital space where poets and writers gather to discuss their experiences with the craft, literary agents, and self-publishing. Or, connect directly with fellow writers in our Directory of Writers, which features contact information for more than ten thousand authors.
I Never Thought I'd Fall in Love with You – Romantic Poems | Nur
DESPAIR POEMS
Craig Arnold earned his BA in English from Yale University and his PhD in creative writing from the University of Utah. Arnold's second collection of poetry, Made Flesh (2008), is "motored by vividly earthy language and disguised philosophical sophistication," observed Publishers Weekly in a starred review, praising "sequences neither (quite) lyric nor narrative, but erotic and ever alert." The raw, emotional intensity of Made Flesh stands in stark reply to the classical, formal mastery displayed in Arnold's first collection, Shells (1999), which won the 1998 Yale Younger Poets Award. His honors included the Amy Lowell Traveling Poetry Scholarship, the Joseph Brodsky Rome Prize Fellowship from the American Academy of Arts and Letters, the US-Japan Creative Artists Exchange Fellowship, the Alfred Hodder Fellowship from Princeton University, a Dobie Paisano Residency, and a National Endowment for the Arts fellowship.
Craig Arnold : The Poetry Foundation : Find Poems and Poets. Dis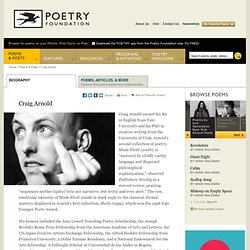 Asaias Tegner and Swedish poetry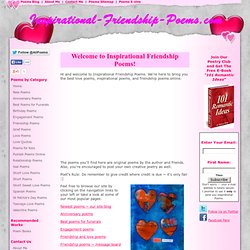 Inspirational Friendship Poems: Love Poems Friendship Poems Insp
Hi and welcome to Inspirational Friendship Poems. We're here to bring you the best love poems, inspirational poems, and friendship poems online. The poems you'll find here are original poems by the author and friends.