MACROBIOTICS - The Best Way To Live!!!
Macrobiotic recipes Spring/Summer 1 Grain: Polenta with fresh Corn Protein: Herbed Black Soybeans Seaweed: Dulse Condiment Vege: Carrots and Broccoli with Ume Dill Dressing Pickle: Pressed Chinese Cabbage, Red Radish, and Lemon Dessert: Berry Kanten
Macrobiotic diet - recipes summer 1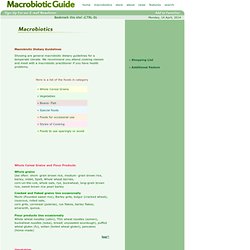 Macrobiotic Dietary Guidelines Showing are general macrobiotic dietary guidelines for a temperate climate . We recommend you attend cooking classes and meet with a macrobiotic practitioner if you have health problems.
Macrobiotic Dietary Guidelines - What is the Macrobiotic Diet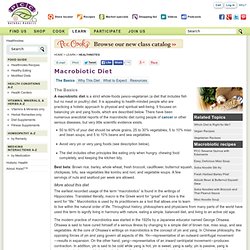 Healthnotes | Macrobiotic Diet
A macrobiotic diet is a strict whole-foods pesco-vegetarian (a diet that includes fish but no meat or poultry) diet. It is appealing to health-minded people who are practicing a holistic approach to physical and spiritual well-being. It focuses on balancing yin and yang foods, which are described below. There have been numerous anecdotal reports of the macrobiotic diet curing people of or other serious diseases, but very little scientific evidence exists. 50 to 60% of your diet should be whole grains, 25 to 30% vegetables, 5 to 10% miso and bean soups, and 5 to 10% beans and sea vegetables. Avoid very yin or very yang foods (see description below).
Macrobiotics America