Flash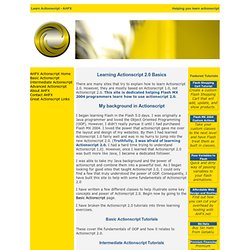 Learning Actionscript 2.0 Basics There are many sites that try to explain how to learn Actionscript 2.0. However, they are mostly based on Actionscript 1.0, not Actionscript 2.0. This site is dedicated helping Flash MX 2004 programmers learn how to use actionscript 2.0. My background in Actionscript
Learn Actionscript 2.0 through great Flash MX 2004 tutorials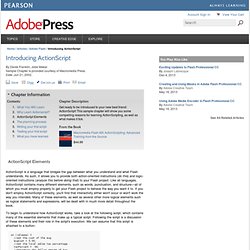 Introducing ActionScript > ActionScript Elements
ActionScript is a language that bridges the gap between what you understand and what Flash understands. As such, it allows you to provide both action-oriented instructions (do this) and logic-oriented instructions (analyze this before doing that) to your Flash project. Like all languages, ActionScript contains many different elements, such as words, punctuation, and structure—all of which you must employ properly to get your Flash project to behave the way you want it to.
Hi. My name is Martin Legris and I thought that I would spend some time and create a site that offers a directory of the best resources to learn ActionScript 3 (all flavors) quickly and effectively. I have some nice ideas for this site, and I will work on it when I get the time. For now, I started to gather content, so here is pure content (and nothing else!).
AS3 Tutorials - A compilation of the best ActionScript 3.0 Tutor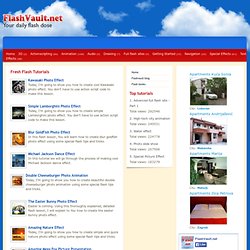 Flash tutorials - FlashVault.net
Kawasaki Photo Effect Today, I'm going to show you how to create cool Kawasaki photo effect. You don't have to use action script code to make this lesson.
"In the past 3 months I have generated more than $12,500 in new business, have more than that proposed or quoted and I am currently seeking another person to join me as I have more than I can handle comfortably." – Roger Bingham "I have expanded my business in a very short time from nothing to 10 clients just by having the knowledge alone and having the confidence to go out into the market place knowing I can compete against the other web companies." – Stefan Kaczmarczyk Build Impressive Websites in Days instead of WeeksMake Twice As Much Money in Half the Time Create Recurring Income and a whole lot more… Hi, I'm Conrad Feagin and during the past 10 years I've taught 31,140 students to increase their income as web designers. Now I'm sharing my most effective strategies and systems for making more money in less time with you.
Flash Tutorials - Flash Animation Tutorials - Actionscript Tutor
The Super Flash Bros
intense creativity
Hi Everyone, We have been using Mono for Android at Taste Filter since may. I love coding in C#, it is much faster than coding in Java with all the shortcuts (events, delegates, actions, etc).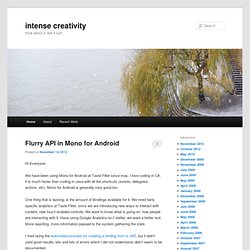 Ver post no novo domínio: http://blog.rogeriolino.com/2007/02/04/flash-banner-flutuante/ Muitos sites, portais, adotaram o banner flutuante, aquele no qual ao você passar o mouse por cima ele "cresce" pela página e mostra os detalhes da propaganda, promoções, etc. A idéia então consiste em posicionar o filme por cima dos outros elementos e ele tem que ter o fundo transparente para não "tampar" o conteúdo. Então chegamos a conclusão que é só deixar o filme com o fundo transparente e colocá-lo numa div com position absolute? Certo. Primeiramente vamos ao SWF, no Flash crie um novo documento.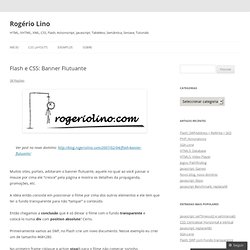 Flash e CSS: Banner Flutuante « Rogério Lino