Css
About the CSS Layout Generator The CSS Layout Generator was first released by Tony Aslett in October 2003, since then over 871,000 layouts have been generated. Updated in November 2010, HTML5 doctype can now be selected and a simple HTML5 template with appropriate tags will be created.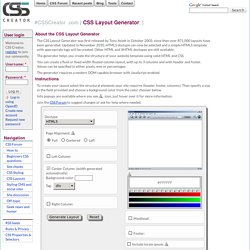 Browsershots makes screenshots of your web design in different operating systems and browsers. It is a free open-source online web application providing developers a convenient way to test their website's browser compatibility in one place. When you submit your web address, it will be added to the job queue. A number of distributed computers will open your website in their browser. Then they will make screenshots and upload them to our central dedicated server for your review.

Cascading Style Sheets(CSS) is one of the building blocks of modern web design without which websites would have been ugly just like they were a decade ago. With time, the quality of CSS tutorials out there on the web has increased considerably. Here are 21 amazing CSS Techniques that you might not have thought could be done by CSS.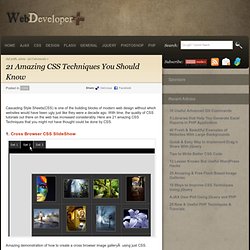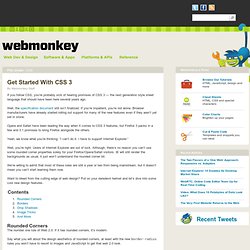 Get Started With CSS 3
If you follow CSS, you're probably sick of hearing promises of CSS 3 — the next generation style sheet language that should have been here several years ago. Well, the specification document still isn't finalized. If you're impatient, you're not alone.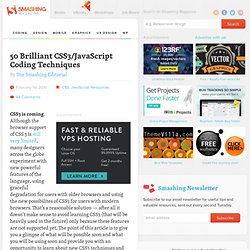 Advertisement CSS3 is coming. Although the browser support of CSS 3 is still very limited, many designers across the globe experiment with new powerful features of the language, using graceful degradation for users with older browsers and using the new possibilites of CSS3 for users with modern browsers. That's a reasonable solution — after all it doesn't make sense to avoid learning CSS3 (that will be heavily used in the future) only because these features are not supported yet.
Advertisement Cascading Style Sheets were introduced 13 years ago, and the widely adopted CSS 2.1 standard has existed for 11 years now. When we look at websites that were created 11 years ago, it's clear that we are a thousand miles away from that era. It is quite remarkable how much Web development has evolved over the years, in a way we would never have imagined then. So why is it that, when it comes to CSS, we're stuck in the past and so afraid of experimenting?
Take Your Design To The Next Level With CSS3 - Smashing Magazine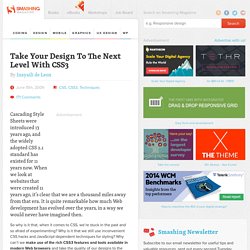 Start Using CSS3 Today: Techniques and Tutorials - Smashing Maga
Advertisement We have been publishing articles about CSS3 for a while now, and we keep receiving angry e-mails from some developers who complain that it doesn't make sense to use CSS3 today. Yes, Internet Explorer doesn't support most CSS3 properties. And yes, CSS3 vendor prefixes are bad for maintainability (and this is why we recommend extracting vendor prefixes in a separate CSS3 file).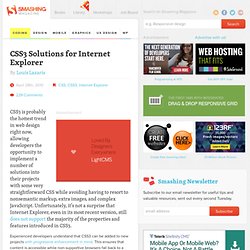 Advertisement Experienced developers understand that CSS3 can be added to new projects with progressive enhancement in mind. This ensures that content is accessible while non-supportive browsers fall back to a less-enhanced experience for the user.
Building Faster Websites with CSS Sprites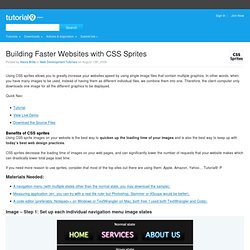 Using CSS sprites allows you to greatly increase your websites speed by using single image files that contain multiple graphics. In other words, when you have many images to be used, instead of having them as different individual files, we combine them into one. Therefore, the client computer only downloads one image for all the different graphics to be displayed.