Tools
Making the most of improvements to the +1 button. Webmaster level: All For the past few months, you might have used +1 buttons to help visitors recommend your content on Google Search and on their Google Profiles.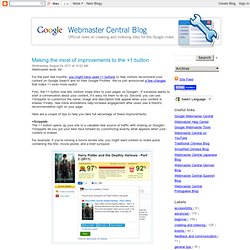 We've just announced a few changes that make +1 even more useful. First, the +1 button now lets visitors share links to your pages on Google+. Product Skin for Thesis is all About Creativity. Website creation. Features and Benefits. Features. 10 Tools for Measuring Your Social Media Influence. Meaningful exchanges constantly take place all over the social Web on a variety of platforms, connecting people and enabling them to share, critique, and interact with content and with each other.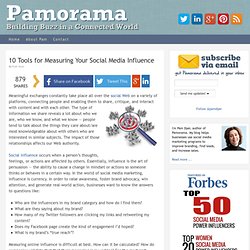 The type of information we share reveals a lot about who we are, who we know, and what we know — people tend to talk about the things they care about/are most knowledgeable about with others who are interested in similar subjects. The impact of those relationships affects our Web authority. Social influence occurs when a person's thoughts, feelings, or actions are affected by others. Essentially, influence is the art of persuasion — the ability to cause a change in mindset or actions so someone thinks or behaves in a certain way. Getting Mass Traffic from StumbleUpon: A Definitive Guide. Many bloggers end up having a love-hate relationship with StumbleUpon.
They love the amount of traffic that the service – which now boasts over 10 million members – can send, but they hate the conversion rate on that traffic. , yet their average time on site was just 26 seconds (overall site average is 2 minutes and 24 seconds) and they each viewed around 1.22 pages. Simply put, compared to other traffic sources, StumbleUpon is terrible. How to Use StumbleUpon: Your Comprehensive Guide. You've likely heard of StumbleUpon.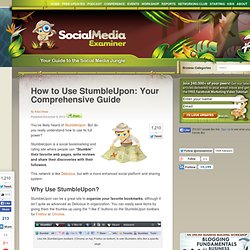 But do you really understand how to use its full power? StumbleUpon is a social bookmarking and rating site where people can "Stumble" their favorite web pages, write reviews and share their discoveries with their followers. From The Clubhouse. 101 Essential Freelancing Resources. Envato Studio is an online marketplace for freelance services focused on design and web-development.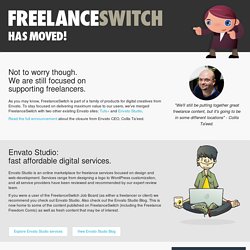 Services range from designing a logo to WordPress customization, and all service providers have been reviewed and recommended by our expert review team. If you were a user of the FreelanceSwitch Job Board (as either a freelancer or client) we recommend you check out Envato Studio. Also check out the Envato Studio Blog. This is now home to some of the content published on FreelanceSwitch (including the Freelance Freedom Comic) as well as fresh content that may be of interest.
Delightful Blogs Directory :: Cutting through the Blog Smog. Discover Stylish Blogs. 5 Free Tools for Recording Google+ Hangouts. Google+ Hangouts are proving one of the most popular features of the new social networking service, but there's no built-in option to record them.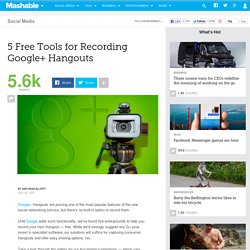 Until Google adds such functionality, we've found five workarounds to help you record your next Hangout — free. While we'd strongly suggest any G+ pros invest in specialist software, our solutions will suffice for capturing consumer Hangouts and offer easy sharing options, too. Take a look through the gallery for our five tested suggestions — which vary from quick and simple browser-based options to more advanced software downloads — and let us know in the comments any alternate ways you've recorded your Hangouts.
Image courtesy of iStockphoto, Lefthome. » WiseStamp Email Signatures - Bring Life to your Email. Blog. About ifttt. Join.me – Free Screen Sharing and Online Meetings. Get Your Avatar Almost Anywhere With Gravatar. The internet is increasingly a social place where we can actually see the things our friends and colleagues are doing across the web.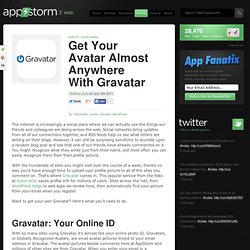 Social networks bring updates from all of our connections together, and RSS feeds help us see what others are writing on their blogs. However, it can still be surprising sometims to stumble upon a random blog post and see that one of our friends have already commented on it. Doopla Designers Collective. Doopla Designers Collective is a Lisbon based Multidisciplinary Design Studio.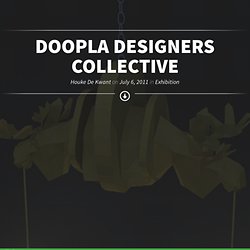 The studio is owned by André Santos and Lee Anne Ferreira. They share love for each other, for images and for concepts… They started a couple years ago (the end of 2009) and it's been a struggle for them to keep going in Portugal, but because of their believe in their country but firstly in themselves they kept going and in this post, you will see some of their works which they made over the years. About the author Hi, my name is Houke de Kwant. Shortmail. Guest Blog on ComLuv.com - a PR6 high traffic site. Guest Blogging Directory.
How do Tumblr and Posterous compare as blogging platforms. Stacey, The Lightweight Content Management System. Start your own online School. Mozilla Firefox. Welcome to about.me (about dot me) AMMO Magazine. Since 2009 Ammo has sporadically released short-run art filled books and magazines.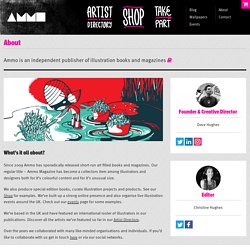 Our regular title – Ammo Magazine has become a collectors item among illustrators and designers both for it's colourful content and for it's unusual size. We also produce special edition books, curate illustration projects and products. See our Shop for examples. We've built up a strong online presence and also organise live illustration events around the UK. Blanket Magazine. @WhoisBot | Kevin Ohashi - Entrepreneur. HOW TO: Use Google Analytics. Whether you built a personal site from the ground up or oversee digital strategy for a huge corporation, many of us are managing a web presence these days.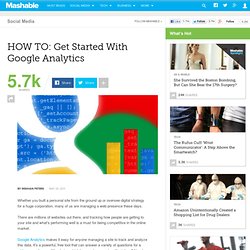 There are millions of websites out there, and tracking how people are getting to your site and what's performing well is a must for being competitive in the online market. Google Analytics makes it easy for anyone managing a site to track and analyze this data. It's a powerful, free tool that can answer a variety of questions for a wide range of users. Wondering which keywords resonate with visitors? Need insight on what design elements might be turning people away?
About | storytlr open source | your life online. Storytlr is an open source lifestreaming and micro blogging platform. You can use it for a single user or it can act as a host for many people all from the same installation. Why use storytlr? Quotes What did others think of Storytlr: Automated Submission to Social Media Sites | OnlyWire. Social Bookmarking Software, Social Bookmarking Tool. Media Lightbox | Online file storage - Online file sharing. 50 Website Traffic Sources You Should Milk Like Crazy. Is blogging a struggle for you sometimes? I know it is a passion for most of us, and we love doing it. But sometimes it becomes a struggle. How to get more traffic, how to get more comments, how to come up with fresh topics… About Us | Prezi. LaunchRock - Create a viral "Launching Soon" page in minutes. LaunchRock Blog - So Meta. Jux - Make your own website from lots of cool pieces. Explore the world. Keyword Analysis Tool - Market Samurai. 10 New Twitter Tools That Will Make Your Life Easier.
Twitter continues to add a staggering amount of 460,000 users each day. In order to be fully equipped to stay on top of this popular web service, you can use Twitter tools to help. Here are 10 fresh, new Twitter tools that you can use to achieve greater productivity on Twitter-related tasks. 1. The Archivist This tool gives you insights and data about a specific search term. AdWords: Keyword Tool.
Search for new keyword or ad group ideas Keyword Planner is like a workshop for building new Search Network campaigns or expanding existing ones. You can search for keyword and ad group ideas, get historical statistics, see how a list of keywords might perform, and even create a new keyword list by multiplying several lists of keywords together. A free AdWords tool, Keyword Planner can also help you choose competitive bids and budgets to use with your campaigns.
Whether you're new to online advertising or an experienced pro, you can use Keyword Planner to lay the groundwork for a successful campaign. Combined Facebook, Twitter & RSS Social Stats with jQuery, PHP & YQL. Martin Angelov As we increasingly depend on more and more social services, there rises the need to provide a simple way to let our website visitors take part of our diverse social presence. In this tutorial we are going to create a simple widget, which combines the number of your RSS readers, twitter followers, and fans of your facebook fan page, to give a rough estimate of your social popularity. We are using jQuery and the tipTip plugin, object-oriented PHP, and Yahoo's YQL, while demonstrating a number of interesting web development techniques. Jolicloud. SEO Doctor – Free SEO Audit Tool. Eaque ipsa quae ab illo inventore veritatis. Popup Domination - Get More Subscribers & Make More Money In 2011! Author Information Widget for Blogger | Bloggermint.
GoSquared - real-time traffic monitoring that's beautiful, powerful and intuitive. Search. Explore. Experience – Apture. Cloud:flood by ViperChill. Trunk.ly | Home. Automated Submission to Social Media Sites | OnlyWire. 22 Hot New Social Media Tools Worth Exploring. Recent Posts with Thumbnails for Blogger ~ Blogger Widgets. About.me - Join.me - My Addons. Imgur: the simple image sharer. 9 content curation tools that better organise the web. Curated by. GoTwitr | Grow Twitter with GoTwitr. Dragontape - Dragontape - How to add an AddThis Toolbox to your Posterous blog - Marat's posterous. Publisha - ManageFlitter - Fast & Easy Unfollowing for Twitter. Beluga: Free, Private Group Mobile Messaging. GroupMe.
---