Theory
Grid-Based Design Theory. Grid is an important tool for graphic design.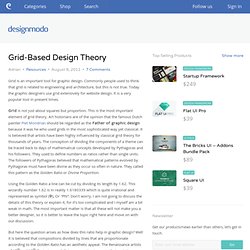 Commonly people used to think that grid is related to engineering and architecture, but this is not true. Today the graphic designers use grid extensively for website design. It is a very popular tool in present times. Grid is not just about squares but proportion. Clean Up Your Mess - A Guide to Visual Design for Everyone. Clean Up Your Mess - A Guide to Visual Design for Everyone. The Top 10 Secrets to Designing a Magazine. Each avenue in the design world has its own unique challenges and tricks, and magazine design is no different.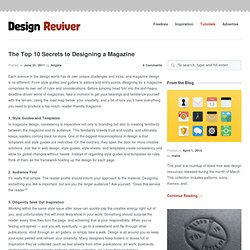 From style guides and gutters to editors and entry points, designing for a magazine comprises its own set of rules and considerations. Before jumping head first into the text-heavy, deadline-driven world of magazines, take a moment to get your bearings and familiarize yourself with the terrain. Using the road map below, your creativity, and a bit of luck you'll have everything you need to produce a top-notch, reader-friendly magazine.1. Style Guides and Templates In magazine design, consistency is imperative not only to branding but also to creating familiarity between the magazine and its audience. A Crash Course in Typography: Principles for Combining Typefaces - Noupe Design Blog. Apr 11 2011 When combining typefaces, there are a couple of important principles you'll need to keep in mind, namely contrast and mood.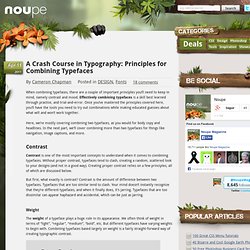 Effectively combining typefaces is a skill best learned through practice, and trial-and-error. Massimo Vignelli OFFSET 2009. Frank Chimero. Anonymous asked: What advice would you give to a graphic design student?
Design does not equal client work. It's hard to make purple work in a design. The things your teachers tell you in class are not gospel. You will get conflicting information. Frank Chimero.
---