Street art
Odio (Hatred) Supakitch & Koralie Docu. Calligraffiti. Mr.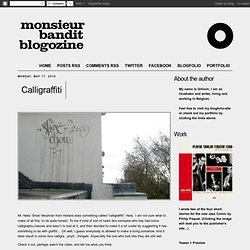 Niels 'Shoe' Meulman from Holland does something called "calligraffiti". Now, I am not sure what to make of all this, to be quite honest. To me it kind of sort of looks like someone who has had some calligraphy-classes and wasn't to bad at it, and then decided to make it a lot cooler by suggesting it has something to do with graffiti… Oh well, I guess everybody is allowed to make a living somehow. Street Art: Nunca. RED BULL STREET ART VIEW. Painting Q Pop. GraffitiMarkupLanguage. Say what?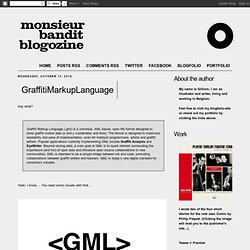 Graffiti Markup Language (.gml) is a universal, XML based, open file format designed to store graffiti motion data (x and y coordinates and time). The format is designed to maximize readability and ease of implementation, even for hobbyist programmers, artists and graffiti writers. Popular applications currently implementing GML include Graffiti Analysis and EyeWriter. Beyond storing data, a main goal of GML is to spark interest surrounding the importance (and fun) of open data and introduce open source collaborations to new communities. GML is intended to be a simple bridge between ink and code, promoting collaborations between graffiti writers and hackers. Street art: Remed. 3D Graffiti. Supakitch & Koralie. About the author My name is Gilliom.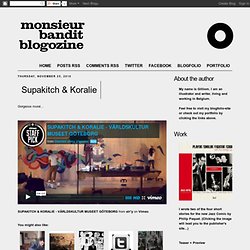 I am an illustrator and writer, living and working in Belgium.Feel free to visit my blogfolio-site or check out my portfolio by clicking the links above. About this blog Monsieur Bandit is interested in words and pictures: illustration, comics, graphic design, animation, motiongraphics, storytelling and anything close or in between...I like to call this blog a "blogozine", a regularly updated collection of short news items, interesting bits and pieces and showcases of work by various people.I lay no claim what so ever on the work posted here. I merely wish to share my interests and curate this ongoing presentation.If you have any rights on any of the work here, and do not like to see it on this blog, please contact me and the appropriate measures will be taken.
Jason Eppink's The Shadow Machine. The Shadow Machine from Jason Eppink on Vimeo.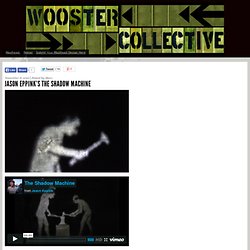 "The Shadow Machine is a hand-made analog projection system that reanimates two blacksmiths from the late 1800's, photographed by Eadweard Muybridge and compiled on plate #374 of his Animal Locomotion series. The Shadow Machine was conceived of and created for the The Underbelly Project, an extraordinary, unauthorized exhibition of more than one hundred international street artists in an abandoned subway station in New York City. The Shadow Machine's projected, ghostly figures hammer away in complete darkness at the far end of the platform, ever-toiling spirits working on a never-finished station that was abandoned generations ago.
Inside the Machine, six frames hand-painted on clear plexiglass operate as gobos when lit from behind by narrow beam LEDs.
---