Interview
Asterios Polyp by Mazzucchelli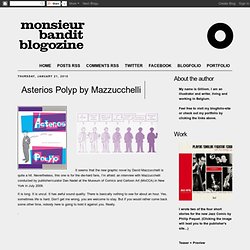 It seems that the new graphic novel by David Mazzucchelli is quite a hit. Nevertheless, this one is for the die-hard fans, I'm afraid: an interview with Mazzucchelli conducted by publisher/curator Dan Nadel at the Museum of Comics and Cartoon Art (MoCCA) in New York in July 2009. It is long. It is uncut. It has awful sound quality. There is basically nothing to see for about an hour.
A new series here at Monsieur Bandit: "Studio Visit", in which we… You are all so smart! Indeed. I must admit that this is a bit of a weakness of mine.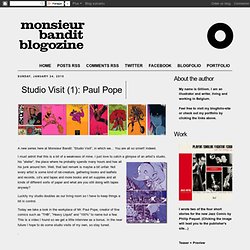 Studio Visit (1): Paul Pope
Paul Pope Interview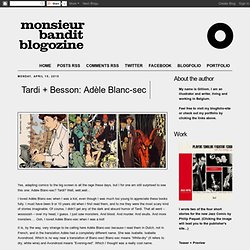 Tardi + Besson: Adèle Blanc-sec
Yes, adapting comics to the big screen is all the rage these days, but I for one am still surprised to see this one: Adèle Blanc-sec? Tardi? Well, well,well…
Docu: Comics 1973
Dave Mckean - Interview (2)
Mike Mignola Interview
The Man in Black and White
More from SelfMadeHero, a comics publisher I discovered online who make some nice little video's to promote their books. Which is smart. Just saying… An interview by Alex Fitch of Resonance FM with award-winning German graphic novelist Reinhard Kleist, conducted before Kleist's appearance at COMICA at the Institute of Contemporary Arts in London in November 2009.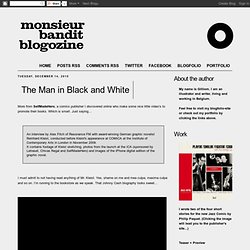 I interviewed novelist Sol Yurick back in March 2009. Rather than publish the interview on BLDGBLOG as I should have, however, I thought I'd try to find a place for it elsewhere, and began pitching it to a few design magazines. Yurick, after all, was the author of The Warriors—later turned into the cult classic film of the same name, in which New York City is transformed into a ruined staging ground for elaborately costumed gangs—and he was a familiar enough figure amidst a particular crowd of underground readers and independent press aficionados, those of us who might gravitate more toward Autonomedia pamphlets, for example, where you'd find Yurick's strange and prescient Metatron: The Recording Angel, than anything on the bestseller list.