Howto/tut/etc...
Building Your Web Presence for Authors: Don't Let Google Do Your Talking | Curiosity Quills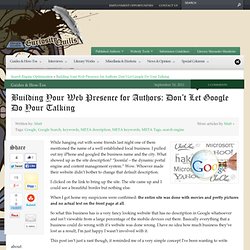 While hanging out with some friends last night one of them mentioned the name of a well established local business. I pulled out my iPhone and googled the business name and the city. What showed up as the site description? "Joomla!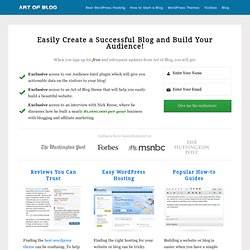 Art of Blog — The Art of How to Start and Run a Blog
Easily Create a Successful Blog and Build Your Audience! When you sign up for free and infrequent updates from Art of Blog, you will get: Exclusive access to our Audience Intel plugin which will give you actionable data on the visitors to your blog! Exclusive access to an Art of Blog theme that will help you easily build a beautiful website. Exclusive access to an interview with Nick Reese, where he discusses how he built a nearly $1,000,000 per year business with blogging and affiliate marketing Authors have been featured in:
28 Content Revenue Sharing Sites to Make Money with
6 Tips to Skyrocket your Blog Traffic Fast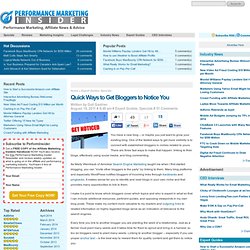 Quick Ways to Get Bloggers to Notice You
You have a new blog – or maybe you just want to grow your existing blog. One of the fastest ways to get more visibility is to connect with established bloggers in niches related to yours. There are three fast ways to make that happen: linking to their blogs, effectively using social media, and blog commenting. As Marty Weintraub of Aimclear Search Engine Marketing taught me when I first started blogging, you can "invite other bloggers to the party" by linking to them. Many blog platforms and especially WordPress notifies bloggers of incoming links through trackbacks and pingbacks. It makes sense for you to identify and read blogs in your own niche and that provides many opportunities to link to them.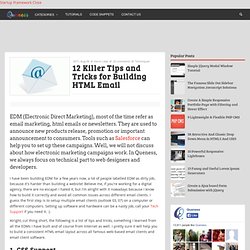 EDM (Electronic Direct Marketing), most of the time refer as email marketing, html emails or newsletters. They are used to announce new products release, promotion or important announcement to consumers. Tools such as Salesforce can help you to set up these campaigns. Well, we will not discuss about how electronic marketing campaigns work. In Queness, we always focus on technical part to web designers and developers. I have been building EDM for a few years now, a lot of people labelled EDM as dirty job, because it's harder than building a website!
12 Killer Tips and Tricks for Building HTML Email
More Followers for Your Cause | Guerrilla Influence Formula
This is another blog post dedicated to you faithful few who ask me questions that you really want answered! One of you asked previously what my strategy for combining two or more blogs into one and what specifically my strategy is for doing such in the best way. I know this quite well as I've had to recently migrate and combine 6 WordPress blog into one main property for a combined total of nearly 7,000 blog posts! It was a serious endeavor and one that I didn't want to make any mistakes!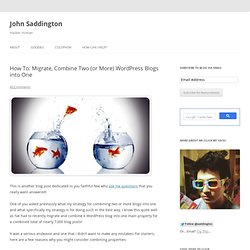 How To: Migrate, Combine Two (or More) WordPress Blogs into One
7 Essential Ingredients For A Successful Collaborative Blog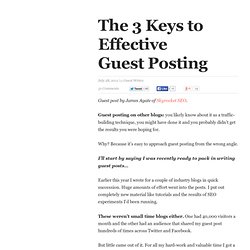 The 3 Keys to Effective Guest Posting
Guest post by James Agate of Skyrocket SEO. Guest posting on other blogs: you likely know about it as a traffic-building technique, you might have done it and you probably didn't get the results you were hoping for. Why?
Ultimate Guide For Writing Great Blog Content | BloggerITUS.com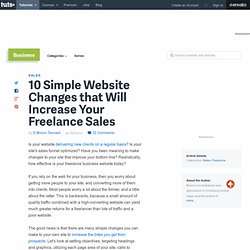 10 Simple Website Changes to Increase Your Freelance Sales
Is your website delivering new clients on a regular basis? Is your site's sales funnel optimized? Have you been meaning to make changes to your site that improve your bottom line? Realistically, how effective is your freelance business website today? If you rely on the web for your business, then you worry about getting more people to your site, and converting more of them into clients. Most people worry a lot about the former, and a little about the latter.
Tired of your business depending on your sheer effort? Get my guide to 5 tools (and strategies) that up your Effort-to-Impact Ratio. In other words, you can do more while doing less. To get it, scroll down and enter your email address below. From there, you'll want to spend some time in the lab. Kick Start Labs, that is.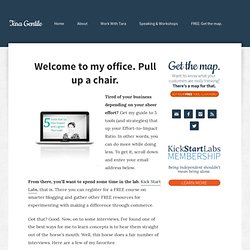 resources
10 Top Tips to get Noticed on Flickr « Holga Blog
eBook | Red Lemon Club: Fresh Ideas for Successful Creatives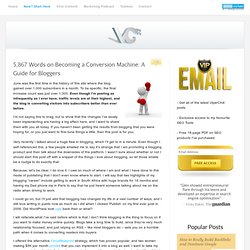 5,867 Words on Becoming a Conversion Machine: A Guide for Bloggers
June was the first time in the history of this site where the blog gained over 1,000 subscribers in a month. To be specific, the final increase count was just over 1,300. Even though I'm posting as infrequently as I ever have, traffic levels are at their highest, and the blog is converting visitors into subscribers better than ever before. I'm not saying this to brag, but to show that the changes I've slowly been implementing are having a big effect here, and I want to share them with you all today. If you haven't been getting the results from blogging that you were hoping for, or you just want to fine-tune things a little, then this post is for you. Very recently I talked about a huge flaw in blogging, which I'll get to in a minute.
Business 101: How to Get your Website up FAST! A Beginners Guide to Building a WordPress Site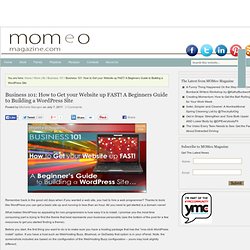 Posted by Michelle Mangen on July 7, 2011 · 3 Comments Remember back in the good old days when if you wanted a web site, you had to hire a web programmer? Thanks to tools like WordPress you can get a basic site up and running in less than an hour.
This week marks the 6-month anniversary of the day I launched Man Vs. Debt! Yippee! It's been a freaky journey up to this point. I feel like I swallowed both the red and blue pills in one big gulp. I rarely try to blog about blogging, however I thought it would be fun to reflect on what I've learned in these first 6 months.
How NOT To Suck At Blogging
Linked Influence
+ What specifically will I learn from this product? You will learn how to get more leads, traffic and sales using the world's largest professional networking site… LinkedIn. You will also learn how to get the job of your dreams, promote live and virtual events and "fill your stadium", network with high level investors and decision makers, build large targeted communities with groups, and much more.
The Blogger's Quest(ionnaire) is a Design Feast Initiative. In contrast to the Designer's Quest(ionnaire), the focus here is on those engaged in the blog medium—why they do it and what tools they use. This fourth installment features Joanne Molina, Editorial Director of The Curated Object, a "non-profit media project interested in the exhibition and display of decorative arts, design and objects and those who find our engagement with them compelling." Her sustained experience with blogging may help your entrance into the blogosphere or further inform your current work in it: 1.
the Design Feast Blog: Blogger's Quest(ionnaire): Joanne Molina of The Curated Object
Many business owners find themselves confused about the process of hiring virtual staff, especially when aiming to make their first hire. Such confusion breeds imprecise decision-making, which can easily stifle the value of the virtual assistant as well as etch flaws into the foundation of your business's profitability. As a SocialMouths' reader, you know that such outcomes are unacceptable because the most successful online entrepreneurs and small business owners always align optimum value to their business operations.
CloudBlueprint: Intro
How To Make Your Website More Accessible
10 Tips Towards Improving The Accessibility Of Your Website
unnamed pearl
45+ Useful Yet Free eBooks For Designers And Developers
Site Sketch 101: An Artistic Approach to Online Business
Creating a Blog: The Foundation For Getting Yourself and Your Work out There.
In the Belly of the Whale: How to get your Twitter problem fixed
How do I create a Blogger Feed? - FeedBurner Help
Are You Making Connecting with People Online Harder Than it Should Be?
10 Steps To Promote Brand "You" With Social Media | Firebrand Ideas Ignition
12 Tips for Creating a Blog Google and Tens of Readers Will Hate | CommentLuv
The Ready, Fire, Aim, Reload Strategy for Social Media Success
If I Started Today
Are you making these mistakes on your LinkedIn profile? – Copylicious. Persuasion for business. Now with 30% more Kelly Parkinson.
» The "I don't have time for social networking" thing. — The Fluent Self
Using custom/nonstandard fonts with Google font API
A podcast by bloggers, for bloggers. | BlogcastFM: The Blogger's Podcast
MyBlogGuest – Free Guest Post Exchange
By Bloggers — Taking E-Products to a New Level of Awesome
8 Creative Ways Posterous Groups Can Bring People Together
Where to host Javascript for blogger blogs?