Graphic Design
James Victore Live
A History of the Title Sequence
A short film by Jurjen Versteeg, designed as a possible title sequence for a documentary on tile sequences. (…) This film shows a history of the title sequence in a nutshell. The sequence includes all the names of title designers who had a revolutionary impact on the history and evolution of the title sequence. Georges Méliès - Un Voyage Dans La Lune, Saul Bass - Psycho, Maurice Binder - Dr. No, Stephen Frankfurt - To Kill A Mockingbird, Pablo Ferro - Dr. Strangelove, Richard Greenberg - Alien, Kyle Cooper - Seven, Danny Yount - Kiss Kiss Bang Bang / Sherlock Holmes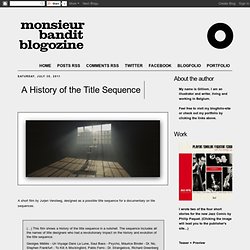 India Block Printing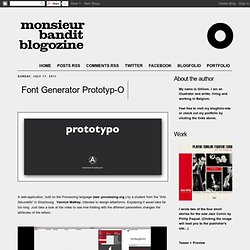 A web-application, built on the Processing language (see: processing.org ) by a student from the "Arts Décoratifs" in Strazbourg, Yannick Mathey, intended to design letterforms. Explaining it would take far too long. Just take a look at the video to see how fiddling with the different parameters changes the attributes of the letters.
Font Generator Prototyp-O
Rimino - The E-paper Mobile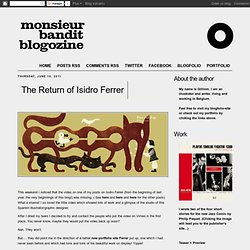 The Return of Isidro Ferrer
This weekend I noticed that the video on one of my posts on Isidro Ferrer (from the beginning of last year, the very beginnings of this blog!) was missing. ( See here and here and here for the other posts) What a shame! I so loved the little video which showed lots of work and a glimpse of the studio of this Spanish illustrator/graphic designer. After I dried my tears I decided to try and contact the people who put the video on Vimeo in the first place. You never know, maybe they would put the video back up soon?
The Visionaries
Nice site. A collection of video portraits of creative people. One time it's a graphic designer, then a street artist, a musician, a fashion designer or what not… In their own words: a creative series of video portraits that portrays individuals telling passionately their story about their art, passions, interests and on how they make their dreams live, to make them real.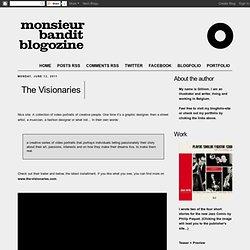 The Books of Irma Boom
Letterpress by Naomie Ross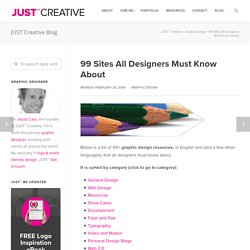 Posted on 25'08 Feb Posted on February 25, 2008 along with 379 JUST™ Creative Comments Below is a list of 99+ graphic design resources, in English and (and a few other languages), that all designers must know about. It is sorted by category (click to go to category):
History of Graphic Design (and more): Ed Fella