Film
The Fantomas Website: Home. PressPausePlay. I stumbled across the trailer for PressPausePlay for the first time this weekend whilst the film has already seen its debut on film festivals since March this year.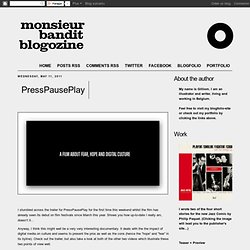 Shows you how up-to-date I really am, doesn't it… Anyway, I think this might well be a very very interesting documentary. It deals with the the impact of digital media on culture and seems to present the pros as well as the cons (hence the "hope" and "fear" in its byline). Check out the trailer, but also take a look at both of the other two videos which illustrate these two points of view well. Buster Keaton Docu. I love old Buster Keaton movies.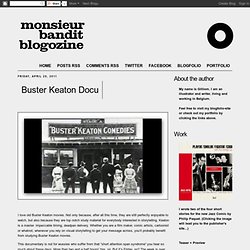 Not only because, after all this time, they are still perfectly enjoyable to watch, but also because they are top notch study material for everybody interested in storytelling. Keaton is a master. The Hitchcock & Truffaut Tapes. Woohoo!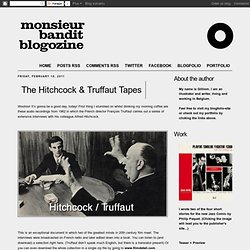 It's gonna be a good day, today! First thing I stumbled on whilst drinking my morning coffee are these audio recordings from 1962 in which the French director François Truffaut carries out a series of extensive interviews with his colleague Alfred Hitchcock. This is an exceptional document in which two of the greatest minds in 20th century film meet. The interviews were broadcasted on French radio and later edited down into a book. You can listen to (and download) a selection right here. Rutger Hauer Filmfactory 2008: Play with it. James Bond Opening Credit Sequences.
Ever since watching the oldschool James Bond movies to the new ones, I don't think the opening credits scenes get as much credit as they deserve.
Some really great use of visuals, music, and fading and transitioning text rendered with the utmost illusive brilliance that I've seen. Also a little bit of kinetic typography in Quantum of Solace as well. Have a bond good Labor Day weekend--and just remember to have your drinks shaken--not stirred. Alfred Hitchcock - The Master of Suspense. Art of the Title Sequence. At the sidebar of this blog you can find a list of other blogs and sites that I think are worth paying a visit.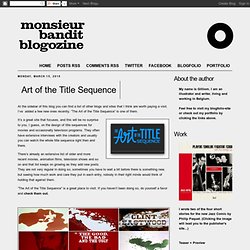 I've added a few new ones recently. "The Art of the Title Sequence" is one of them. It's a great site that focuses, and this will be no surprise to you, I guess, on the design of title sequences for movies and occasionally television programs. They often have extensive interviews with the creators and usually you can watch the whole title sequence right then and there. There's already an extensive list of older and more recent movies, animation films, television shows and so on and that list keeps on growing as they add new posts.
---